Found September 24, 2012 on Ravens Football Machine:
PLAYERS:
Justin Tucker
,
Bill Belichick
,
Devin McCourty
,
Jacoby Jones
,
Joe Flacco
,
Tom Brady
,
Vince Wilfork
,
Ray Rice
,
Wes Welker
,
Brandon Lloyd
,
Cary Williams
,
Danny Woodhead
,
Stephen Gostkowski
,
Steve Gregory
,
Brandon Bolden
,
Dennis Pitta
,
Julian Edelman
,
Torrey Smith
TEAMS:
Baltimore Ravens
,
New England Patriots
Amazingly it came down to a 27-yard FG attempt by the Ravens' Justin Tucker with 0:02 on the game clock...
Tucker ended up kicking it twice, as Bill Belichick attempted to freeze him with a called time-out. But the second one counted (just barely as it sailed inches inside the right post)...
Funny, I watched the entire game, and never once had the feeling the Ravens were going to win it...
The game-winning kick followed a pass interference call against Devin McCourty, who was covering Jacoby Jones. As the officials were leaving the field, Patriots coach Bill Belichick grabbed one of them by the arm. He didn't pursue as the official continued to run off the field. No doubt Belichick will be getting a Fed Ex envelope from NFL Headquarters tomorrow.
"I'm not going to comment on that," Belichick said. "You saw the game. What did we have, 30 penalties called in that game?"  Actually, 24, including 14 against the Ravens for 135 yards.  Baltimore (2-1) won its 12th straight at home behind Joe Flacco, who went 28 for 39 for 382 yards and three touchdowns. Tom Brady completed 28 of 41 passes for 335 yards and a score for the Patriots (1-2), who fell below .500 for the first time since Week 1 of 2003.  "We didn't do what we needed to do to help our offense tonight," Patriots defensive tackle Vince Wilfork said. "And it (stinks), because coming into the game, I think we had a pretty good idea of how we wanted to play it. First quarter, it showed. It seems after that, we really couldn't get off the field. Offense played their tails off and we just left them out to dry. We can't do that."
New England led 13-0 after the first quarter and 30-21 with 14 minutes left, but couldn't make either lead stand up.
Ray Rice picked up the offensive slack for the Ravens in the 2nd half and his running game provided the cover Joe Flacco needed to finally get his play-action passing game on track...
Wes Welker had eight catches for 142 yards and Brandon Lloyd caught nine passes for 108 yards for the Patriots, who fell to 6-1 against the Ravens in the regular season -- 7-2 including the playoffs.
Down 20-14, the Ravens opened the second half with an 80-yard drive that ended with a 7-yard touchdown run by Ray Rice. Brady matched that with an 80-yard march of his own, repeatedly picking on cornerback Cary Williams, before Danny Woodhead scored on a 3-yard run to put New England ahead.
After Stephen Gostkowski kicked his third field goal to make it 30-21, Smith caught a 5-yard touchdown pass with 4:01 left to get the Ravens to 30-28. Flacco went 6 for 7 for 76 yards in the 92-yard drive.
Baltimore executed the game-winning drive in the final 2 minutes.
New England took a 13-0 lead before the Ravens got their initial first down. Then, after Baltimore went up 14-13, Brady engineered a frantic touchdown drive at the end of the first half to put the Patriots back in front.
Welker, who came in with only eight catches in two games, played a key role for New England in the opening minutes. He recovered a fumble by Brady on the Patriots' second play, and on New England's second series Welker broke loose on the left sideline for a 59-yard completion that set up a 37-yard field goal...
On the first play following the kickoff, Steve Gregory intercepted a pass by Flacco and took it 36 yards to the Baltimore 6. On third down, rookie Brandon Bolden ran in from the 2 for his first NFL touchdown.
Late in the first quarter, Gostkowski kicked a 49-yard field goal for a 13-0 lead.
After two three-and-outs and an interception, Flacco found his rhythm the fourth time he got the ball.
Flacco moved the Ravens 82 yards in 13 plays in a drive culminated by a 25-yard touchdown pass to Smith. Then, after a New England punt, Baltimore covered 92 yards in eight plays. The capper was a 20-yard TD pass to tight end Dennis Pitta, who hurdled Gregory inside the 10 before completing his romp into the end zone.
Brady answered with a touchdown pass of his own, a 7-yarder to Julian Edelman with 2 seconds left to cap an 81-yard, beat-the-clock march.
Baltimore amassed 503 yards in offense. Rice ran for 101 yards on 20 carries. ... Edelman left with a hand injury. ... Baltimore punted only three times.
Research Notes From Elias: The Patriots and Ravens combined for 13 penalty first downs, which set an NFL record. The old record was 12 last done by the Ravens and Lions on October 9, 2005. Baltimore outscored New England 10-3 in the fourth quarter as Joe Flacco led the Ravens on two long scoring drives to take the lead. Flacco was 9-of-11 on those two drives and was more efficient than Brady in the fourth quarter overall.  [+] Joe Flacco vs Tom Brady 4th Qtr Passing Sunday Flacco Brady Comp-Att 12-15 5-9 Yards 161 41 TD 1 0 1st Downs 8 3 Total QBR 99.1 35.7 NEXT LEVEL: Joe Flacco had success when he targeted his receivers outside the painted numbers, going 16-25 for 211 yards and three touchdowns. He has thrown three touchdowns in a game on passes outside the numbers in only two other games since 2008. NEXT LEVEL: Joe Flacco used play-action on 19 of his 39 pass attempts Sunday, more than he had in the first two weeks combined. He was 13-19 for 204 yards with two touchdowns and an interception off of play fakes. Torrey Smith caught four of Flacco's play-action passes for 100 yards and two touchdowns, including one late in the fourth quarter.  [+] Joe Flacco Play-Action Passing, This Season First 2 WeeksSunday Comp-att 10-18 13-19* Att pct 25.4 48.7 TD-Int 0-0 2-1 *4-5, 100 yards, 2 TD when targeting Torrey Smith Team Stat Comparison  NEBAL 1st Downs 33 28 Passing 1st downs 19 17 Rushing 1st downs 6 6 1st downs from Penalties 8 5 3rd down efficiency 7-15 4-8 4th down efficiency 0-0 0-1 Total Plays 77 65 Total Yards 396 503 Yards per play 5.1 7.7 Total Drives 11 11 Passing 319 382 Comp - Att 28-41 28-39 Yards per pass 7.8 9.8 Interceptions thrown 0 1 Sacks - Yards Lost 2-16 0-0 Rushing 77 121 Rushing Attempts 34 26 Yards per rush 2.3 4.7 Red Zone (Made-Att) 3-5 2-3 Penalties 10-83 14-135 Turnovers 0 1 Fumbles lost 0 0 Interceptions thrown 0 1 Defensive / Special Teams TDs 0 0 Possession 31:03 28:57 Passing Leaders NEC/ATTYDSAVGTDINTSACKS Brady 28/41 335 8.2 1 0 2-16 BALC/ATTYDSAVGTDINTSACKS Flacco 28/39 382 9.8 3 1 0-0 Rushing Leaders NECARYDSAVGTDLG Ridley 13 37 2.8 0 14 Woodhead 15 34 2.3 1 6 BALCARYDSAVGTDLG Rice 20 101 5.1 1 15 Pierce 4 17 4.3 0 8 Receiving Leaders NERECYDSAVGTDLGTGTS Welker 8 142 17.8 0 59 10 Lloyd 9 108 12.0 0 22 12 BALRECYDSAVGTDLGTGTS Smith 6 127 21.2 2 38 10 Jones 3 86 28.7 0 41 4  
Original Story:
http://www.ravensfootballmachine.com/...
THE BACKYARD
BEST OF MAXIM
RELATED ARTICLES
Bill Belichick lost his composure after Sunday's Patriots-Ravens game. It looked like Belichick wanted to confront the replacement officials about the lack of a challenge after Ravens kicker Justin Tucker just barely kicked the ball above the uprights. The rule, which Belichick surely knows by now, is that a ball through the uprights is challenge-able, a ball above the uprights...
The moralizing and pontificating began as soon as Football Night In America cameras captured New England coach Bill Belichick running and grabbing a member of the officiating crew's arm in the chaotic aftermath of Sunday's Patriots-Ravens game. Media giddily tweeted: Get ready for a FedEx envelope, Billy. Tony Dungy lectured from his bully pulpit. Merits of a fine and...
Bill Belichick will undoubtedly hear from the NFL offices this week after he grabbed a replacement referee after the Patriots' 31-30 loss to the Ravens. On Friday, we told you the league sent a memo to each team warning them that they would no longer tolerate anyone being anything other than nice to the replacement refs. And we'll go out on a limb and say that grabbing a referee...
Justin Tucker kicked a 27-yard field goal as time expired, giving the Baltimore Ravens a 31-30 victory over the New England Patriots on Sunday night in a rematch of the AFC championship game.
Everyone's favorite Napoleon complex-stricken NFL coach, Bill Belichick, was at it again on Sunday night as his mounting frustration toward the NFL replacement officials finally boiled over in a pathetic post-game display of misguided anger. In a heated battle that was chippy from the opening whistle, the Patriots found themselves winning by two scores for most of the...
This weekend can be described as a comedy of errors with the NFL's replacement refs. The controversial ending to the Ravens vs. Patriots featured a Justin Tucker game-winning field goal that many Pats players thought was out. Patriots coach Bill Belichick was so incensed, that he attempted to run down the officiating crew after the [...]
As was to be expected sports radio was all about the Patriots and their second straight loss Sunday night. There were a bunch of different story lines that dominated the airwaves. Obviously the referees and how poorly the game was called was the lead story, but then there was also the Bill Belichick pushing an official following the game side of things, which got a lot more attention...
Coming into this game, the Baltimore Ravens could only think about one thing: getting revenge on the New England Patriots for knocking them out of the playoffs last year. These feelings kind of took a backseat as they help comfort wide receiver Torrey Smith after hearing less than 24 hours that his younger brother, Tevin Jones passed away in a motorcycle accident. In return, Smith...
Washington Redskins Offensive Coordinator Kyle Shanahan isn't as fast at Bill Belichick. Shanahan wasn't able to grab a scab ref -- he simply chased him out of the tunnel while verbally assaulting... Full story at Bob's Blitz ~ http://www.bobsblitz.com
Tomorrow night at M & T Bank Stadium the Ravens will host the Patriots for Week 3 of this early NFL season.  Most of the "experts" had this labeled as an early AFC Championship rematch, then during Week 2 both teams lost and set up a scenario in which the loser of this highly anticipated Sunday night tilt would drop below .500 and move to 1-2. Just to give you perspective...
NFL News

Delivered to your inbox

You'll also receive Yardbarker's daily Top 10, featuring the best sports stories from around the web. Customize your newsletter to get articles on your favorite sports and teams. And the best part? It's free!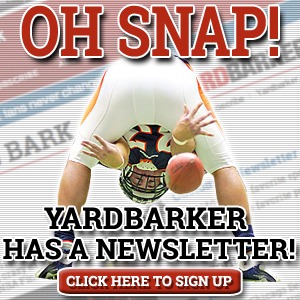 Latest Rumors
Best of Yardbarker

Today's Best Stuff

For Bloggers

Join the Yardbarker Network for more promotion, traffic, and money.

Company Info

Help

What is Yardbarker?

Yardbarker is the largest network of sports blogs and pro athlete blogs on the web. This site is the hub of the Yardbarker Network, where our editors and algorithms curate the best sports content from our network and beyond.