Found August 21, 2012 on Ravens Football Machine:
I'm still not sold on the "sugar huddle" concept for the Ravens ---at least not to open up a game.  My biggest problem with it is when it does not result in a sustained drive. The consequence is your defensive unit gets overworked --- since it is immediately thrown back out on the field. You may think you're going to gas your opponent, when in reality you may be gassing your own defense unit by the fourth quarter of the game.

But Joe Flacco and Cam Cameron like it for specific reasons...so expect to see a lot more of the "sugar huddle" in this Thursday night's crucial Game 3 of the preseason---

JACKSONVILLE JAGUARS AT BALTIMORE RAVENS
Thursday night, August 23, 2012, 8 P.M. EST, M&T BANK STADIUM
Broadcast locally on WBAL-TV and FM Radio-98 WIYY





I think the Ravens and Joe Flacco will continue to experiment with the "sugar huddle" when the first team offense is playing virtually the entire first half of this one...

But I will be surprised if they open up the regular season with it installed for opening possession in the first quarter. Allowing Joe Flacco to have more control over the offense in the pre-season is nice, but that doesn't mean Cam won't stick to his familiar run-run-pass tactics in the regular season.

And to me, having the "sugar huddle" technique down is more important for real games when a late or a big-deficit comeback is required in the regular season.

The no-huddle looked good at times last week. It gets everyone more focused on the play call  and may help produce fewer false starts which kill drives.

But there were times in the first two preseason games when the no-huddle stalled out on Joe. The first-team offense came up empty too many times while in it.

There will be cuts at the end of this week and once we see the starters on the field I think we may see this new look click for Flacco. I think you'll see the Ravens use it a little bit this year. By no means will this be the staple of their offense. The Ravens will continue to stick to what they do best, which is play good defense, run first and play action pass...

It is good to see Flacco getting a taste of playing "conductor", as Ryan Mink of Ravens.com calls it. He's doing the Tom Brady-Peyton Manning thing now when he's in no-huddle, you know, "rubs his elbow, pats his butt, makes hand signals and points out linebackers.
Flacco said the changes aren't as big as they may appear, saying "we can make it look a little bit more dramatic." And that's exactly the point. Defenses won't know what's real and what's not. From pure appearance, Flacco is making numerous changes every play. "You can start trying to play with [defenses] a little bit," Flacco said.
The Ravens have used what's called a "sugar huddle" version of the no-huddle, which is when the offensive line doesn't come back to the huddle, but just turns and listens to Flacco's calls. The receivers come close enough to hear.
Flacco said he prefers to run no-huddle. That gives him more time at the line of scrimmage to survey the defense. On Sunday, Head Coach John Harbaugh said Flacco now often goes to the line with a few play options and makes a choice based on what he sees. Flacco said the hurry-up can get the defense into some basic calls because they have to get lined up so much faster. It also means you can trap certain personnel on the field since the defense can't substitute.
But it's also a two-way street.
"They can always mess with you too," Flacco said. "You can be out there redirecting, pointing this way and they could completely change what they do on you. That's why you have to have a good balance of slowing things down and quick counting, so they can't really get a read on you."
The Ravens are getting a good read on whether their new-look offense will function properly once the regular season rolls around. He's happy that the other players know what he means when making certain gestures and calls at the line of scrimmage. "It's good cause all the stuff we're doing is making sense and we're all getting it and we're all still able to operate at full speed," Flacco said.


Original Story:
http://www.ravensfootballmachine.com/...
THE BACKYARD
BEST OF MAXIM
RELATED ARTICLES
The Baltimore Ravens have a number of key fantasy players including Torrey Smith and Anquan Boldin but here is a look at each skill position and what to expect out of them during Fantasy Football 2012. Quarterback: From watching the first two preseason games and hearing the coaching staff talk it looks as though Joe Flacco [...]
The Ravens have made it a mission to lock up their players long term this offseason. They did it with Lardarius Webb and Ray Rice. Now they've tried to do it with cornerback Cary Williams. However, Williams turned down the Ravens' three-year, $15 million offer according to The Baltimore Sun. Williams is risking giving up some money and gambling on himself. The cornerback is a...
For yet another season, Razzball will be interviewing local NFL beat writers for some in-depth actual football knowledge to sway some insight in our fantasy football knowledge.  Keep your eye out for an interview for every NFL team through the summer and check out each one on the "2012 Fantasy Football Team Previews" link.  This installment comes courtesy of Brian Malan from...
With 27 seconds remaining in the AFC Championship Game on Jan. 22, the Baltimore Ravens were a finishing play in the end zone away from going to the Super Bowl in their beloved city of Indianapolis.  Until then-Ravens wide receiver Lee Evans was stripped at the last minute by New England Patriots backup cornerback Sterling Moore. The lack of concentration displayed by Evans haunted...
(Eds: Updates. With AP Photos.) Torrey Smith's days of anonymity are over. When the second-year Baltimore Ravens receiver ventures into public, he's recognized just about everywhere he goes. During his three years as a standout receiver at the University of Maryland, Smith was just another face in the crowd. Now, after finishing the 2011 NFL season with 50 catches for 841...
What do Eric Dickerson, Jamal Lewis and Chris Johnson have in common, besides rushing for 2,000 yards in a single season?They all did it at the age of 24.The 1984 season opened on Sept. 2 – Dickerson's 24th birthday – and Dickerson and the Los Angeles Rams opened their season the following night, on Monday Night Football.In just his second full season in the league, Dickerson...
The NFL kicker is under a different kind of pressure than any other player in the NFL. For an intense moment, all attention, and sometimes the weight of a game, is on this one man. When it comes down to it, what any team wants most from a kicker is the ability to finish under pressure. Sure, teams would love to carry a kicker that can nail 60-yard field goals, but if he doesn'...
RavensInsider.com publisher Jason Butt answers subscribers' questions concerning the Baltimore Ravens.
Successful fantasy football players are usually those who generally got the best value out of their draft picks. That is what makes sleepers so key, especially at what has become the most important position in the game.
After another eventful few days, dynasty owners are ready for the most important week of the preseason, where starting jobs will be taken and players will either win jobs or find themselves on the streets. We're here to provide analysis all preseason long so you don't miss a thing. With that said, we're posting a regular watch list for the preseason games, full of players...
NFL News

Delivered to your inbox

You'll also receive Yardbarker's daily Top 10, featuring the best sports stories from around the web. Customize your newsletter to get articles on your favorite sports and teams. And the best part? It's free!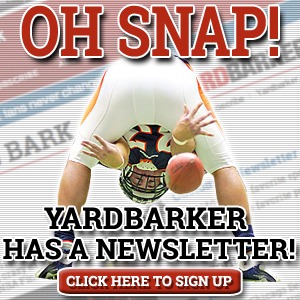 Latest Rumors
Best of Yardbarker

Today's Best Stuff

For Bloggers

Join the Yardbarker Network for more promotion, traffic, and money.

Company Info

Help

What is Yardbarker?

Yardbarker is the largest network of sports blogs and pro athlete blogs on the web. This site is the hub of the Yardbarker Network, where our editors and algorithms curate the best sports content from our network and beyond.