Found May 06, 2012 on Down and Distance:
Bernard Pollard is a hard hitting Raven, one known for bringing pain and injury to opponents. He was the guy that delivered the knock-out punch to Tom Brady in 2008 (although the hit was legal back then), he was in the area when Wes Welker was done for in the 2009 season, and was a main part of the reason Rob Gronkowski wasn't 100% when the Patriots faced off against the Giants in the Super Bowl. Needless to day, he's a pain for the Patriots. Earlier this week on an interview with Sports Radio 610 in Houston, Pollard weighed in on a few things. He talked about the Saint's bounty issues, and quite frankly wasn't too happy with the league's decisions on the players, saying "Who cares if he did say he was going to give somebody $10,000? Who cares? it's out of his pocket. He didn't take it from the team's money. He didn't take it from somebody else's money. It was his pocket." He talked more about his game, and the way he plays "If somebody is going to get a knockout shot, OK, at some point somebody is going to get hit anyway. If you end up getting knocked out because you're trying to get a knockout shot, it's either kill or be killed. Which one are you going to do? This is football. It's not powder puff. When Nike unveiled their new uniforms, I'm surprised they didn't have flags on the side. This is what needs to be right now. You're taking away the game of football. If a quarterback throws an interception, get his butt down or run to the sidelines. If you're going to try to make a tackle, I'm going to look for you. I promise you I'm going to look for you." When asked about the state of the game and where it's heading, Pollard wasn't so sure about the future of the NFL and said that he wouldn't let his son play football due to the toll it takes on one's body, leading him into saying the league wouldn't be around much longer "I just truly believe, another 20, 30 years — I don't even think football will even be in existence anymore… We all know what this game is about. We know and understand that it's a violent sport." He even took a few jabs at NFL Commissioner Roger Goodell and NFLPA Executive Director DeMaurice Smith "When it's all said and done, him and DeMaurice Smith said they would take a dollar (in salary) if we were locked out," Pollard said. "We were locked out. I guarantee they didn't take a dollar. Ask them what their salaries were. Everybody wants to talk about these players lying to Roger Goodell. What about them lying to us? What about them lying to you?" It sounds to me that Pollard is a little upset at the whole situation and what was handed down to the Saints, and he clearly doesn't agree with it at all, but what I find more interesting about it all is his comments on saying the NFL won't be around in 20-30 years. If the game keeps getting faster, players keep getting bigger, rules becoming less physical, and parents not letting their kids play the game because of the effects it has on one's body… does he have a point? Let's hope not, because I love the game and hope to watch it until the day I pass, but if things keep going the way they are, Pollard may have a point when you break it all down. Let's hope it doesn't happen though. Follow us on Twitter! @DownandDistance Sports-Kings Senior NFL Contributor – Justin Arbogast
Original Story:
http://sports-kings.com/downanddistan...
THE BACKYARD
BEST OF MAXIM
RELATED ARTICLES
The Baltimore Ravens have announced their schedule for their rookie minicamp as well as their offseason organized team activities (OTAs). The rookies will get their first exposure to NFL football this coming week when they report to team headquarters in Owings Mills for the mandatory minicamps for rookies, which will be held May 11-13, according [...]
Cary Williams is staying in Baltimore. The three-year veteran cornerback signed his restricted free agent tender with the Ravens on Monday, and will look to build on a career year in 2011. Williams played in all 16 games for the first time in his career last season, making 78 tackles and forcing a pair of fumbles. He forced two more fumbles in a 20-13 win over the Texans on January...
This defensive back is possibly the best-value corner in the NFL right now...What makes it so is Cary Williams is a pearl picked late by Tennessee in the 7th round of the 2008 Draft (pick #229) and was subsequently cut and signed by the Ravens off the Titans' practice squad in 2009. So he has been a bargain since the day he signed a free-agent contract with the Ravens. The...
The Baltimore Ravens continue to beef up their defensive line, as they agreed to a one-year deal on Monday with former Denver Broncos nose tackle Ryan McBean, according to Jeff Zrebiec of The Baltimore Sun. McBean, 28, has spent the last three seasons with the Broncos. In 2011, McBean posted the best numbers of his [...]
Baltimore Ravens safety Bernard Pollard believes that with the way the NFL is heading the league will cease to exist in the future. 
Terrell Suggs, the Baltimore Ravens linebacker, will have to undergo a surgery to a partial tear of his Achilles and hence will have to sit out of four to six months of the 2012 National Football League season. Terrell Suggs, who is the current defensive player of the year, confirmed his surgery news on Thursday
Former Houston Texans wide receiver and return specialist, Jacoby Jones, met with the Baltimore Ravens on Sunday, according to Aaron Wilson of The Carroll County Times. Jones, a five-year veteran recently cut by the Texans, has already met with the Carolina Panthers and has several more visits scheduled, according to Wilson. The 6-foot-2, 212-pound Jones [...]
The Baltimore Ravens have signed nose tackle Ryan McBean, adding depth to their defensive line. McBean, 28, had 33 tackles and four sacks in 2011 for the Broncos. He had been a restricted free agent, but the Broncos rescinded the offer on April 16, making him an unrestricted free agent. Originally a fourth-round pick of the Steelers in 2007, McBean played just one game for the...
Len P shares updates on the Ravens inquiry into Terrell Suggs' injury, the (lack of) talent at the HBCU Bowl, why Free Agents not returning home and plenty more ...
An optimistic Baltimore Ravens star free safety Ed Reed addressed the Terrell Suggs injury, echoing the statement from head coach Jim Harbaugh, "He'll be fine, and will be back." Suggs has a partially torn Achilles tendon, which could have him back by November. Suggs guaranteed his return by November and not to count him out.
Ravens News

Delivered to your inbox

You'll also receive Yardbarker's daily Top 10, featuring the best sports stories from around the web. Customize your newsletter to get articles on your favorite sports and teams. And the best part? It's free!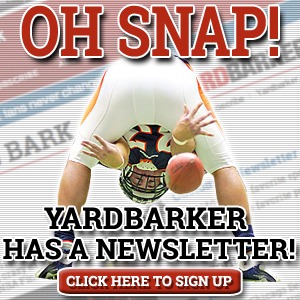 Latest Rumors
Best of Yardbarker

Today's Best Stuff

For Bloggers

Join the Yardbarker Network for more promotion, traffic, and money.

Company Info

Help

What is Yardbarker?

Yardbarker is the largest network of sports blogs and pro athlete blogs on the web. This site is the hub of the Yardbarker Network, where our editors and algorithms curate the best sports content from our network and beyond.