Found August 14, 2013 on NFL Injury Report:
The defending Super Bowl champion Baltimore Ravens have kept the door ajar for tight end Dennis Pitta to return for the 2013 season, for now. Aaron Wilson of the Baltimore Sun reports that the Ravens have not ruled out Pitta playing this year, due in part by learning that Pitta's injury to his hip was a "clean" break that caused no ligament or cartilage damage.  Early in training camp, Pitta suffered a dislocated and fractured hip and underwent surgery to repair the damage immediately afterward. The Ravens do not have to make a decision on whether to place Pitta on injured reserve-designated to return until before the start of the season.  As coach John Harbaugh stated, "We'll put him on IR when we're certain that he's out for the year. We know it's a serious injury, but when it came back that there was no ligament or cartilage damage, then that maybe gave us some hope. So, we're going to wait and see how that bone heals over the first five weeks since the injury and see where we're at." Putting a player on IR designated to return is tricky business.  Previously, any player put on IR was lost for the entire season. However, current rules dictate that if a player is injured and put on injured reserve after Sept. 4, that player may return to the active roster eight weeks after the IR designation.  The player must be on the IR list for at least six weeks and a player must be "designated for return" at the time the player is put on IR.  The Ravens did it last year with future Hall of Famer Ray Lewis who went on to help the Ravens win last year's Super Bowl. Ray Lewis aside, I am glad the Ravens remain positive and hold out hope that Pitta can come back.  However, this is not a torn triceps muscle; it is a broken hip on a TE who will take repeated hits to his mid-section.  I am not a doctor and I did not stay at a Holiday Inn Express last night but there are certain things one should not do in life.  One is play poker with a woman whose first name begins with the name of a city; two is to go skydiving without a parachute and three is to play football in the NFL in the same season when one breaks a hip. With the recent additions of TE Dallas Clark and wide receiver Brandon Stokley, the Ravens' passing attack should be more than adequate.  So, FOR PITTA'S SAKE, please Baltimore, use some common sense and let Pitta heal up and be ready for 2014 so he does not have to use The Clapper to turn his lights on.    You can follow me on twitter @TheSoftParade69 Talk football talk cigars talk anything, I know a little about a lot.   Follow @TheNFLInjuryRpt Looking for fantasy football advice?
Original Story:
http://www.nflinjurynews.com/2013/08/...
THE BACKYARD
BEST OF MAXIM
RELATED ARTICLES
The Ravens haven't completely ruled out the possibility however slim that starting tight end Dennis Pitta might potentially be able to return late in the season from a dislocated and fractured right hip. Ravens coach John Harbaugh had previously said that Pitta would be unable to come back this season and wasn't even a candidate for the injured reserve-designated to return...
The regular season is just around the corner and the Baltimore Ravens are still making some big moves. Brandon Stokely (Photo credit: Evan Habeeb/USA TODAY Sports) The Ravens signed wide receiver Brandon Stokely to a one-year contract in Baltimore, reuniting him with the team that drafted him in the fourth round of the 1999 NFL Draft. Stokely was brought in to hopefully help bridge...
Perhaps one of the more under-the-radar competitions in the NFL right now is the race for the starting center job in Baltimore. With veteran Matt Birk retiring earlier in the offseason, the Ravens brought in A.Q. Shipley to compete with Gino Gradkowski for the position. Shipley will receive his first opportunity to start a game for the Ravens this Thursday versus the Falcons after...
Gino Gradkowski and A.Q. Shipley have become the center of attention on the Baltimore Ravens' offensive line. Both players are locked in a competition to replace center Matt Birk, who retired after the Ravens won the Super Bowl in February. Birk never missed a start during his four years with Baltimore, and now it's time for someone else to snap the ball to quarterback Joe...
Joe Flacco can have just about anything he wants right now.The Super Bowl MVP, the leader of the Baltimore Ravens' offense and the man armed with a new contract ($120 million) that he said was more about principle than money is sitting on top of the word right now.And he should be. The Baltimore Ravens' offense looks like it will be just fine this season (minus Anquan Boldin...
Joe Flacco might have gotten the big money deal, but he still knows what wins championship in Baltimore. Flacco was a guest on Mike and Mike in the Morning, "that he loves the way the Ravens' defense gets after him in practice, and he thinks Baltimore can dominate opposing offenses this season." "I tell you what, our defense looks really good," Flacco said on "Mike...
Most pylon pundits are picking the Baltimore Ravens to be a no show in the playoffs this year.  However, the road to returning to the Super Bowl just got a little smoother for the Ravens as Pro Bowl offensive guard, Marshal Yanda, returned to Ravens' practice on Monday. Aaron Wilson of the Baltimore Sun reports Yanda, who had rotator cuff surgery following last year's Super...
This past March, The Ravens announced the release of wide receiver Anquan Boldin. This decision was made after the team and Boldin were unable to agree on a pay cut that Boldin was asked to take in order to free up money.Ever since the decision was announced it seems all around the football world people think he was the only player the Ravens have on the offense.  Also, there seems...
Bucstop.com is proud to present our own Fantasy Football expert Greg Danchik, an avid Baltimore Ravens fan (we wont hold that against him)!! His fandom for the Ravens was finally awarded with a Super Bowl championship last year, but he wins Fantasy Football Championships every year!!! Greg runs his own website on www.TheSportsDojo.com where he talks about all types of sports...
If the goal in preseason games was solely to win, the Baltimore Ravens would have been delighted. The main objective is to get ready for the regular season, and that's why the Atlanta Falcons almost certainly derived far more satisfaction from Thursday night's preseason game - even though the Ravens pulled out a 27-23 victory. Matt Ryan threw for 97 yards and a touchdown...
The Atlanta Falcons had a tough task in traveling to take on the Super Bowl champion Baltimore Ravens in their preseason home opener, but with the exception of the 27-23 score in Baltimore's favor, the team more than met the challenges. While the second preseason game is still more about talent evaluation than game planning, it was obvious that both the Atlanta offense and defense were getting
Willie Taggart is as unconventional of a coach as you'll find, and that really is an awesome thing. Today, according to TampaBay.com, he woke his football players up at 3:00 a.m. to get ready for an early-morning workout. He met with Ravens coach John Harbaugh last week, who encouraged him to "get his team comfortable with being uncomfortable" — this is just one crack at...
Ravens News

Delivered to your inbox

You'll also receive Yardbarker's daily Top 10, featuring the best sports stories from around the web. Customize your newsletter to get articles on your favorite sports and teams. And the best part? It's free!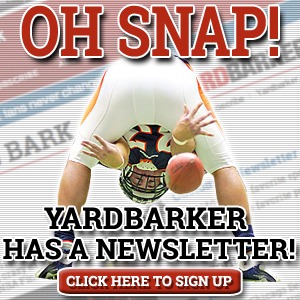 Latest Rumors
Best of Yardbarker

Today's Best Stuff

For Bloggers

Join the Yardbarker Network for more promotion, traffic, and money.

Company Info

Help

What is Yardbarker?

Yardbarker is the largest network of sports blogs and pro athlete blogs on the web. This site is the hub of the Yardbarker Network, where our editors and algorithms curate the best sports content from our network and beyond.