Found February 20, 2013 on Twitter Sports Rundown:
The original Super Bowl Shuffle was one of those things that should have stayed in its respective decade. The 1985 Chicago Bears momentarily murdered music despite reaching #41 on the Billboard Hot 100. But, whether it be our fascination with retro or our collective lack of creativity, we still continue to bring things like the Super Bowl Shuffle back into our culture. We may be able to thank Baltimore Ravens offensive lineman Bryant McKinnie for bringing it back once more: Its time 4 the Ravens 2 redo the Super Bowl Shuffle lol — Bryant Mckinnie (@BryantMckinnie) February 20, 2013 And he appears to be serious, too. He has even reached out to running back Ray Rice who agreed to be in the video as well as rap: @bryantmckinnie yea I'm in bro lol — Ray Rice (@RayRice27) February 20, 2013 "I'm Ray Rice and I'm here to say All you defenders better get out of my way Especially in the playoffs because this ball is really slippery…." According to McKinnie, he is setting it up now with the help of hip-hop artist Yung Berg: RT @rayrice27: @bryantmckinnie yea I'm in bro lol (setting it up now, @therealyungberg gonna help with production) — Bryant Mckinnie (@BryantMckinnie) February 20, 2013 Oh boy.
Original Story:
http://twittersportsrundown.com/raven...
THE BACKYARD
BEST OF MAXIM
RELATED ARTICLES
Some of the players on this list you may agree with on this list and some of the players you may believe shouldn't be on the list. Joe Flacco and Ray Rice are not on this list, but they may get there in the future. However if you disagree with this list, feel free to comment. However four of the members on this group are arguably sure-fire member of the Hall of Fame and that should...
To commemorate the Baltimore Ravens' 34-31 victory over the San Francisco 49ers in Super Bowl XLVII on Feb. 3, team wide receiver Jacoby Jones thought it would be a good idea to pay tribute to the big game by getting a Super Bowl-themed tattoo. Unfortunately, while the idea was a good one, the overall execution, as you can see above, left something to be desired. Jones finished...
The Baltimore Ravens, winners of Super Bowl XLVII, have a long road on the way back to the playoffs in 2013. Gone for certain is middle linebacker Ray Lewis, a future Hll of Famer who announced his retirement before the playoffs even began.There is also speculation that the Ravens will release wide receiver Anquan Boldin and safety Ed Reed in order to stay under the salary cap.Yet...
It's been mentioned that the Baltimore Ravens may have to release wide receiver Anquan Boldin this offseason to free up more money.  One resolution might be to restructure Boldin's contract, but it doesn't sound like anything is happening just yet. According to the Baltimore Sun, the Ravens and Boldin haven't started working on restructuring his contract. The Ravens are...
Baltimore Ravens assistant general manager Eric DeCosta told Mike Florio on Pro Football Talk that they don't plan on letting quarterback Joe Flacco leave the city of Baltimore. "We have no intentions of letting Joe Flacco leave Baltimore," DeCosta said. Still, DeCosta didn't put the chances of Flacco leaving at zero percent.  "Probably negligible," DeCosta said. So...
The NFL has recently announced they will  begin flagging coaches who walk on the field of play. In the wake of a large amount of coaches walking on the field to either argue a play or approach the referee, league director of football associations Ray Anderson, has decided to enforce a rule that has always been in place but hardly ever used.... Read more
In news that is not really that shocking, the Ravens have "no intention" of letting Joe Flacco sign with another team (Credit: AP Photo) In the "really, you don't say" news of the day, the Baltimore Ravens have announced today that they have no intentions of letting Joe Flacco leave Baltimore. While the front office and Flacco have yet to reach a long-term deal, assistant...
Isn't always a plus when the hometown team wants to renovate the home stadium to make the game experience more enjoyable? Furthermore, isn't just as great when the team doesn't ask for public funding? That's exactly what the Baltimore Ravens have announced. In a release, the team says the renovations will begin this spring and the first part will be completed by the time...
According to NFL Union leader Domonique Foxworth, the players of the NFL do not trust commissioner Roger Goodell (Credit: AP Photo) According to the NFL union leader, Domonique Foxworth, the players do not trust commissioner Roger Goodell, specifically because of the Saints bounty scandal. Foxworth went on to add that he is not sure if he would be able to persuade players to have...
It's pretty simple. The Ravens scout young talent in a way that's unique to the NFL. Most teams in the NFL have a division between their scouting and coaching staffs. Also, some teams opt to rely on college scouting services rather than their own internal scouting department, which can lead to differing opinions on how incoming NFL prospects are graded.    But...
With the NFL the way it is now days; it is important for a team to have a couple of top flight wide receivers to make their offenses work. Look at the stats from Super Bowl XLVII; the Baltimore Ravens and the San Francisco 49ers combined for 560 yards passing. Without the receivers their to make the catches those, numbers would not be possible.There are plenty of teams in the league...
NFL News

Delivered to your inbox

You'll also receive Yardbarker's daily Top 10, featuring the best sports stories from around the web. Customize your newsletter to get articles on your favorite sports and teams. And the best part? It's free!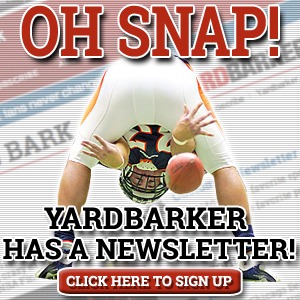 Latest Rumors
Best of Yardbarker

Today's Best Stuff

For Bloggers

Join the Yardbarker Network for more promotion, traffic, and money.

Company Info

Help

What is Yardbarker?

Yardbarker is the largest network of sports blogs and pro athlete blogs on the web. This site is the hub of the Yardbarker Network, where our editors and algorithms curate the best sports content from our network and beyond.