Posted January 21, 2013 on AP on Fox
PLAYERS:
John Harbaugh
,
Joe Flacco
,
Ray Lewis
,
Tom Brady
,
Anquan Boldin
,
Dennis Pitta
,
Bill Belichick
,
Peyton Manning
,
Stevan Ridley
,
Bernard Pollard
,
Stephen Gostkowski
,
Zoltan Mesko
,
Sam Koch
,
Ray Rice
,
Dannell Ellerbe
,
Wes Welker
,
Terrell Suggs
,
Aqib Talib
,
Kyle Love
TEAMS:
Baltimore Ravens
,
New England Patriots
Look for lots of Harbaughs in New Orleans next week. Two of them will be working the sidelines in the Super Bowl. Oh, brother! John Harbaugh and his Baltimore Ravens set up a family reunion in the Big Easy, shutting down the New England Patriots 28-13 Sunday in the AFC championship game. Waiting for them will be his younger brother Jim and the San Francisco 49ers, who beat Atlanta 28-24 for the NFC title. It's the first Super Bowl matching siblings as head coaches. ''I'd like to think that our two teams are very similar,'' said John, who is a year older than Jim. ''I'd like to think when you look at those two teams, you are looking at mirror images of two football teams.'' What the Ravens (13-6) are looking at is their first Super Bowl in 12 years, thanks to three touchdown passes from Joe Flacco and a defense led by Ray Lewis that made Tom Brady look downright ordinary. It will be quite a last game for Lewis, the emotional linebacker who will retire after the matchup with the 49ers, who opened as a 5-point favorite. ''For me to come out and say that this is my last ride and for me now to be headed back to the Super Bowl, for the possibility of me possibly winning a second ring, how else do you cap off a career?'' said Lewis, who had 14 tackles to give him 44 in three playoff games after missing 10 weeks with a torn left triceps. As in the previous two playoff wins against Indianapolis and Denver, the Ravens were brilliant offensively in spots. This might be 17-year-veteran Lewis' team, but it's also Flacco's - and the quarterback's six road wins are the most in playoff history. He has eight touchdown passes and no interceptions in this postseason. ''We've always believed in Joe,'' Harbaugh said. ''And for Joe to come out and to have this kind of a game and this kind of a stage three weeks in a row ...'' Flacco, whose contract ends after the Super Bowl, is the only quarterback to win a playoff game in each of his first five seasons. He was dynamic with his arm and precise with his decision making. Looking much more the championship passer than Brady did, his scoring throws of 11 and 3 yards to Anquan Boldin and 5 to Dennis Pitta all were perfect. ''We didn't come all the way here to play it safe and hope to win,'' Flacco said. ''We came here to win the AFC championship game and you have to play to win.'' The defense played as big a part, shutting out the league's highest-scoring offense in the second half, twice picking off Brady. Brady was 67-0 at home when leading at halftime, but this was no contest in the second half. ''We got behind in the second half there and became one-dimensional,'' he said. ''We just couldn't string enough good plays together to get the ball in the end zone.'' It also was a first for the Patriots, who hadn't lost an AFC championship at home. ''We've lost before. It takes a while to get over,'' Brady said. After they had avenged last year's AFC title game loss at Gillette Stadium, many of the Ravens gathered on the field jumping, chest-bumping and whooping before several thousand fans wearing Ravens jerseys - mostly Lewis' No. 52 - who remained in the stands. New England (13-5) lost a home AFC title matchup for the first time in five games. The loss denied Brady and coach Bill Belichick a shot at their sixth Super Bowl. They've gone 3-2, losing their last two times in the big game. Instead, it's the AFC North champion Ravens heading to the Big Easy, seeking their second NFL championship. San Francisco has won five. One of the Harbaughs will grab his first ring as head coach. ''I don't know if we had a dream this big,'' John Harbaugh said. ''We had a few dreams, we had a few fights, we had a few arguments - just like all brothers.'' The Ravens have gotten there the hard way, with no postseason bye. Then again, five of the last seven Super Bowl champions took that route. The Ravens also were pushed into a second overtime in frigid Denver last weekend before eliminating Peyton Manning and the top-seeded Broncos. And now they've cast aside the league's most successful franchise of the last dozen years. ''I'd probably say we came up a little short in every area,'' Belichick said. New England, which hasn't won a Super Bowl since the 2004 season, had four injuries, the scariest when running back Stevan Ridley hurt his head when he was knocked flat by Bernard Pollard in the fourth quarter, forcing a fumble. Baltimore turned that into the final touchdown, on the only short scoring drive it had, 47 yards. The touchdown by Pitta capped the Ravens' best drive of the game, covering 87 yards in 10 plays and made it 14-13. It started with a 15-yard defensive pass interference penalty, and it was an indication of things to come. The Ravens gained just 130 yards in the first half, yet trailed by only six points. Brady guided a 13-play drive to Stephen Gostkowski's 31-yard field goal for a 3-0 lead. Neither defense yielded a big play, and punters Zoltan Mesko and Sam Koch were the busiest guys on the field. That changed when the teams switched sides for the second quarter. Baltimore again was pinned deep, at its 10, but Flacco led a 13-play drive. Ray Rice, whose 83-yard run on the Ravens' first play from scrimmage in their wild-card round victory here three years ago, ran left untouched for the TD. Awakened by Baltimore's march, the Patriots staged a long one of their own, 79 yards, aided by a 15-yard personal foul by Ravens linebacker Dannell Ellerbe. Wes Welker picked up 24 yards on a short pass, then got free in the right corner of the end zone after a mix-up in the Ravens' secondary, making it 10-7. It was 13-7 by halftime as Gostkowski connected from 25 yards, with New England outsmarting Baltimore several times. But Brady and Belichick made mental errors by not calling a timeout quickly enough after a short scramble by the 35-year-old quarterback. So the Patriots didn't get a shot at the end zone and Gostkowski made his second kick. Shockingly for an offense that scored 557 points this season, that was it for New England. ''We are probably the only team in the AFC that matches up good with the boy, No. 12 over there and his coach,'' linebacker Terrell Suggs said of Brady and Belichick. Now comes another intriguing matchup - for everything. NOTES: Brady has 5,949 yards passing, the most in NFL history for the postseason. He threw for 320 yards Sunday but was picked off twice in the fourth quarter. ... Patriots CB Aqib Talib hurt his thigh and DT Kyle Love injured his knee. Backup safety Patrick Chung was helped off the field after one play. ... Baltimore beat San Francisco 16-6 in the 2011 season. --- Online: http://pro32.ap.org/poll and http://twitter.com/AP-NFL
Original Story:
http://msn.foxsports.com/nfl/story/Ra...
THE BACKYARD
BEST OF MAXIM
RELATED ARTICLES
John Harbaugh and the Ravens did more than just beat the Patriots in the AFC title game. They exposed for the final time a failed strategy in New England that has yielded plenty of great stats, records and regular seasons but that ultimately failed in the end with four mirror-image losses.
The San Francisco 49ers and Baltimore Ravens trailed at halftime of their respective conference championship games last Sunday. On the road in a hostile Georgia Dome, the 49ers fell behind the Atlanta Falcons 17-0 early in the second quarter and found themselves down 10 points after 30 minutes. The Ravens, outplayed in all three facets of the game in the first half, trailed the...
BALTIMORE -- The Baltimore Ravens elevated quarterbacks coach Jim Caldwell to offensive coordinator on Dec. 10 after firing Cam Cameron. Now, the move has become a lasting one. With the Ravens reaching the Super Bowl, coach John Harbaugh announced Monday afternoon that the former Indianapolis Colts head coach and quarterbacks coach has agreed to remain in place as the offensive...
There are actual football games, and then there are the games that people play within those football games. For the Patriots, that means questions about how Bill Belichick does (or doesn't) talk after games, and whether his speedy postgame handshakes are in some way a slight. Shannon Sharpe was all worked up Sunday evening when Belichick declined an interview after the Patriots'...
Ballertainment San Francisco 49ers and Baltimore Ravens will play in Super Bowl Super Bowl XLVII will see the Baltimore Ravens and San Francisco 49ers battle it out for the Vince Lombardi Trophy this year. The 49ers beat the Atlanta Falcons in the Georgia Dome, 28-24 to become NFC Champions. The Falcons started the game fast and furious, with receiver Julio Jones catching 11 passes...
Congrats to the Baltimore Ravens and San Francisco 49ers, who both defeated higher-seeded opponents on the road to punch tickets to the Super Bowl. Here's our initial preview of the biggest matchup on the planet, which kicks off 332 hours from now. Two storylines you're going to be sick of by Wednesday: 1. Jim Harbaugh and John Harbaugh are the first brothers to hold...
With the Super Bowl quickly approaching, be on the lookout for plenty of prognostications from folks. This even includes some picks from animals. Namely, Princess, a 26-year old camel from Popcorn Park Zoo in New Jersey.The prophetic mammal has chosen the correct winner in six of the last seven Super Bowls, according to the zoo's general manager. She correctly tabbed the New...
The AFC Championship Game between the New England Patriots and the Baltimore Ravens on Sunday at Gillette Stadium in Foxboro, MA was a series of peaks and valleys.  In the end, there were more valleys and a disappointing 28-13 loss to end the season. At times it would seem the Patriots offense would be peaking and they'd start moving the ball only to bottom out and have a...
The Baltimore Ravens were seeking revenge for their 23-20 loss in last year's AFC Championship game.  They would get revenge by dominating the second half to defeat the Patriots, 28-13.  After trailing 13-7 at the half, it was all Ravens in the second half, shutting the Patriots out 21-0 to move on to the Super Bowl, or should I say the "HarBowl."  The Harbaugh brothers...
If it ain't broke, don't fix it. The Ravens are doing just that. Coach John Harbaugh said the Ravens will be keeping Jim Caldwell as offensive coordinator for next season. Since Caldwell has taken over, the Ravens are 4-2 and are in the Super Bowl. Joe Flacco also looks like an entirely different quarterback. Additionally, the Ravens hired Eagles former defensive coordinator...
Here's a bit of trivia I did not know about the San Francisco 49ers until this postseason, when I looked it up: With a 5-0 record, the 49ers are the only team that has played in more than one Super Bowl, and won every time.  There are only four teams that have played in just one Super Bowl, and won that only time: the New York Jets (1968), the Tampa Bay Buccaneers (2002), the...
NFL News

Delivered to your inbox

You'll also receive Yardbarker's daily Top 10, featuring the best sports stories from around the web. Customize your newsletter to get articles on your favorite sports and teams. And the best part? It's free!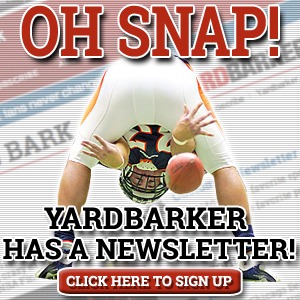 Latest Rumors
The Backyard

Today's Best Stuff

For Bloggers

Join the Yardbarker Network for more promotion, traffic, and money.

Company Info

Help

What is Yardbarker?

Yardbarker is the largest network of sports blogs and pro athlete blogs on the web. This site is the hub of the Yardbarker Network, where our editors and algorithms curate the best sports content from our network and beyond.