Found February 01, 2013 on Blog So Hard Sports:
Ravens vs. 49ers Sunday – 2/3/13 6:30 PM   This Sunday at 6:30pm will kick off Super Bowl XLVII and it will be the first Super Bowl coached by a pair of brothers. Jim Harbaugh, coach of the Niners, and John Harbaugh, coach of the Ravens have led their teams through the playoffs and will meet on the biggest stage of them all, Super Bowl Sunday in New Orleans. Sunday will be the last time that Ray Lewis laces up his cleats in a NFL jersey, and ever since his return at the beginning of the playoffs The Ravens have been playing lights out. They've defeated an up-start Colts team, followed by victories over the AFC's top two seeds in the Broncos and the Patriots. Lewis has led the team in tackles in all three games since his return and has really sparked Baltimore and raised everyone's level of play. The 49ers enter Sunday coming off a victory over the Falcons in the NFC title game in which they marched back from a 17-0 hole. This Niners team has been playing some exceptional football ever since second-year QB Colin Kaepernick took over the reins of the offense in week 11. In his 9 career starts, Kaepernick is 7-2 this season, with two of those wins being playoff victories. The Ravens and Niners have some great streaks entering Sunday's Super Bowl, and at least one of them will be broken after the game. The Ravens lead the all-time series against the Niners 3-0. The Ravens are also 1-0 in their lone Super Bowl appearance. The Niners will be looking to tie the Steelers will most Super Bowls all time for a franchise. San Francisco will be competing for their 6th Super Bowl and they are a perfect 5-0 all time in Super Bowls. After Sunday, one of those streaks will come to an end.  Let's take a look at what the Ravens need to do to hoist their second Lombardi Trophy.   What the Ravens need to do to win the game The Baltimore defense needs to make Colin Kaepernick one-dimensional. They can't have him passing and running all over them. The Ravens need to figure out what their focus should be stopping Kaepernick from running or limit him passing. Because if the Ravens D lets him run for over 100 yards and throw for 200 more, this one could get ugly. Their best bet would be to limit his rushing abilities because as we saw in the Niners divisional round game against the Packers, his legs can certainly hurt you. Actually make that destroy you. He ran for 181 yards against the Packers, which just happened to break the single game record for rushing yards for a QB. So shutting down his running attack will be a huge key to victory. So far this postseason Flacco has thrown for 8 touchdowns and ZERO interceptions. That has led the Ravens to three straight wins this postseason and if Flacco can put up another game where he refuses to turn the ball over, Baltimore could be hoisting the Lombardi Trophy while purple and black confetti pour from the Super Dome's rafters. I think it's safe to say that if Flacco is key in orchestrating the Raven's second Super Bowl, we can finally put to rest if he will get his contract extension or not. The Ravens will also have their hands full when it comes to covering the Niners receivers. San Fran has weapons all over the field. Michael Crabtree has really come into his own this season, especially with Kaepernick at the helm. In the 9 games that Kaepernick has quarterbacked, Crabtree has had 771 receiving yards and 7 touchdowns. Take those numbers and project it over a 16 game season and you get numbers of 1370 receiving yards and 12 TDs. Pro-Bowl numbers. And not only do the Niners have Crabtree but they also deploy WR Randy Moss and TE Vernon Davis: A trio that the Ravens D needs to focus in on stopping. Luckily for the Ravens, CBs Corey Graham and Cary Williams have really stepped their games up, especially in the postseason. Both have had 2 interceptions a piece in the playoffs and they are backed up by safeties Ed Reed and Bernard Pollard. This secondary is going to have to play a great game in order to keep the Niners high scoring offense in check.   Key Match-Up What better way to send off Ray Lewis' than featuring him in Blog So Hard's key match-up in his final game. In Sunday's Super Bowl, the key match-up is going to be the Raven's front seven versus the Niner's rushing attack. San Francisco was 4th in the league in rushing yards during the regular season and are leading all teams in rushing yards and rushing TDs in the postseason. The Ravens NEED to step up their rushing defense that has given up an average of 128 yards a game this postseason. Ray Lewis knows this is the biggest and final game of his career and I expect him to having his front seven playing their best game of the year. Look for the Ravens to hold the Niners under 110 rushing yards and limit them to only one rushing TD. If Lewis and the rest of the Ravens front seven can limit San Francisco to those numbers, I expect the Ravens to be celebrating Lewis's last game with a victory and a new piece of jewelry. If not, the Niners could be boasting a 6-0 record all time in Super Bowls.   Prediction Sunday's Super Bowl is going to be one exciting game. You have brother versus brother coaching. You have Ray Lewis' final ride. You have a dynamic QB playing in his first postseason and a QB that has won a postseason game in each of his first five years in the league. And you have a receiver that thinks he is the best to ever play the game. The story lines are all here, ones that the media drools over, and I believe that we are in for one hell of a roller coaster ride of a game. But I think the Ravens have a little more emotional stake in this game and that will be enough to push the Ravens over the top. My prediction: Ravens win 24-20. And to top it off I'm predicting that the Super Bowl MVP will go to none other than Ray Lewis. He's going to force a key turnover late in the 4th that pushes this Ravens team to victory. Enjoy the game folks and leave us your predictions for the game in our comment section. Related posts: Ravens Move On To The Super Bowl, Patriots Get the Pro Bowl Can the Ravens Ride the Ray Lewis Emotion Train and Upset the Patriots? Ravens Shock The Broncos, Move On To AFC Championship
Original Story:
http://blogsohardsports.com/nfl-2/ray...
THE BACKYARD
BEST OF MAXIM
RELATED ARTICLES
Baltimore Ravens linebacker Ray Lewis will retire in style with these gold-colored cleats that he'll wear against the San Francisco 49ers in the Super Bowl. Under Armour's FW13 cleats tell much of Lewis' story. Lewis' kicks have "Psalms 91" on the toe — just like the T-shirt he wore under his pads during his final home game on Jan. 6.
Ray Lewis avoided murder charges in the year 2000, when he testified against the two guys who were with him the night of the murder. Lewis and the Baltimore Ravens would go on to win the Super Bowl after the 2000 season was over. Lewis won the Super Bowl XXXV MVP award, defensive player of the year, and was picked for NFL's 2000 all-decade team. One thing would not go away...
There are always two sides to the story. And in this instance, for Ray Lewis, it's good news that he is temporarily off the hook for allegedly taking deer antler velvet spray. According to CBS Sports, S.W.A.T.S. owner Mitch Ross has publicly apologized to Lewis for the Sports Illustrated article this past week. "I never saw Ray put [the spray] in his mouth," Ross said during...
If you haven't thanked Ray Lewis in the 17 years he has been playing don't worry he is giving everybody another chance to thank him. Now that  may sound conceded and it may be reaching or crossing certain lines, however you have to hand it to Rev Rey the man is calculated in his thinking. During a press conference Wednesday, Lewis admitted to calculating his retirement announcement...
Prior to the AFC Divisional Round Match up of the Denver Broncos and Baltimore Ravens Denver Mayor Michael Hancock placed a friendly wager with friend and colleague Baltimore Mayor Stephanie Rawlings-Blake. Baltimore won the game and it was reported that Hancock injured himself preparing for dance . Well, he is all healed up and made good on his bet. Pretty good rendition of the...
Can there be too much of a good thing? It appears so with Ravens LB Ray Lewis's comments this week. Lewis came under fire for his involvement with a PED. instead of answering media questions, he attacked his accuser and the media asking questions about the issue.
Twitter.com/CookTheGreat The entire football season comes down to this week, and this week can be best summed up by this grainy picture of Baltimore Ravens' linebacker Ray Lewis and 'Inside Edition' reporter Katherine Webb (and some poor, nameless bugger). Ray Lewis and Katherine Webb aren't dating, but the way this week has gone, would it surprise you if they were? Ray Ray...
The man who reportedly supplied Ray Lewis with deer antler spray can't confirm the Baltimore Ravens linebacker ever used the stuff.
I don't know if you noticed, but I generally avoided discussing all the little storylines associated with the Super Bowl this year. In my mind, many of them are irrelevant, and a lot of them are annoying, Let's cut through all of them from least pertinent/most annoying to the most pertinent/least annoying. - Ray Lewis is retiring: He is still playing in this game, right? Right...
When the Baltimore Ravens arrived in New Orleans on Monday night, they more than likely expected the culmination of the month-long Ray Lewis Farewell Tour that the media had been throwing him since the start of the postseason. Instead, those Ravens have dealt with controversial comments from Bernard Pollard, even more controversial comments from Ed Reed and a whole lot of talk about...
Ravens News

Delivered to your inbox

You'll also receive Yardbarker's daily Top 10, featuring the best sports stories from around the web. Customize your newsletter to get articles on your favorite sports and teams. And the best part? It's free!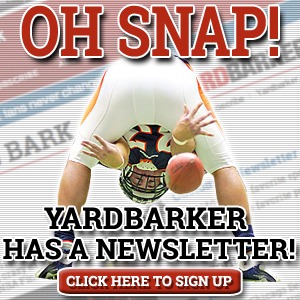 Latest Rumors
Best of Yardbarker

Today's Best Stuff

For Bloggers

Join the Yardbarker Network for more promotion, traffic, and money.

Company Info

Help

What is Yardbarker?

Yardbarker is the largest network of sports blogs and pro athlete blogs on the web. This site is the hub of the Yardbarker Network, where our editors and algorithms curate the best sports content from our network and beyond.