Found January 06, 2013 on WhoDeyFans:
I tend to be the level headed Bengals fan. I see you on twitter, on almost every bad play there is the barrage of tweets calling for so and so to be fired, or so and so to be cut. It is an instant reaction to what you just witnessed on your TV screen. One suck conversation after the Bengals again lost to the Houston Texans in the opening of the playoffs was this:   I love that the guy is a fan and has a platform to voice his opinion. I also love that he knows it is a gut reaction to the horrible display of football we all witnessed. Earlier in the season I called for the firing of Marvin Lewis. I think I am still on that bandwagon. As crazy as it seems that you would want to fire a coach that has turned the culture of this team into one where the playoffs become fairly regular from a team that was consistently the worst in the league, I still think it may need to happen. I think Marvin may have taken this team as far as he can. A team that is competitive and has great talent, but may not know how to win in big games. The answer is not to promote Gruden or Zimmer. Each has his own shortcomings in the parts of the team they control. Sure, the defense was great in the back half of the season, but the Dolphins and Browns were not impressed. The Ravens made them look silly. The majority of yesterdays game debacle falls on the shoulders of Jay Gruden. Why in the hell do you go away from your best player in a game? That would be like the Vikings trying to pass it constantly to get other people involved rather than run Peterson all day. It is insane and is almost a fireable offense. Why does it take until half time to realize that the game plan you drew up was just about the worst thing you could have designed? Was there no plan B? AJ Green has to get the ball in the first half. A screen, reverse or bomb is fine,  just put the ball in his hands.   It is not all bad though. I know you are pissed, it is good to be pissed. But if I was to rewind to coming off the OchoCinco / TO experiment when Carson Palmer decided he wanted to go to greener pastures and said to you: The Bengals are going to win 19 of their next 32 season games and make the playoffs both seasons You would have said I was crazy and been very excited at the possibility. It is good to want more, that is what success is built upon. Remember when the Arizona Cardinals made it to the super bowl? Now they are excited when they are not in last place. They had a flash in the pan season and followed with nothing. It is good to be competitive and have a chance in the post season. I have seen some quotes from the coaches / players that have given me pause. I wanted to point out a few. First from Marvin: From the kind of the onset of things we didn't get off to a good start offensively. You have to realize that before halftime. The Texans were trying to gift you this game and you just wouldn't accept it. Andy Dalton: We were trying to get some of the other guys going, but we weren't making plays. I need to do a better job making sure A.J. gets his catches. He is one of the best receivers in this league. He needs to have the ball thrown his way a lot. I think I could have done a little bit better job, but we tried to get other guys involved as well - Were they taking AJ Green away as an option? - No, they weren't necessarily taking him away; we just had designs where we were going to other guys. We got to the second half and I started throwing his way. Ugh, this has to be addressed as the dumbest move of the season. All season it was known if AJ was in single coverage then he was getting a shot. Why change that in the biggest game? Finally, I got this one of Twitter from the local news and honestly I am having a hard time believing it is true. But I am going to post it as I got it: Rey Maualuga: I know for a fact I didn't give it my all in the first half. It's so frustrating when it's the playoffs and you don't show up. As my head shakes in disbelief one other quote comes to mind from the movie Rudy: You just summed up your entire sorry career here in one sentence! I hope Rey gets picked up by another team next season, I have a hard time believing he will be a Bengal.
Original Story:
http://whodeyfans.com/2013/01/06/reac...
THE BACKYARD
BEST OF MAXIM
RELATED ARTICLES
There is going to be plenty of debate over the coming off-season over whether Marvin truly is the man to take this franchise into the future and beyond merely making the playoffs. It is a debate worth having. If you belong to the anti-Marvin camp, you have plenty of ammunition to use as you make your case. But if your debate is centered around the 2013 season, you are wasting your...
The Texans put their December tailspin to bed with a defensive beatdown of Marvin Lewis' Bengals. The one-time AFC favorite now sets its sights on a Divisional Round rematch with the New England Patriots
The Cincinnati Bengals just suffered another play off loss. Of course Bengals fans are already calling for a GM, new coaches, and another QB. This team, however, is a team on the rise, as most serious football fans can see.Owner Mike Brown and head coach Marvin Lewis have effectively put together a very solid core of young, talented players. Andy Dalton has put up numbers that rival...
Hot News for C Marvin Lewis
The 2013 NFL Playoffs kick into swing on Saturday with the Cincinnati Bengals (10-6) at the Houston Texans (12-4) at 4:30 p.m., followed by the Minnesota Vikings (10-6) at the Green Bay Packers (11-5).  Both games will be aired on NBC. Then on Sunday, the Baltimore Ravens (10-6) will host the Indianapolis Colts (11-5) at 1:00 p.m. on CBS before the Seattle Seahawks (11-5) take on...
Anyone can predict one round at a time, so I'm going all the way through I tell you why who has big games and the Super Bowl champ. Cincinnati Bengals vs. Houston Texans This will probably be the least exciting matchup of the weekend. Andy Dalton will be average as usual, A.J. Green will come [...]
What a terrible set of games. Even the one good game fell apart completely. It was a beautiful weekend in LA, and I wish I had some of the time back. Andy Dalton probably won't ever win a Super Bowl (except as a backup QB), and Marvin Lewis probably won't either (except as a defensive coordinator - which he already has). But there's zero chance they'll win...
In Week 17, our picks went 10-6 ATS and yours truly (131-120 ATS for the season) is ready to move into lead against the pick 'em league leader Beantown Brawlers (133-118 ATS). I'm currently in 2nd in the pick 'em league, 2 games behind the leader, with 11 games to play. Hopefully, you were able to build up your bank roll with some of Brandon's Bowl Picks. Oregon and Texas...
This weekend marks the beginning of the NFL Playoffs, and unlike years past, it seems like there isn't a clear favorite and that nearly every team has an opportunity of taking home the Lombardi trophy. This weekend includes four interesting matchups; the guys of Metta Chronicles have decided to preview the four games and predict the outcomes. Come back next week to see what we...
NFL News

Delivered to your inbox

You'll also receive Yardbarker's daily Top 10, featuring the best sports stories from around the web. Customize your newsletter to get articles on your favorite sports and teams. And the best part? It's free!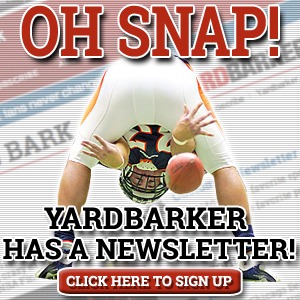 Latest Rumors
Best of Yardbarker

Today's Best Stuff

For Bloggers

Join the Yardbarker Network for more promotion, traffic, and money.

Company Info

Help

What is Yardbarker?

Yardbarker is the largest network of sports blogs and pro athlete blogs on the web. This site is the hub of the Yardbarker Network, where our editors and algorithms curate the best sports content from our network and beyond.