Three reasons for concern as the Bills enter the 2013 season: 1. New Offensive Coordinator Nathaniel Hackett I like the hiring of Doug Marrone as head coach, and I love the hiring of Mike Pettine as defensive coordinator.  Admittedly though, I am taking a very cautionary approach to new offensive coordinator Nathaniel Hackett.  I'm not saying this is a bad hire.  Hackett certainly has a reputation as a great young offensive mind, and this could prove to be a very good match in the end, but I'm just skeptical.  It's no secret that calling plays in the AFC East is going to be a bit different than it was in the Big East, and at this point it is a question of whether or not he can adjust to running the show at the next level.  My concern would be slightly tempered if Hackett's past NFL experience consisted of more than two brief stints in the role of Offensive Quality Control. One huge plus that I do see, and the reason I think this could be a good match is that Hackett is known to have a pretty high level of expertise when it comes to the quarterback position.  The Bills have a great running back tandem, a good wide receiver corps, and a solid offensive line.  If Hackett can bring along Kolb and Manuel in his system, he may just be one of my 3 Reasons for Hope going into the 2014 season. 2. Cornerbacks Stop me when you hear a name that gets you excited: Leodis McKelvin…Ron Brooks…Justin Rogers…Crezdon Butler…Kip Edwards…still no?  Yeah, same here. Let me make one thing clear: I love Stephon Gilmore.  Love him.  The guy has the mentality and ability to be a big-time defensive back for a long time in this league.  Now let's make another thing clear: Bills' opponents may do pretty well for themselves just by simply looking for #24 and then throwing to the opposite side of the field.  I know McKelvin finished strong last season and showed signs of being a decent NFL cornerback, and Ron Brooks has some people excited going into his second year, but until one of these guys steps up and really establishes himself as a true solid second option, there is plenty of reason for doubt about the position heading into the season. I loved the way the Bills addressed the linebacker corps with free agency and the draft, but I would've loved to see a similar effort in regards to the cornerback position (aside from a couple of late-round snags in the draft). At this point, though, the drop from Gilmore to whomever the #2 guy ends up being (McKelvin at this point) appears to be fairly sizeable at this point.  Add to that dates with Brady (2x), Matt Ryan, Joe Flacco, Ben Roethlisberger, Andy Dalton, and Drew Brees and there is plenty of reason for concern. That said, there is still time to add somebody through free agency. [crosses fingers] 3. They're the Bills While casual NFL readers would see this as a journalistic copout, Bills fans will see that section header and know exactly what I'm talking about.  The Bills' 13-season playoff drought has been 97% pure turmoil, but that other 3% – the portion of the last 13 seasons spent injecting false hope into the entire fan base – that is the part that has truly caused the most heartache.  I'm sure each person reading this could name ten moments off the top of his or her head that fall into this category, but I'm going to go ahead and ruin your Monday anyway: In 2004, the Bills recovered from a tough-luck 0-4 start to win nine of their next 11 games and set up a week 17 showdown against the Steelers' BACKUPS for a shot to get back to the playoffs.  The result: a five-point gut-wrenching loss at the hands of Tommy Maddux. Hopes crushed. In similar fashion, the 2007 Bills bounced back from a 0-3 start to win five of their next six games only to be violently brought back down to earth by a humiliating 56-10 drubbing AT HOME to New England. Still, four weeks later Buffalo entered a very winnable game at Cleveland with its wild card hopes still alive.  In a game that I so painfully wrote about last week, they were slowly and painfully removed from the playoff race in their first shutout loss since 2003. Hopes crushed. The 2008 Bills began the year 5-1 only to end the season with a 7-9 mark. Hopes crushed. Not to be outdone, the 2011 squad started 5-2 (insert ridiculous Fitzy contract here) only to go on a brutal seven-game losing skid and end the year at 6-10. Hopes crushed. I could go on, but the point is that Bills fans have been taught a tough lesson in tempering hopes.  We can talk about new energized coaching staffs, stud rookies, big free agent signings, and new management all we want, but until the Bills head back to the playoffs everyone that carries the curse of Bills fandom has plenty of reason to proceed with caution. Now that I have you all reaching for the anti-depressants, let's take a step back from the edge of the cliff and look at some cause for optimism. Three reasons for hope going into the 2013 season: 1. The Schedule Ready for some good news?  Only five of Buffalo's 16 games on the 2013 schedule are against teams that finished above .500 in 2012.  Their 13 opponents combined for a .473 winning percentage (121-135) in 2012, which is the lowest opponent's winning percentage of any AFC East team.  The Jets' 2013 opponents combined to go 127-129 (.496) last season, while the Patriots' and Dolphins' opponents finished 2012 at 130-126 (.508) and 133-123 (.520), respectively. Now, I feel like I should point out that several of the Bills' 2013 opponents that finished under .500 a year ago appear poised to be much improved this year.  Miami made major upgrades to their roster this offseason, New Orleans will have Sean Payton back on the sidelines and won't be operating under the dark cloud that followed them around last season, and Tampa Bay is a young and talented team with playoff aspirations in Greg Schiano's second year at the helm. I know much has been made of the Bills feeling like they got a tough draw regarding opponents' bye weeks, but this schedule sets up nicely, and dates with the Panthers, Jets and Browns in the first five weeks give the Bills a chance to get off to a nice start. Ready for some more good news?  The AFC East actually seems ripe for parody for the first time in a while.  The Patriots will still be favored to win the division, but they don't appear to be the unstoppable force they once were.  The Jets are the definition of unstable right now.  The Dolphins are stronger, but still have yet to prove how their newfangled roster will work out on the field.  In 2013, the pecking order in the division will be decided during the season rather than in mid-August.  The point being that the six games against AFC East opponents are all winnable.  Some tougher than others (week 17 at New England), but still, all winnable. 2. Running Backs The Bills may not boast the best single running back in the game (pretty sure that guy wears purple and gold on Sundays) but they very well may have the NFL's best running back tandem in CJ Spille and Fred Jackson.  2013 will bring about a slight changing of the guard as Spiller appears poised to get the lion's share of the carries, but let's not forget that Jackson is still a pretty dang good back. And while they aren't a "flash and smash" combo, they still have two very different styles, each of which compliments the other very nicely. There isn't much left to say about Spiller that hasn't been said a thousand times before.  The guy is incredible to watch.  He's a burner, he's shifty, and oh by the way, he's REALLY good after first contact.  Jackson, on the other hand, is not very fast and he doesn't do much on the field that has you springing for the rewind button on your DVR, but he's got underrated shiftiness and is savvy to the point where it looks like he's actually controlling the defense with his mind.  He's also the most patient back I've ever seen play.  I swear I've seen him actually tie his shoes while waiting for his blocks to set up. Also, both backs are very good at catching passes out of the backfield, and those kinds of safety nets help immensely when you have a new quarterback leading the charge. 3. New Defensive Coordinator Mike Pettine The promotion of Dave Wannstedt to defensive coordinator was one of the more puzzling moves I've seen made in Buffalo in recent years.  At the time, the Bills had some nice pieces on the defensive side of the ball and their answer was to hand the reigns to a guy who has refused to evolve within the game and is still coaching defense the same way he was over a decade ago.  Well we all know how that turned out.  Buffalo finished 25th in the NFL in total defense under Wannstedt.  A campaign made ever more frustrating by the waste of talent on the field (I still contend that Mario Williams, Kyle Williams and Marcell Dareus are one of the better trios of defensive linemen in the NFL). Enter Mike Pettine, the four-year defensive coordinator of the Jets, whom appears to be the anti-Wannstedt.  Pettine was hired by the Bills in January and brings with him to Buffalo a quiet confidence and intensity, as well as a reputation for getting the most out of his unit.  But more importantly, he knows exactly what he wants his defense to look like, and the front office wasted no time going out and getting guys that fit Pettine's controlled-chaos-style hybrid 3-4 defense. For example, when you hear rookie linebacker Kiko Alonso's name already being thrown around as the quarterback of the defense, it shouldn't surprise you if you listen to Pettine talk about the up-tempo attacking style he coaches and then watch this clip of Alonso during his college days. If you're still not sold on Pettine, watch this clip.  I watched it the day we signed him, and I've been in his camp ever since. I'm not expecting the Bills to be a top five defense in 2013, but they have plenty of big-time pieces and I truly believe Mike Pettine is the right guy for the job.  Expect MAJOR improvements on the defensive side of the ball in 2013. The post Reasons for Concern, Hope Entering 2013 appeared first on Buddy Nixon.
Original Story:
http://www.buddynixon.com/opinion/rea...
PLAYERS:
Mike Pettine
,
Leodis McKelvin
,
Ron Brooks
,
Justin Rogers
,
Crezdon Butler
,
Kip Edwards
,
Stephon Gilmore
,
Ben Roethlisberger
,
Drew Brees
,
Sean Payton
,
Fred Jackson
,
Mario Williams
,
Kyle Williams
,
Marcell Dareus
,
Kiko Alonso
TEAMS:
Buffalo Bills
,
Pittsburgh Steelers
,
New Orleans Saints
,
New York Jets
MORE FROM YARDBARKER
NFL News

Delivered to your inbox

You'll also receive Yardbarker's daily Top 10, featuring the best sports stories from around the web. Customize your newsletter to get articles on your favorite sports and teams. And the best part? It's free!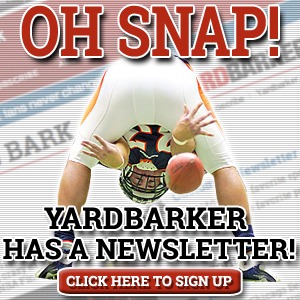 Latest Rumors
Best of Yardbarker

Today's Best Stuff

For Bloggers

Join the Yardbarker Network for more promotion, traffic, and money.

Company Info

Help

What is Yardbarker?

Yardbarker is the largest network of sports blogs and pro athlete blogs on the web. This site is the hub of the Yardbarker Network, where our editors and algorithms curate the best sports content from our network and beyond.