Found November 02, 2012 on WhoDeyFans:
Cincyjungle.com has an an article up today talking about whether or not Marvin Lewis should be fired. They take the stance that Marvin is the best coach Cincinnati has had in some time and has the team on the right direction. We here (or me because I am currently writing this) believe the opposite. After almost 10 years Marvin has done much for this franchise. He has wrangled some control from Brown and has taken this team from an every season cellar dweller to an average team with some semi-highs and some semi-lows. Now the Bengals need to take that next step and I am not convinced that Marvin is the coach that can do that. Here are some quotes from their post and my reaction: The only problem is that firing Marvin now or even after the season would be an overreaction So 9 season is an overreaction? no coach with this poor of a record has held their position this long. I am all for giving a coach time to implement his system but the current pattern of playoff team to terrible team with no back to back winning seasons is not getting it done. There is too much evidence that there is no continuity to this team. The signing of TO a couple seasons ago proves this. The Bengals have a solid coaching staff as it currently stands. There may be a few wrinkles that need to be fixed, but still a great staff overall. What makes this staff so solid? Both sides of the ball have regressed and there is no fire in this team. I blame the coaching. The Bengals offense is lackluster and uninspired and the defense is soft. A solid coaching staff does not allow that to happen one season after a playoff birth. Continuity is what is important here. I would argue that 9 season is continuity, at some point though with no results changes are necessary. We have a large sample of what to expect from Lewis and as a Bengals fan, I expect more. I personally think that Marvin Lewis has a solid plan for this franchise. Is his plan going into effect this season? It does not appear so, but 2013 looks a lot more promising and we could see this plan truly blossom that year. What is the plan? Regression? The article talks about the draft picks for Palmer, but that is a joke. That is like planning to hit the lottery, it was dumb luck that deal was made and the entire world agreed. Three playoff appearances in nine seasons is not spectacular, but it is much better than Bengals fans of the 20th and 21st centuries were/are accustomed to Agreed, but that is not enough. I am not content being a slightly below average team. I want more from the Bengals and I don't think Marvin is the coach to get us there. I have 9 and a half years of proof.  
Original Story:
http://whodeyfans.com/2012/11/02/rebu...
THE BACKYARD
BEST OF MAXIM
RELATED ARTICLES
This week the Bengals host the Broncos. Lets see how Tecmo thinks the game is going to shake out. After receiving the ball, the Broncos are forced to punt. Some lackluster offense from the Bengals has the stripes punting it right back. And then another punt. At the end of one nothing has really happened. Punting is the skill that is being tested today. The Bengals manage to move...
and nothing…..  as expected. There were moments when you sat back and thought "What if the Bengals traded for Bowe and Williams?" The Bengals will have an improved roster this Sunday. Their first round pick should be on the field and hopefully begins his domination in Stripes. WhoDey
The Bengals are an exciting team to watch, but they have a long road ahead of them. Denver at Cincinnati - The Boncos and Peyton Manning have things rolling now on both sides of the ball.  Don't forget that the Broncos played great defense and special teams last season and they were able to run the ball.  You add Peyton Manning to that mix and it's no surprise they...
We agree, it is time to step up. Bengals fans have been saying it, the media has been saying it. Now Marvin Lewis said it: "We're looking for our quarterback and our middle linebacker to take hold of our football team and that's important for us." Amen Marvin. Maualuga has been a disappointment this season. He seems to be slow and often out of position. In a contract year...
(Eds: APNewsNow. Will be updated.) By ARNIE STAPLETON AP Pro Football Writer Cincinnati Bengals coach Marvin Lewis isn't the only one haunted by the ''Immaculate Deflection.'' So is Brandon Stokley, who caught the batted ball and raced 87 yards for the score with 11 seconds left, giving Denver an improbable 12-7 win at Cincinnati in 2009. With the Bengals (3...
  One of the interesting match-ups I will be watching on Sunday is that of Champ Bailey and AJ Green. In he match-up of the Broncos and the Bengals last season, Champ was out and had to watch as AJ racked up 124 yds and a TD on his Broncos.   In an article today in the Denver post, Champ talks about AJ and how he thinks he is one of the best receivers in the league.   "There...
The Denver Broncos (4-3) will take on the Cincinnati Bengals (3-4) on the road this weekend.  The last time the Broncos played in Cincinnati (2009), this went down: Following the 2009 season, Stokley, battling injuries, spent time with the Seahawks and Giants from 2010-11, catching 32 receptions for 364 yards during that time.  This offseason, Stokley returned to Denver to join...
Denver Broncos (4-3) at Cincinnati Bengals (3-4) The Broncos rank 2nd in the league in yards per play differential at 1.4, just .1 behind San Francisco, who has looked untouchable for weeks in that category. No one else is above 0.7. They rank just 9th in rate of sustaining drives differential, thanks to a 3rd down defense that's 20th. However, they were much better in this...
CINCINNATI (AP) -- Bengals coach Marvin Lewis has gone on the offensive, openly challenging quarterback Andy Dalton and middle linebacker Rey Maualuga to start leading their 3-4 team. Lewis singled out the two of them during a conference call with writers in Denver and a session with Cincinnati-area media on Wednesday. He said they're both quiet guys who need to develop more...
The 4-3 Denver Broncos may be playing the best football right now but their record does not reflect it.  At 3-4, the Cincinnati Bengals are spiraling downward and descending in the AFC North. A win for the Broncos will help create a larger distance in their AFC West lead and a win for the Bengals will keep them in pace with the Steelers and Ravens.So what is likely to take place...
(Eds: APNewsNow. Will be updated. With AP Photos.) By JOE KAY AP Sports Writer Bengals coach Marvin Lewis has gone on the offensive, openly challenging quarterback Andy Dalton and middle linebacker Rey Maualuga to start leading their 3-4 team. Lewis singled out the two of them during a conference call with writers in Denver and a session with Cincinnati-area media on Wednesday....
Bengals News

Delivered to your inbox

You'll also receive Yardbarker's daily Top 10, featuring the best sports stories from around the web. Customize your newsletter to get articles on your favorite sports and teams. And the best part? It's free!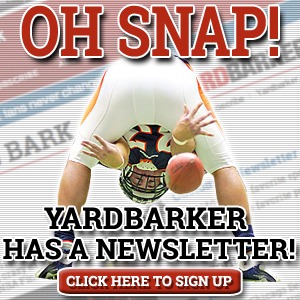 Latest Rumors
Best of Yardbarker

Today's Best Stuff

For Bloggers

Join the Yardbarker Network for more promotion, traffic, and money.

Company Info

Help

What is Yardbarker?

Yardbarker is the largest network of sports blogs and pro athlete blogs on the web. This site is the hub of the Yardbarker Network, where our editors and algorithms curate the best sports content from our network and beyond.