Found July 09, 2012 on Blog So Hard Sports:
PLAYERS:
Rex Grossman
,
Kirk Cousins
,
Jonathan Crompton
,
Tim Hightower
,
Roy Helu
,
Evan Royster
,
Alfred Morris
,
Darrel Young
,
Pierre Garcon
,
Josh Morgan
,
Leonard Hankerson
,
Santana Moss
,
Anthony Armstrong
,
Terrence Austin
,
Brandon Banks
,
Aldrick Robinson
,
Fred Davis
,
Chris Cooley
,
Niles Paul
,
Logan Paulsen
,
Trent Williams
,
Kory Lichtensteiger
,
Will Montgomery
,
Chris Chester
,
Jammal Brown
,
Willie Smith
,
Maurice Hurt
,
Josh LeRibeus
,
Adam Gettis
,
Tyler Polumbus
,
Barry Cofield
,
Adam Carriker
,
Jarvis Jenkins
,
Kedric Golston
,
Chris Neild
,
Kentwan Balmer
,
Doug Worthington
,
Brian Orakpo
,
Perry Riley
,
Ryan Kerrigan
,
Lorenzo Alexander
,
Keenan Robinson
,
Rob Jackson
,
Chris Wilson
,
Jonathan Goff
,
Bryan Kehl
,
Markus White
,
DeAngelo Hall
,
Josh Wilson
,
Cedric Griffin
,
Kevin Barnes
,
Chase Minnifield
,
Brandon Meriweather
,
Tanard Jackson
,
DeJon Gomes
,
Reed Doughty
,
Richard Crawford
,
Brandyn Thompson
,
Morgan Trent
,
Willie Parker
,
Neil Rackers
,
Sav Rocca
,
Nick Sundberg
,
Robert Griffin III
TEAMS:
Washington Redskins
,
Pittsburgh Steelers
With training camp set to begin on July 26th, we are under three weeks from the official start of the Washington Redskins 2012 season. 90 players will report to Ashburn with the hope of making it onto the final 53-man roster.
The Redskins will have over a month before they have to trim the roster down to 80 players on August 28th, but only have five days after that to get down to 53 on September 2nd.
While there are plenty of players that are assured a spot on the roster, there will be heavy competition at nearly every position on the team. I am taking a look at who is on the bubble, and will take an early shot at predicting the final 53.
Let's start with the offense first, and then finish up with the defense and special teams:
Quarterback (3) Robert Griffin III, Rex Grossman, Kirk Cousins
Not much discussion here….no chance Jonathan Crompton pushes for a spot. The Skins will carry three QB's this season and let's all pray that this is the last year we have to worry about Rex taking snaps.
Running Back (3) Tim Hightower, Roy Helu, Jr., Evan Royster
There are four young, hungry backs led by Alfred Morris that will be fighting to knock Royster out. Don't be surprised if Morris becomes this seasons Marcus Mason and wins over the fan base and finds a way onto the roster.
Fullback (1) Darrel Young
Shanny deserves credit for moving Young from linebacker to fullback. The experiment has paid off well. I believe he has Pro-Bowl potential and at just 25 he could be the fullback for a long time to come.
Wide Receivers (7) Pierre Garcon, Josh Morgan, Leonard Hankerson, Santana Moss, Anthony Armstrong, Terrence Austin, Brandon Banks
Every route, catch, dropped ball and missed assignment will be scrutinized as 8 worthy players will be battling for what I think will be 6 spots. I don't think Shanny will carry seven receivers like he did last year.
If Aldrick Robinson shows that he can play special teams and doesn't drop everything that comes his way he may be able to push AA or Austin off the roster.
Tight End (3) Fred Davis, Chris Cooley, Niles Paul
I wouldn't be surprised if Logan Paulsen ends up on the final roster somehow. He's been steady since day one and is a real asset in the run game. You don't see teams keep four tight ends very often but this may be the year it happens.
Offensive Line (10) Trent Williams, Kory Lichtensteiger, Will Montgomery, Chris Chester, Jammal Brown, Willie Smith, Maurice Hurt, Josh LeRibeus, Adam Gettis, Tyler Polumbus
Nothing is more important this season than protecting RG3, and with the injury history of two projected starters, depth on the line should be of the utmost importance.
I liked what I saw from Smith, Polumbus and Hurt last season and think that the line started to gel over the last month of the year with these three filling in as starters.
The strength of this unit is versatility. Every one of these players can play multiple positions on the line. This gives Chris Foerster great flexibility on finding the perfect combination to take into New Orleans in week one.
Defensive Line (6) Stephen Bowen, Barry Cofield, Adam Carriker, Jarvis Jenkins, Kedric Golston, Chris Neild
Last season Bowen and Cofield exceeded expectations and Carriker had a career year. Add in a healthy Jenkins and the Skins have one helluva rotation.
Keep an eye on Kentwan Balmer and Doug Worthington. Both of these guys are under 25 and have the prototypical size for an end in the 3-4. I wouldn't be surprised if one of these two makes it on to the team.
Linebackers (8) Brian Orakpo, London Fletcher, Perry Riley, Ryan Kerrigan, Lorenzo Alexander, Keenan Robinson, Rob Jackson, Chris Wilson
Alexander is changing positions once again moving inside after playing outside in 2011. His play on special teams alone warrants a roster spot. He reminds me of Levon Kirkland,  due to his size and surprising athletic ability.
By adding Jonathan Goff and Bryan Kehl the Redskins brain trust upped the competition for the backup jobs at inside linebacker. If Goff is healthy, the Skins may find themselves keeping five inside backers and relying on Alexander to play both inside and out.
I've been pulling for Chris Wilson since the team signed him out of the CFL, and now that he's back, his battle with Markus White may be one of the toughest ones for the coaching staff to decide on. I like White's ability but I believe Wilson's special teams play and overall experience will get him a spot on the squad.
Defensive Backs (9) DeAngelo Hall, Josh Wilson, Cedric Griffin, Kevin Barnes, Chase Minnifield, Brandon Meriweather, Tanard Jackson, DeJon Gomes, Reed Doughty
Hall, Wilson, and Griffin should be locks at corner, leaving two spots for Barnes, Minnifield, Richard Crawford, Brandyn Thompson and Morgan Trent to fight over. This could be the closest battle in camp.
Everyone is jumping on the Minnifield bandwagon – including Bill who said Minnifield would make the roster back in April — I'm no different but I have high hopes for Crawford and will be keeping a close eye on him as the preseason unfolds. Thompson showed solid coverage skills last season and could stick over a guy like Barnes who struggled in the slot last season.
At safety, things feel reminiscent of 2 seasons ago when the Skins signed Willie Parker and Larry Johnson to go with Portis. While I'm hopeful Meriweather rediscovers his form and Jackson learns how to tackle again, I have a feeling safety may be a problem this season. Bottom line is I'm bitter they let Landry walk.
Special Teams (3) Neil Rackers, Sav Rocca, Nick Sundberg
Unless Gano makes every single kick this preseason, I think the team has to go with Rackers.
Rocca showed how much of an impact a stable veteran can mean to the kicking game. Gano has the potential to be among the best, but I would rather have a more accurate kicker like Rackers.
*****
So what do you think? Who are your sleepers to make the team?
Let us know in the comments section below.
Original Story:
http://blogsohardsports.com/redskins/...
THE BACKYARD
BEST OF MAXIM
RELATED ARTICLES
When the Washington Redskins drafted Penn State running back Evan Royster in 2011, they were looking for a running back that would be able to compete for a starting job or at least compliment the new free agent back they had accquired in the Arizona Cardinals' Tim Hightower. Dan Snyder and Company would select Royster [...]
Tight end Fred Davis is not likely to receive a contract extension before the July 16 deadline. The Redskins franchised Davis this offseason and are believed to have extended an offer that reflects the risk to his availability. Davis was suspended four games last season for violations of the NFL substance abuse policy. One more violation and he will be suspended for a season. He...
If you're wondering what Redskins quarterback Robert Griffin III will look like in Madden '13, just check out the tweet below by Steve Noah of OperationSports.com. Check out @RGIII in #MADDENNFL13 with arm sleeve. #REDSKINS #RG3 twitter.com/Steve_OS/statu… — Steve Noah (@Steve_OS) July 6, 2012 EA Sports included RG3′s arm sleeve on his left arm along with  the glove that...
Can Washington Redskins quarterback Robert Griffin III be the savior of the franchise? (Credit: AP Photo/Pablo Martinez Monsivais) Washington Redskins' first round pick, number two overall, knows he was drafted by a team with a rabid fan base who is hungry to win. And that is exactly what he wants. Griffin III said this morning on ESPN radio that he embraces the fans enthusiasm...
 6 Potential Breakout Players   With the Redskins training camp coming up on July 26th, the question some fans have been asking is "who is poised to have a breakout season this year?" So I asked myself the same question and came up with 6 players to have a breakout year.     1. Ryan Kerrigan To me Kerrigan has it all…size, speed, the ability to shed blocks and be a great...
It's mid-July, and training camps are between two and three weeks away.  It is time to take a best-look projection at the Washington Redskins 2012 season.  I do this a number of ways.  Today, I will take a pragmatic look at the Redskins offense.  The goal of this piece is not to throw a bottom line number out there, but to take a look at how many points and wins the Redskins...
NFL News

Delivered to your inbox

You'll also receive Yardbarker's daily Top 10, featuring the best sports stories from around the web. Customize your newsletter to get articles on your favorite sports and teams. And the best part? It's free!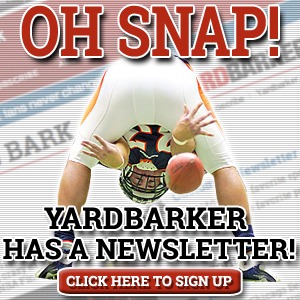 Latest Rumors
Best of Yardbarker

Today's Best Stuff

For Bloggers

Join the Yardbarker Network for more promotion, traffic, and money.

Company Info

Help

What is Yardbarker?

Yardbarker is the largest network of sports blogs and pro athlete blogs on the web. This site is the hub of the Yardbarker Network, where our editors and algorithms curate the best sports content from our network and beyond.