Found October 06, 2012 on 60 Max Power O:
PLAYERS:
Josh Morgan
,
Alfred Morris
,
Donovan McNabb
,
John Riggins
,
Trent Williams
,
Fred Davis
,
Vincent Jackson
,
DeAngelo Hall
,
Tanard Jackson
,
Brandon Meriweather
,
Billy Cundiff
,
Graham Gano
,
Lorenzo Alexander
,
Niles Paul
,
Kyle Shanahan
,
Jim Haslett
,
Robert Griffin III
TEAMS:
Washington Redskins
,
Minnesota Vikings
,
Tampa Bay Buccaneers
,
New England Patriots
With the first quarter of the season in the books, we hear at Redskins 101 are ready to hand out our first set of grades. Let us know what you think or would have done differently! Hail to the Redskins!
Offense:
Josh – Offense gets an A. When was the last time we watched the Redskins put up so many points and yards? Robert Griffin III is proving to be well worth the price we paid to move up and get him and thus far our receivers (save for Josh Morgan's brain fart at the end of the Rams game) have given him plenty of options to throw to. Our sixth round running back Alfred Morris (taken with the pick we got from the Vikings for Donovan McNabb) is proving to be a workhorse running back in the sense of John Riggins or Ernest Byner. I think he's going to get more and more yards as the season progresses. The line, though not stellar, has done a decent job, especially when they move the pocket. We haven't given up that many sacks and they create just enough running room for Morris to consistently gain positive yards. Trent Williams, though hurt, played his butt off against the Bucs and even with his and Fred Davis' suspensions last season I think they learned their lessons and I doubt they'll be any further problems from them.
Justin – I'll give them an A as well. Through the first three weeks of the season the Redskins were tops in the NFL in scoring. RG3 has looked like a third year pro; completing nearly 70% of his passes, scoring eight touchdowns, and only giving up two turnovers. This is one area that Skins fans shouldn't be worried about for a while. But at the same time, who have they really played?
Defense:
Josh – The defense is another story, they get a D. If I was grading the secondary alone they'd get an F. However, in spite of the comeback I can't find a lot of fault in the defense or secondary in the Bucs game last Sunday. Josh Freeman made some outstanding passes in the second half and the one to Vincent Jackson was the definition of a perfect throw. DeAngelo Hall had him covered like white on rice and Freeman put that ball where only Jackson could get. No fault on Hall there, there was nothing he could do short of pass interference to stop that play. If this team wants to contend for the play-offs there is a lot of work that needs to be done but I don't think it's impossible, just some guys (especially the back-ups) have to step up their game.
Justin - The Redskins entered the season hoping Tanard Jackson and Brandon Meriweather could provide stability at the safety position. Neither one has seen the field and one won't play at all this year (Jackson). Because their secondary has proven themselves beyond woeful, They can't be better than D overall. I'll be kind and make it a D+ (?) for their run stopping abilities and defensive scoring. They've scored two touchdowns and the replacement refs botched a third. They're really not far from being a decent defense–Packers, Saints, and Patriots all won a Super Bowl with sub-par, turnover based defenses.
Special Teams:
Josh – Special Teams gets an F. If you take away some blocked punts and missed field goals this team could easily be 3-1 instead of 2-2. I don't care that Billy Cundiff made the game winning field goal. He should still be cut because that field goal wouldn't have been necessary had he made the other two easy ones. The blocked punts I don't really know what to say about, it's just poor blocking and I'm not sure if blame goes to Special Teams coach Danny Smith, the players, or the offensive line coach, but two blocked punts in the first two games (or even in a whole season) is unacceptable and needs to get fixed fast.
Justin – In what facet of special teams have they even been average? Maybe kick coverage…but the end result is a F. They've had two blocked punts (as Josh mentioned) and Billy Cundiff has yet to impress me, or even make me believe that he was a better choice than Graham Gano. With protection issues in the last two years, Danny Smith has to fix it or go. Lorenzo Alexander is the lone stud on this unit. You could possibly throw Niles Paul in there too, but they desperately need to get things on track.
Coaching:
Josh – Coaching overall gets a C from me. I think Mike and Kyle Shanahan are calling some good plays on offense (sometimes some questionable ones) and are putting RG3 in a good position to succeed. A lot of folks don't like the amount of running he does but in reality if you've got a weapon like RG3 you've got to use him to his fullest to keep defenses honest. Let's face it, teams aren't blitzing him as much because they fear his escapability and don't want to get burned for the big play so that gives him time to find the open guy. Jim Haslett is a bit of a mixed bag. Sometimes he has the right play dialed up then he'll have the wrong play dialed up. I'm not sure how much of the defenses failing is on him and how much is on the ability of the secondary though. Special Teams I have to shake my head at Danny Smith. I know he's not the one blocking or kicking but Special Teams is failing in all aspects and that has got to sit with the coach.
Justin – I'll give them a C too. I couldn't be happier with the Shanahans, both Mike and Kyle. Play calling, game management, and execution have all been positives for the Redskins offense. The same can't be said for Jim Haslett. In fact, I feel the exact opposite way–I couldn't be more upset with him. Granted we don't have much of a secondary, the game plan has been rough and the results even rougher. The Redskins are second to last in average yards per pass against, giving up 8.47 per and dead last in passing touchdowns against, surendering 11. That, along with Danny Smith's troubles is why they don't have at least a B in this section.
Season Prediction:
Josh – I'm sticking with my 9-7 prediction from the start of the season. I think this offense is going to get better and better and like the Saints a few years ago will be able to over come some shotty play by the defense and just outscore some opponents. Where does 9-7 get us? Maybe a wild card or the division. Right now the NFC East is wide open and none of the teams look to be too dominate. We just have to stay in it until the end and like the Nationals we might be Division Champs come January.
Justin – I'm also going to stick with my pre-season prediction of 8-8. If they can avoid any more serious injuries (knock on wood), I expect them to get better as the season progresses. I do not expect teams to 'catch up' to Griffin this season. Honestly there's just two much he can do and he's far beyond his years in terms of grasping the game. If the other NFC East teams stumble, maybe they do have a shot at the post-season.
Let us know what you think…
Were on Twitter @Redskins_101 and on Facebook as Redskins101. You can also leave your comments below.
Be sure to check out other great articles at Sports Media 101.
Original Story:
http://www.60maxpowero.com/patriots/c...
THE BACKYARD
BEST OF MAXIM
RELATED ARTICLES
Washington Redskins wide receiver Aldrick Robinson is a promising, budding star in Mike Shanahan's offense.So after the freakish end zone crash he had during warm-ups last week with safety Brandon Meriweather, fans and coaches alike became understandably concerned with the receiver's well-being.On Friday, five days after the collision, Robinison had some comforting, and insightful...
One of the NFL's most explosive quarterbacks may have to sit out a couple of weeks. In the Redskins 24-17 loss to the Falcons, 2012 No. 2 pick Robert Griffin III was wallopped on a hit in the third quarter that sent him to the sidelines for the rest of the game. Now, it looks like that was a smart decision. Washington head coach Mike Shanahan announced after the game that Griffin...
ATLANTA FALCONS (4-0) AT WASHINGTON REDSKINS (2-2) SERIES FALCONS REDSKINS SERIES LEADER 14-6-1 STREAKS 3 of past 4 5 of past 8 COACHES VS. OPP. Smith: 1-0 Shanahan: 4-2 LAST WEEK W 30-28 vs. Panthers W 24-22 at Buccaneers LAST GAME 11/8/09: Redskins 17 at Falcons 31. Atlanta opens 24-3 halftime lead en route to victory. Falcons RB Michael Turner rushes for 166...
Updates with Griffin tweet, NFL to look into whether team reported injury information properly. With AP Photos. By HOWARD FENDRICH AP Sports Writer After taking a shot to his helmet while scrambling to try to avoid a sack, Washington Redskins quarterback Robert Griffin III stayed face-down for a few moments Sunday, then eventually staggered to his feet with what doctors determined...
Redskins rookie running back Alfred Morris had his second straight 100-yard game Sunday against Atlanta. Through five games, Morris has 491 yards and four touchdowns on 100 carries.Fantasy Spin:Morris has earned the trust of Mike Shanahan and is clearly the best running back Washington has. While Shanahan has been unpredictable in the past, he clearly likes Morris a lot and is going...
Redskins receiver Pierre Garcon is active for Washington's game against the Atlanta Falcons. Running back Ryan Grant also is active Sunday, the first time he's on the game-day roster for the Redskins since signing as a free agent last month after five years with the Green Bay Packers. Out for Washington are cornerback Cedric Griffin (hamstring) and safety Brandon Meriweather...
Opponent: Washington Redskins Where: FedEx Field, Landover, Md. Time: 1 p.m. Point Spread (Danny Sheridan's odds as published in USA Today): Atlanta is favored by 3 with an over of 52. Key Offensive Match-up: The Redskins have three injured defensive starters: pass-rushing outside linebacker Brian Orakpo, a two-time Pro-Bowler, and defensive tackle Adam Carriker, both of...
Washington Redskins rookie quarterback Robert Griffin III was knocked out of Sunday's game with a mild concussion, coach Mike Shanahan said. Griffin III didn't know what the score was or what quarter the game was in when he was taken to the locker room, Shanahan said. Griffin was relieved by rookie Kurt Cousins, who threw a 77-yard touchdown pass to Santana Moss but was...
Redskins QB RG3 Exits Early With Injury vs Falcons - Robert Griffin III left the Washington Redskins game in the third quarter against the Atlana Falcons on Sunday after taking a hit to his head. The team said the No. 2 overall draft pick was "shaken up" and his return is questionable. With the Redskins facing third-and-goal from the 3-yard line, Griffin took a snap, rolled...
According to ESPN's John Clayton, Washington Redskins quarterback Robert Griffin III suffered a head injury during today's game against the Falcons. Kirk Cousins has looked pretty good in relief of RG3.  He threw a nice touchdown pass to Santana Moss.  
(Eds: APNewsNow. Falcons 24, Redskins 17. With AP Photos.) Michael Turner ran 13 yards for the go-ahead score with 2:46 to play, and the Atlanta Falcons knocked Robert Griffin III out of the game Sunday in a 24-17 win over the Washington Redskins. The Falcons are 5-0 for the first time in franchise history. Matt Ryan completed 34 of 52 passes for 345 yards as Atlanta handed Washington...
NFL News

Delivered to your inbox

You'll also receive Yardbarker's daily Top 10, featuring the best sports stories from around the web. Customize your newsletter to get articles on your favorite sports and teams. And the best part? It's free!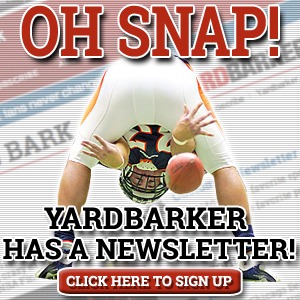 Latest Rumors
Best of Yardbarker

Today's Best Stuff

For Bloggers

Join the Yardbarker Network for more promotion, traffic, and money.

Company Info

Help

What is Yardbarker?

Yardbarker is the largest network of sports blogs and pro athlete blogs on the web. This site is the hub of the Yardbarker Network, where our editors and algorithms curate the best sports content from our network and beyond.