Found June 27, 2013 on BlackSportsOnline:
  Oh Dan Snyder, you just won't learn will you. The Washington Redskins owner, who has been defiant in his defense of the purportedly offensive team name, tried to pull the wool over everyone's eyes by employing the services of a real life Indian chief, to put a halt to the criticism the organization has been getting. And it would've worked if it wasn't for the meddlesome investigative journalism of one Dave McKenna of Deadspin. Chief Dodson, was said to be "a full-blooded American Inuit chief originally from the Aleutian Tribes of Alaska"  who  "represents more than 700 remaining tribe members" by the Redskins PR department. Dodson appeared on "Redskins Nation" a show produced by Snyder and hosted by Larry Michael, and made a few bold statements in defense of the team name. "Being a full-blooded Indian with my whole family behind me, we had a big problem with some of the things that were coming out [in the debate over the name]," he said. "I think they were basically saying that we were offended, our people were offended, and they were misrepresenting the Native American nation. We don't have a problem with [the name] at all—in fact we're honored. We're quite honored." He also said the name "redskin" wasn't offensive at all, but was a term of endearment where he came from. "It's actually a term of endearment that we would refer to each other as," Dodson said. "When we were on the reservation, we'd call each other, 'Hey, what's up, redskin?' We'd nickname it and call each other 'Skins.' We respected each other with that term. … It's not degrading in one bit." Well Mr. Dodson here, according to the story, is anything but a full-blooded Indian or chief. Let's start with that last part. Apparently nobody but Dodson says Dodson's really a chief. The work shirt from Charley's Crane Services that Dodson wore on Redskins Nation had "Chief Dodson" stitched into it alongside the company's name. But the only references I could find to Dodson and "Chief" that predate his appearance as "Redskin"-lovin' aboriginal royalty appeared in court records in Maryland. Case files from some of Stephen D. Dodson's scrapes with the law—involving theft, paternity, and domestic violence matters—have "Chief" listed as one of the defendant's AKAs. Dodson's sister even dimed him out, saying that the Redskins used him to push their agenda without doing any kind of background check. Carla Brueshaber, who identified herself as Dodson's sister, said she had nothing to do with the Indian Country Today comment, but she confirmed that Dodson wasn't as advertised on the Redskins program. "No, he's not a chief, not technically. It's a nickname," said Brueshaber, now living in Bellefontaine, Ohio, where Dodson went to high school, according to his 2000 wedding announcement in the Morning Call of Allentown, Pa. Asked why she thought Dodson was being portrayed by the Redskins and the NFL as an authentic Indian chief, Brueshaber said, "Somebody made a mistake and called him [Chief]. The Redskins went full steam ahead with it. They didn't check it because it was helping them." Include the fact that neither of the Inuits or Aleuts calls anyone in the tribe "Chief" or refers to themselves an "Indians" but native Alaskans, and the whole thing seems even sillier. Unsurprisingly, the term "redskin" isn't a name native Alaskans call each other affectionately, says Kelly Eningowuk, executive director of the Inuit Circumpolar Council-Alaska. What of Dodson's contention that Aleuts and/or Inuits regularly use "redskin" as a term of endearment? "I have never called anybody 'redskin,'" Eningowuk said. "Nobody I know has ever called me 'redskin.' I have never heard any Inuit call somebody 'redskin.'" When confronted with facts contradicting his entire story, Dodson remained defiant. When I told him that various groups representing Inuits and Aleuts in Alaska question the description of him as a "full-blooded Inuit Chief originally of Aleutian tribes," Dodson said, "I don't get into organizational things like that. We are a people and that's what we need to focus on, instead of dealing with non-profits run by Mexicans." In this day and age of transparency Snyder really should have known better, now he's left standing with egg on his face, a fake Indian chief and a team name that still draws heavy criticism.  
Original Story:
http://blacksportsonline.com/home/201...
THE BACKYARD
BEST OF MAXIM
RELATED ARTICLES
Defensive coordinator Jim Haslett says a rookie safety is going to start for the Redskins this season opposite veteran Brandon Meriweather. He has his eye on two rookies taken in the 2013 NFL Draft, Phillip Thomas and Bacarri Rambo. Thomas (6'1, 215) was selected in the fourth round (119th overall) and Rambo (6'0, 218) in the sixth (191st). Both are relatively equal...
It seems like this entire offseason the Washington Redskins have been defending their name against the media and public in an effort to try and prove it's not racist Back in May, the Redskins had a guest on their show Redskins Nation, named Chief Dodson who claimed to be "a full-blooded American Inuit chief originally from the Aleutian Tribes of Alaska" who "represents more...
Rich Tandler of CSN Washington believes the Redskins may elect to move forward with just Robert Griffin III and Kirk Cousins as the only quarterbacks on their 2013 roster. As of now, Washington is still carrying Rex Grossman as their third-string quarterback, but as Tandler points out, Mike Shanahan discussed the advantages of carrying four tight ends on their roster. Washington...
Washington Redskins linebacker Brian Orakpo was on NFL Network's show 'Total Access' on Wednesday. The star Redskin player is entering what will be his fifth season in the NFL, the last two of which have ended early due to shoulder injuries....
Rex Grossman has been a good quarterback during his time in the NFL. He has also been a pretty bad one too. Lucky for him he has been streaky in a good sense enough to warrant teams keeping him around. However, he will be 33 before the '13 season starts, and didn't play a lick last season. Could his time be close to done in the NFL? Keith Allison/Flickr It can...
Washington Redskins quarterback Robert Griffin III and rapper Wale appear to be best buddies. Last summer, Wale visited Redskins training camp and told reporters about a new nickname he had already given the rookie sensation. Now, he is apparently on RG3′s guest list for his wedding. On Tuesday, Wale joined HOT 97 in New York [...]
Everyone love's Robert Griffin III. The man has the coolest Adidas commercials, Subway for life (right?), fans are buying him wedding presents, the whole world is watching his knee--the love is definitely there for the second year quarterback of the Washington Redskins. It is kind of hard to beat sandwiches for life, but a local Richmond, VA (where the Redskins have...
The Washington Post polled 1,106 D.C.-area residents about the Washington football team's nickname, and the big takeaways are "61 percent [of Washingtonians] say they like the team's name" and "among those who want to keep the Redskins' name, 56 percent say they feel the word 'redskin' is inappropriate." That first result is predictable, and the second is pure comedy...
Is Robert Griffin III cheating on his fast food? The Washington Redskins' star quarterback has an endorsement deal with Subway, often pitching the chain's sandwiches (along with other young sports luminaries like Mike Trout and Blake Griffin) in commercials. However, at least one other fast-food establishment may be making some inroads to win over RGIII. A fan stumbled upon a...
As if Robert Griffin III's life wasn't already amazing, the Redskins quarterback now has a parking spot reserved for him at an Arby's.
  Wale made an appearance at Hot97′s studio in New York this week to promote his new album and ended up revealing that he'll be performing at Robert Griffin III's upcoming wedding. The Washington DC rapper got a surprise call-in from RG3 while on the show, as well. You can check out the appearance below. RG3′s call-in is around the 3:00 mark. [Washington Post] Article found...
Redskins News

Delivered to your inbox

You'll also receive Yardbarker's daily Top 10, featuring the best sports stories from around the web. Customize your newsletter to get articles on your favorite sports and teams. And the best part? It's free!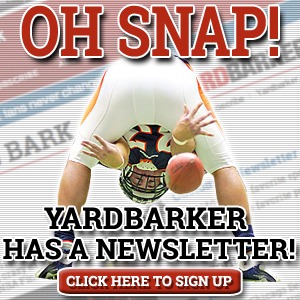 Latest Rumors
The Backyard

Today's Best Stuff

For Bloggers

Join the Yardbarker Network for more promotion, traffic, and money.

Company Info

Help

What is Yardbarker?

Yardbarker is the largest network of sports blogs and pro athlete blogs on the web. This site is the hub of the Yardbarker Network, where our editors and algorithms curate the best sports content from our network and beyond.