Found April 10, 2013 on Blog So Hard Sports:
With the Redskins cap penalty preventing huge free agent moves, the team is forced to lean more heavily on their in-house guys and develop their young talent. In these segments, I will be taking a look at the players who have a chance and the opportunity to make an impact on the team this season. To the people who are worried about the Washington Redskins Defensive Secondary going into the 2013 season, have no fear Jordan Bernstine is here! Jordan who?!? Who the heck is Jordan Bernstine? And how in the world is a player I haven't even heard about going to help a suspect defensive backs group for the Redskins? Well you better get used to hearing his name because if this guy keeps healthy he is ready to make a serious impact in the secondary in 2013. Jordan was drafted out of Iowa in the 7th round by the Redskins in last years NFL Draft. Because of his explosive speed and hard hitting ways he became a standout in last years training camp both on the defensive side of the ball and as a return guy for the special teams unit, and was flying up the depth charts literally. Coaches, including Defensive Backs Coach Raheem Morris, were referring to Jordan as the next Bob Sanders. He had a great pre-season in 2012 and made the final 53 man roster, he even managed to snag an interception in the last pre-season game. Coaches were certain they had a good looking young backup safety going into the season, but in the season opener against New Orleans the disastrous injury bug hit. He took a bad angle on a special teams play and ended up tearing his ACL, MCL & PCL and was forced to have season ending knee surgery. Normally this is where the story would end. Promising young player makes it to the NFL shows amazing potential, makes the team, gets hurt the first game of the year and no one hears from him again. Not this time. The Redskins are on the final year of a 36 million dollar cap penalty put on them by the NFL. This meant that the Redskins training staff took Jordan's injury seriously and worked with him non stop to get him back to 100% for the upcoming 2013 season knowing that the Redskins would need as much depth as possible at that position. The result? Mr. Bernstine got healthy and was already back to running on the field close to that 4.43 forty speed he showed in last years combine. He also got a full year of NFL coaching sitting in on video sessions with coaches and getting a full dose of what it is to prepare yourself week in and week out. He is young, hungry, healthy and most importantly prepared to make an impact in 2013. Related posts: Santana Moss: Showing the Young Guys How It's Done Redskins Continue to Get Great Production From their 2012 Draft Class Should the Redskins Kick the Tires on Charles Woodson?
Original Story:
http://blogsohardsports.com/redskins/...
THE BACKYARD
BEST OF MAXIM
RELATED ARTICLES
Ever since 2010, the Redskins have been rebuilding their defensive line and transitioning it into a 3-4 D-line. They have had set backs each of past two years which didn't allow the 3-4 to play at its full potential. Hopefully this year that potential can be fully realized with the return of Adam Carriker at left DE to split time with Jarvis Jenkins. Stephen Bowen, Barry Cofield...
HIGH PRAISE
Redskins wide receiver Pierre Garcon has played with both Peyton Manning and Robert Griffin III and he believes that RG3 can be just as good as his former teammate.
According to Darren Rovell of ESPN, Redskins quarterback Robert Griffin III set a new record by selling the most jersey ever in one fiscal year. Washington Redskins quarterback Robert Griffin III not only ended the year with the best selling jersey in the league, more of his No. 10 jerseys were sold in the NFL this fiscal year than any jersey in league history. Exact sales numbers...
There's a lot going on here but we'll focus on the obvious. So fans are really letting their favorite black quarterback (Robert Griffin III) hold one their twin girls like he's part of the family?Man, winning changes everything.via @DragonflyJonezThe post This photo of Robert Griffin III and a fan can't be real appeared first on No Guts, No Glory.
Washington Redskins wide receiver Pierre Garcon told NFL AM on the NFL Network that the use of Adderall in the NFL is only getting worse. "There is an issue with it," Garcon said, per NFL.com. "It gives you an upper hand that regular guys like myself don't have. It helps you focus more attention to what's going on, on the field, and that is an advantage because regular...
Comparing a quarterback that has played for one season in the NFL to one of the best quarterbacks, statistically at least, of all time isn't usually allowed around these parts. But since Pierre Garcon has played with both Robert Griffin III and Peyton Manning we'll entertain this.Garcon made an appearance on NFL AM on the NFL Network Thursday and flat out told viewers that Robert...
In a recent report it was revealed that Washington Redskins quarterback Robert Griffin III was top selling jersey from April 1, 2012 to March 1, 2013 according to NFLShop.com. The report also stated that the number is the most ever in a single year. With the anticipation and the play during his first season in the NFL, RGIII was a marketing dream for sponsors. His play backed up the hype and
Following a superstar season with the Washington Redskins, RGIII set a record for the most NFL jerseys ever sold in one fiscal year.
Pierre Garcon knows just how good his young quarterback Robert Griffin III has the potential to be. After spending a a season catching passes from RG3, Garcon is all in on the potential superstar and shared his feelings with NFL AM. "(Griffin) can be just as good as Peyton," Garcon told "NFL AM" on Thursday. [...]
Redskins News

Delivered to your inbox

You'll also receive Yardbarker's daily Top 10, featuring the best sports stories from around the web. Customize your newsletter to get articles on your favorite sports and teams. And the best part? It's free!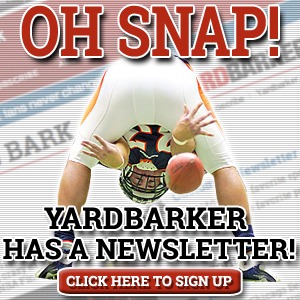 Latest Rumors
Best of Yardbarker

Today's Best Stuff

For Bloggers

Join the Yardbarker Network for more promotion, traffic, and money.

Company Info

Help

What is Yardbarker?

Yardbarker is the largest network of sports blogs and pro athlete blogs on the web. This site is the hub of the Yardbarker Network, where our editors and algorithms curate the best sports content from our network and beyond.