Found January 11, 2013 on Fox Sports Kansas City:
KANSAS CITY, Mo. When new Chiefs head coach Andy Reid was an offensive line coach for the Missouri Tigers from 1989-91, he was part of perhaps the most star-studded coaching staff in Missouri football history. Bob Stull, then the Tigers head coach, had five assistants who later went on to be head coaches or assistants in the NFL. They were: Reid, who was an assistant with the Green Bay Packers before becoming the Philadelphia Eagles head coach for 14 years. Ken Flajole, who was Stull's defensive backs coach, was the defensive coordinator for the St. Louis Rams and now is secondary coach for the Saints. Dirk Koetter, who also interviewed for the Chiefs head coaching job, was Stull's quarterbacks coach and now is offensive coordinator for the Atlanta Falcons. Marty Mornhinweg, who was Stull's tight ends coach, was Reid's offensive coordinator with the Eagles after having been the Detroit Lions head coach. And Dave Toub, who was Stull's strength and conditioning coach, has been the special teams coach for the Chicago Bears. The inside joke among Tigers fans, though, is that with all that coaching talent, no one stepped forward to save Missouri from its infamous fifth-down game loss to Colorado back in 1990. Guess we were all pretty dumb back then, Stull told FOXSportsKansasCity.colm with a laugh. We got much smarter later in our careers. That game became one of the most controversial in college football history, and unfortunately remains the legacy of that famed staff. Stull has never blamed his assistants, though, for not reacting more quickly to the bizarre events that unfolded in Colorado's last-second 33-31 victory over the Tigers then. Well, you certainly can't blame Andy, Stull said. We had our defense on the field, so it's not like he would have been in my ear anyway. And truthfully, Missouri's coaches did know, or strongly suspect, that Colorado had used an extra down. There was a lot of discussion, a lot of yelling about it on the sideline, Stull said. But the down marker guy, who was a Missouri guy, didn't see an extra down. The linesman standing next to him didn't see an extra down and the head referee didn't see an extra down. We had no replay back then so there wasn't much you could do. We just had to go ahead and try to stop them, which we did. Their quarterback (Charles Johnson) never made it in the end zone on that fifth down. We stopped him short, his progress was stopped, and we had photos of it. But seriously, our coaches were on it. That was a heckuva staff. Reid actually came to Missouri with Stull from the University of Texas-El Paso, where Stull had coached for three seasons and where Stull is now the athletic director. We hired him because Dirk Koetter had known him when they worked together at San Francisco State, Stull said. We were looking for an offensive line coach and Dirk recommended him. He told me he was a good guy and that they had worked hard together at a rather small program there. He said they used to sell donuts together to raise money for the program. Stull recalls being immediately impressed with Reid, who had played offensive line at Brigham Young. He was very committed to the job, Stull said. As I watched him, I could tell he was a great teacher of the game. He was tough and hard, but he also could laugh. He had a great sense of humor. I'm not sure people often see that. But he was the type of guy that would not get on you as long as you knew your assignment and put forth the effort. But if you made mental mistakes, he didn't have much patience for that. He could let you have it, but not in a demeaning way. He didn't believe in demeaning his players, and I think that's one of the reasons he became so successful. Reid eventually left Missouri and Stull in 1992 to become an offensive assistant coach for Mike Holmgren with the Packers. People always ask me if I knew all these guys would end up in the NFL, Stull said. And it's really a pretty tough question because it takes more than just skill at the coaching level to move to the NFL. You need some breaks along with your skill. It just so happened that when Holmgren got the job with the Packers, he remembered Andy from BYU. When Holmgren was the quarterbacks coach at BYU in 1982, Reid was a young grad assistant. The thing is, you have that connection just for one year, Stull said. But Andy obviously made such a great impression on Holmgren that it stuck, even 10 years later. That's how you get ahead. And Andy proved everyone right because he has been a great head coach. Stull said he still keeps in touch with Reid, and the two text and call on occasion. We had a surprise birthday party for his 50th at his home in San Diego a few years ago, Stull said. I was at that. And we've kept in contact when things come up. When I heard he might be interviewing for the Arizona job his wife, Tammy, is from Phoenix I texted him that he better bring plenty of sunscreen. But then he texted me back right away and said he was going to talk to the Chiefs before he did anything with Arizona. And then the next thing he texted me was that he was going to skip Arizona, and that it was going to be Kansas City. I'm happy for him. And I think the Chiefs got a really great coach and a great person.
Original Story:
http://www.foxsportskansascity.com/01...
THE BACKYARD
BEST OF MAXIM
RELATED ARTICLES
New Chiefs coach Andy Reid began filling out his staff Friday, hiring former Eagles quarterbacks coach Doug Pederson to be his offensive coordinator and longtime Jets assistant Bob Sutton as the defensive coordinator. Pederson spent the past four seasons on Reid's staff in Philadelphia, while Sutton had stints as the Jets' defensive coordinator and was their assistant head...
It seemed like it took no time at all for 14-year Eagles coach Andy Reid to find a new home in Kansas City.Many fans expected the same thing in terms of finding a new coach, but that hasn't exactly been the case.Nearly two weeks after the firing of Andy Reid, and the Eagles seemingly meet with a new person everyday. The search for the new coach in Philadelphia sure has been...
New Kansas City Chiefs head coach Andy Reid has found his offensive coordinator, as the team has hired his former quarterbacks coach Doug Pederson to fill the position, according to Adam Caplan of XM-Radio. As others have noted, Eagles QB Doug Pederson has joined the Chiefs. He's their OC, source confirmed. — Adam Caplan (@caplannfl) January 11, 2013 Pederson has gone...
When Andy Reid was announced as the Chiefs new Head Coach a week ago it didn't take him long to find a pair of qualified men to become his top coordinators. In dipping into the coaching carousel, he found Doug Pederson to run the offense and Bob Sutton to handle the defense.
The former linebacker and longtime personnel assistant will join new coach Andy Reid in Kansas City.
Cleveland Browns offensive coordinator Brad Childress was in Kansas City yesterday, where he could potentially be hired by the Chiefs as either the team's offensive coordinator or as an advisor to new head coach Andy Reid, according to Adam Schefter of ESPN. Browns OC Brad Childress is in KC today, where he could be hired as either OC or as an advisor to new Chiefs head coach...
Andy Reid is in the process of trying to rebuild the Kansas City Chiefs from the ground up.  Reid needs a quarterback to make the process easier, and the Chiefs hold the #1 overall pick in the 2013 draft. Question will begin to arise in reference to who Reid and the Chiefs might select.  There is no Andrew Luck or Robert Griffin III in this draft, even though Geno Smith and Matt...
The Kansas City Chiefs have hired longtime Packers personnel man John Dorsey to replace the fired Scott Pioli as their general manager. The Chiefs announced the hiring while the Packers were playing the San Francisco 49ers in the NFC playoffs on Saturday night. Dorsey will be introduced at a news conference Monday. Dorsey, who played linebacker for the Packers in the 1980s, was...
As we slowly make the transition from football season to the offseason, there are a number of different approaches that teams are taking. Some teams have blown it up, and are in the middle of starting over while some teams are simply looking to add a little more talent to their rosters before the start of the 2013 season. Here's a short list of interesting teams to watch as the...
Multiple news sources are reporting that the Philadelphia Eagles have met with Notre Dame head coach Brian Kelly and that the two sides will meet again early next week. When asked about joining the NFL coaching ranks prior to the National Championship game, Kelly told reporters that leaving "is not an option." Something changed. The Eagles have now interviewed six coaching candidates...
NFL News

Delivered to your inbox

You'll also receive Yardbarker's daily Top 10, featuring the best sports stories from around the web. Customize your newsletter to get articles on your favorite sports and teams. And the best part? It's free!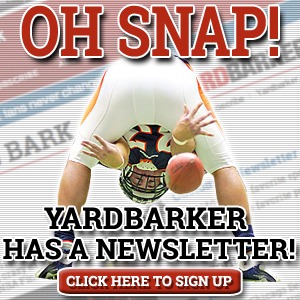 Latest Rumors
The Backyard

Today's Best Stuff

For Bloggers

Join the Yardbarker Network for more promotion, traffic, and money.

Company Info

Help

What is Yardbarker?

Yardbarker is the largest network of sports blogs and pro athlete blogs on the web. This site is the hub of the Yardbarker Network, where our editors and algorithms curate the best sports content from our network and beyond.