Found June 28, 2012 on WhoDeyFans:
Yesterday I addressed  the incessant hand-wringing in Who Dey-ville regarding the second starting WR position.  Today, I'll look at another area that seems to get a lot of publicity from fans and "experts" alike:  The cornerbacks.
It seems this area of the team is concerning to the overpaid and blowhard "pundits," and with all due respect, I don't get why the fans are likewise troubled.  Maybe by and large we aren't, but that's not what I'm reading around the Bengalsphere.
Look, I get that Leon Hall is our best corner, and a huge question mark right now as he attempts to come back from a devastating Achilles injury.  But if there was an area of the roster that got seriously upgraded over 2011, it's this one.
Last year, the team had Hall, and free agent signee Nate Clements as the regular starters.  Behind them there was Adam Jones, out of commission for half the season with neck and hamstring problems, and they traded for Kelly Jennings of Seattle.  Behind them there were some meager contributions from Rico Murray and Brandon Ghee. 
Hall was who we've come to expect—a technically-sound, almost robotic cover corner.  Clements brought a stable, tough-as-nails veteran with enough speed and smarts to start in the NFL.  After that, it wasn't quite so good, and when Hall went down, so did the overall defense as Jones and Jennings struggled.
As we head to camp this year, Hall is expected to be ready-to-go, which is fantastic news.  Assuming he's back to his old form, he will start.  Clements also returns and won't relinquish his starting job without a fight. 
Jennings is gone (to no one's surprise), Ghee is back and apparently improved, and Jones is also back, though he may now be relegated to punt return duties or out of a job entirely thanks to the "new" guys the team has brought in.  Added to the mix at corner are Jason Allen, who got four interceptions as a nickel back in Houston last year, Terence Newman, a longtime starter in Dallas who also nabbed four picks in 2011, and a fifth round steal in Iowa's Shaun Prater.
I haven't even mentioned the team's top draft pick, first-rounder Dre Kirkpatrick.  Kirkpatrick was the last of the "can't miss" corners available in the draft, and the Bengals pounced on him at 17.
On paper, at least, this group is far and away superior to last year's squad. 
Surely, they won't all make the team.  Clements may be an odd man out due to his age and contract—especially with Newman, Allen, and Kirkpatrick realistically vying for his spot.  Ghee might be out if he can't prove he belongs this year after two seasons of patience.  Prater might be practice squad material and Hall may start the year on PUP.
But even with all those possible question marks yet to be answered, the one thing I'm highly confident of is that this team is better than last year's.  With the Bengals improving pass rush, and this crop of cover corners, the defense should be able to maintain and improve upon last year's impressive showing. 
The current group has 107 interceptions and 10 touchdowns.    Plus they've added a first round pick and a fifth rounder to that mix.  If that doesn't help a paranoid fan sleep at night, I don't know what will.
This group is experienced, talented and deep.
Original Story:
http://whodeyfans.com/2012/06/28/rela...
THE BACKYARD
BEST OF MAXIM
RELATED ARTICLES
Brandon Tate is creating a stir as the Bengals current No. 2 receiver It seems that Brandon Tate is something of a hot button in Who Dey Nation. Some people seem to hate him and think he may not even make the roster this year. Others seem to recognize his contributions to special teams, where he was a pretty productive returner, although prone to some poor decisions. I fall somewhere...
Our friends at Deadspin chatted with the chick who is shopping the alleged Terrell Owens Skype masturbating photos. She was nice enough to send them SFW samples to peruse before making any financial offers. Of course her first stop was TMZ. She also chatted with the Philadelphia Daily News about the photos. That all good, but our first question to this chick is: "What was T.O...
Last week Pete Prisco with CBSSports.com listed one underrated, defensive tackle Geno Atkins, and one overrated player, running back BenJarvus Green-Ellis, for each team in the NFL. ESPN analyst KC Joyner writes something similar, except he lists the most overrated players in the entire league. Though the headline is mostly about Baltimore Ravens quarterback Joe Flacco and his...
Former Cincinnati Bengals linebacker David Pollack will replace Craig James during ESPN's Thursday Night College Football, ESPN is expected to announce on Wednesday. Pollack, a three-time First-team All-American, was Cincinnati's first-round pick during the 2005 NFL draft as a defensive end out of Georgia. Pollack was also the Chuck Bednarik Award winner, the Lott Trophy...
This week at the NFL Rookie symposium, the newest additions to the league have had some great advice. Adam Jones spoke on what not to do, Michael Vick did the same and Michael Irvin took the crew to the Pro Football Hall of Fame to show them where they could end up if they did everything the right way. Now, another familiar face was added to the roster. Terrell Owens arrived in...
We all know about Terrell Owens and how good he was as a football, but now it seems that Owens has a little too much time on his hands. According to Barstoolsports.com the recently released Owens was caught playing with himself in a Skype chat room with a 27-year-old female. The female asked for her name not to be exposed, she also said that Owens has done this type of Skype interview...
This is a simple but an important question. Marvin Lewis is going into his 10th season as head coach of the Bengals. Only two other coaches — Bill Belichick and Andy Reid — held their current job when he became the HC in 2003. In fact, only 7 current head coaches have more experience than Marvin has. In an era of disposable staff, he has found unusual longevity. Given that Marvin's...
By now we all know of Terrell Owens failed attempts to land with an NFL team. While still considered to be in good shape, Owens attitude has made him an unwanted commodity in NFL locker rooms. But Owens isn't the only player who seems to generate little-to-no interest by NFL teams. This is not to say that some of these guys won't eventually land with a team. It's just that...
Really. If the Cincinnati Bengals wanted to endear themselves to an old grizzled Bengals fan, who has promoted unfathomable fandom behind a Hall of Famer Anthony Munoz and Willie Anderson, they would simply draft an offensive lineman every year. Need a running back? Draft a 300-pound lineman to pound idiot safeties crashing the hole (despite being a defensive lineman, think Domata...
Getty Images According to ESPN's Adam Schefter, the Oakland Raiders are still interested in free agent running back Cedric Benson. "They're still interested in signing Cedric Benson.  Cedric Benson is still on the Raiders' radar," said Schefter, per Evan Silva. Not sure what the Raiders are waiting for.  They just might be unwilling to pay Benson whatever he's asking for.  
// ><!-- //--><! <![CDATA[// ><!-- //--><! <p> <a href="http://www.cincyjungle.com/2012/6/23/3111521/cincy-jungle-fan-poll-who-is-your-most-hated-bengals-rival">Recently the topic of Bengal rivalry</a> was raised and all the typical villains were trotted out as in a police line-up for the conversation. Here were all of...
Bengals News

Delivered to your inbox

You'll also receive Yardbarker's daily Top 10, featuring the best sports stories from around the web. Customize your newsletter to get articles on your favorite sports and teams. And the best part? It's free!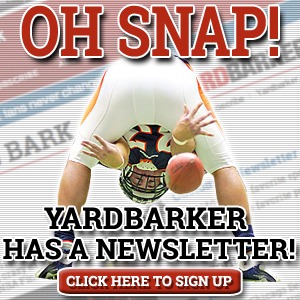 Latest Rumors
Best of Yardbarker

Today's Best Stuff

For Bloggers

Join the Yardbarker Network for more promotion, traffic, and money.

Company Info

Help

What is Yardbarker?

Yardbarker is the largest network of sports blogs and pro athlete blogs on the web. This site is the hub of the Yardbarker Network, where our editors and algorithms curate the best sports content from our network and beyond.