Found August 03, 2013 on Fox Sports Kansas City:
PLAYERS:
Andy Reid
,
Clark Hunt
,
Alex Smith
,
Nico Johnson
,
Jovan Belcher
,
Marty Schottenheimer
,
Romeo Crennel
,
Jamaal Charles
,
Dwayne Bowe
TEAMS:
Philadelphia Eagles
,
Kansas City Chiefs
,
Green Bay Packers
ST. JOSEPH, Mo. (AP) Andy Reid seemingly scoffs at the notion that he feels rejuvenated these days. What is that supposed to mean, anyway? He was out of work for only about 10 minutes. Hardly enough time to get rejuvenated. Yet here he is, in the midst of his first training camp with a different franchise in 15 years, barking commands at the Kansas City Chiefs as they huff and puff on the steamy practice fields of Missouri Western State University, looking more like the eager young coach he was during his early years in Philadelphia and less like the weary man he became in his final days there. Reid may be unwilling to wax poetic about fresh starts and clean slates and all those other cliches, preferring instead to speak in platitudes about his new job in Kansas City. But those who surround him see a profound change in their longtime friend. "I see Andy, the coach I used to know," said John Dorsey, who has known Reid for nearly two decades, since they were young up-and-comers with the Green Bay Packers. Dorsey now works alongside Reid as the Chiefs' new general manager. "I sincerely mean this: He's having more fun," Dorsey said. "He's over here doing receivers, he's over here with tight ends, he's working with the tackles, he's jumping the quarterback, but that's good. He sees everything. That's coaching, and that's a good thing." Without intending to do so, Dorsey may have put his finger on the biggest reason why things suddenly soured for Reid after more than a decade of success in Philadelphia. He got away from simply coaching. While he always had front-office officials to help him out, Reid was given the gargantuan task of not only coaching the Eagles but also building them. He was an ad hoc general manager, putting in long hours on the practice field only to return to his office and start running tape of college prospects, free agents and whoever else made it through the gates of his inner sanctum. Little surprise that he grew weary the last couple of years. The same coach who once strung together five straight seasons of at least 11 wins with the Eagles could muster only a 4-12 finish last year, everything finally collapsing in a disorganized mess. Like a marriage that's lasted too long, the Eagles and Reid agreed to part ways. Within a matter of hours, or maybe even minutes, Chiefs owner Clark Hunt had reached Reid by telephone. If he was interested in getting right back into coaching, one of the league's storied franchises had an opening. The only caveat, Hunt wanted to make sure Reid still had the passion to succeed after on-field disappointments and heartbreaking personal strife -- his oldest son, Garrett, died a year ago Monday after a long battle with drug addiction. "We went into the interview with that as one of the big questions, whether he still had the same energy," Hunt said. "He came into the interview with more intensity than I anticipated." That hasn't changed since the moment Reid was hired. Reid offered his suggestions as Dorsey reworked the roster, and when the offseason program rolled around, the old offensive line coach seemed to be everywhere at once. One minute he'd be in the ear of Alex Smith, the quarterback on whose right arm so much of the Chiefs' season rests. The next minute, Reid would be shouting at rookie linebacker Nico Johnson or wide receiver Jon Baldwin or anybody else who happened to be a bit out of position. "I think the thing that has just jumped out at me is not just coach Reid, but the entire staff, just a passion for the game, a passion for coaching and teaching," Smith said. "It starts with him, for sure. He's really setting the tempo." There is very little of the Chiefs that resemble what they put on the field last season. The personnel, and for the most part, the coaching staff, are different. But the biggest change may be in the feeling that surrounds the team. Things are run more professionally, jerseys always tucked in and the lowliest members of the staff wearing team-issued apparel. Much of that has been dictated by Reid, whose attention to detail is uncanny. "I've said this many times and I really believe it, there's a reason you win," said Reid's close friend Dick Vermeil, the former Eagles and Chiefs coach. "Andy knows all the reasons." Good thing for the Chiefs. They haven't won much lately. The franchise has had just one winning season since 2006, and hasn't won a playoff game in two decades. Last season, the team not only went 2-14 but weathered fan discontent unlike anything the Chiefs have known. The team suffered through a murder-suicide that involved teammate Jovan Belcher shooting his girlfriend and taking his own life in the training facility parking lot. As much as Reid needed a reboot, so did the Chiefs. It's not as if everything that Reid has done since arriving in Kansas City has been flawless, of course. When it came to light that his favorite barbecue joint was the upscale Fiorella's Jack Stack Barbecue, some fans began howling. In the self-proclaimed BBQ capital of the world, they asked incredulously, how could he settle on just one? It was a minor transgression in the grand scheme of things. Reid has taken over the reins of a franchise that's barely experienced stability in the last decade, where coaches such as Vermeil and Marty Schottenheimer are revered simply because they took the Chiefs to the playoffs. So if Reid can somehow usher them to the Super Bowl, well, far more serious missteps would be forgiven. Expectations are so high that even before Reid was introduced as Romeo Crennel's replacement, news helicopters were tracking the movement of his black SUV as he headed for a tour of Arrowhead Stadium. He was engulfed by fans when he was spotted on the famed Country Club Plaza during the offseason. And now that he's in training camp, just as many people are pining for his autograph as they are for Pro Bowl players Jamaal Charles and Dwayne Bowe. It might be overwhelming if Reid wasn't having so much fun, laughing with fellow coaches and players after practice. It might be overwhelming if he was just starting out in the business, a wide-eyed assistant coach at BYU or Northern Arizona with his entire career ahead of him. Indeed, it might be overwhelming if he wasn't so relaxed these days. "Look," Reid said, "I love every day that I have an opportunity to coach in the National Football League. There's 32 of us in the whole world, man. It's an honor and a privilege. "Do I feel rejuvenated? I feel very fortunate to be able to do this."
Original Story:
http://www.foxsportskansascity.com/nf...
THE BACKYARD
BEST OF MAXIM
RELATED ARTICLES
Wonder what Eagles players think about Riley Cooper's racial slur? Many have come out and publicly supported the wide receiver, but there's still a measure of hurt there. Count LeSean McCoy as one of those who is stinging ( thanks to NFL.com) . The running back told Albert Breer of NFL.com that he forgives Cooper, but it hurts because he's "losing a friend.&quot...
Riley Cooper has been excused from all activities with the Eagles while he seeks counseling, after video of him using racial slurs surfaced on Wednesday. Cooper is taking some time off from the team, but according to Chip Kelly, it's not permanent. According to Geoff Mosher of CSNPhilly.com, Kelly said Cooper's leave of absence was not in regards to a future release from the...
It's an honor reserved only for the absolute best in franchise history and the Philadelphia Eagles are a franchise with a history that goes back nearly a century. Reggie White's 92. Chuck Bednarik's 60. Steve Van Buren's 15. Brian Dawkins' 20. Pete Retzlaff's 44. Al Wistert's 70. Tom Brookshier's 40. Jerome Brown's 99. Add No. 5 to the list. Whatever your personal...
Either the Eagles or Riley Cooper decided that the attention from the media, and teammates alike was just to much. Birds 24/7 is reporting that Cooper has taken a leave of absence from the Eagles. The team released this statement. "As we have said, Riley Cooper will be seeking counseling and we have excused him from all team activities. This is all new territory and we are going...
The Eagles say Riley Cooper told them about threatening messages he received after a video of him making a racial slur became public.
Pretty Expensive Concert When I was a kid, I grew up with pretty consistent contact with racist relatives. Slurs were routinely dropped, gross generalizations handed out like mints, and if you wanted to argue that all of that was a bad idea, you were an arrogant little kid that didn't know much about the world. You'd learn how Those People were in time, and that was that...
The August lull. Every year, these few weeks in August present a difficult situation for sports fans. The previous NBA season is a distant memory, while the upcoming one is still very out of reach. Baseball is in full effect, but very few will be at the end of their seats for every single game in August. The Stanley Cup is more of a memory than a conversation starter, and soccer...
Philadelphia Eagles wide receiver Riley Cooper told reporters on Wednesday that he was not aware of the video that captured him threatening to "fight every n—er" at a Kenny Chesney concert priot to it being released by Crossing Broad that day. Crossing Broad's Kyle Scott, who purchased the video, says Cooper's claim is untrue. According [...]
   Top 15 Fantasy Running Back Monographs! Monograph – A highly detailed and thoroughly documented study or paper written about a limited area of a subject or field of inquiry. 12. Eagles - LeSean McCoy, PHI (12) might be under-appreciated by Fantasy owners this season after a down season in 2012. After missing 4 games with a concussion and dropping from 20 total touchdowns...
For the third year in a row, the Philadelphia Eagles face controversy in training camp. There was the famous dream team line, uttered by Vince Young after a free agent overhaul heading into 2011. In 2012, Michael Vick shared his thoughts on the Eagles having the tools to become a dynasty. And now this, a […]
NFL News

Delivered to your inbox

You'll also receive Yardbarker's daily Top 10, featuring the best sports stories from around the web. Customize your newsletter to get articles on your favorite sports and teams. And the best part? It's free!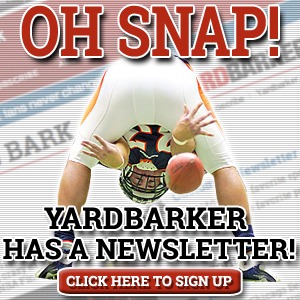 Latest Rumors
The Backyard

Today's Best Stuff

For Bloggers

Join the Yardbarker Network for more promotion, traffic, and money.

Company Info

Help

What is Yardbarker?

Yardbarker is the largest network of sports blogs and pro athlete blogs on the web. This site is the hub of the Yardbarker Network, where our editors and algorithms curate the best sports content from our network and beyond.