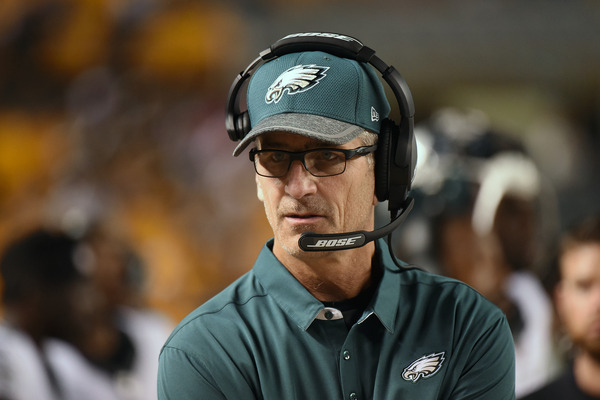 Eagles offensive coordinator Frank Reich reportedly is on the Bills' radar.
George Gojkovich/Getty Images
The Bills have reached out to the Eagles about interviewing offensive coordinator Frank Reich for their vacant head coaching position, according to ESPN.com.
Reich would be a splash hire for the Bills. He replaced an injured Jim Kelly in 1992 and led the Bills to an improbable comeback from a 35-3 deficit in a wild-card game against the Houston Oilers. The Bills won that game 41-38 in overtime.
While he'll live forever in Bills lore, that moment of glory doesn't necessarily give Reich an edge over any other candidates, including interim coach Anthony Lynn. Reich interviewed for the job in 2015, and the Bills instead decided to make different kind of splash hire by giving the job to Rex Ryan.
Reich was the Chargers' offensive coordinator in 2014 and 2015 before becoming the Eagles' offensive coordinator this season. He helped rookie Carson Wentz get off to a fast start after the Eagles traded Sam Bradford just before the season. Wentz struggled as the season went on, but he's firmly established as the Eagles' franchise quarterback heading into next season.
The Bills sure could use a quarterback whisperer. That type of head coach might work out better than a defensive guy whose defense wasn't always a good fit for the players.
MORE FROM YARDBARKER:
How to fix the San Francisco 49ers
MORE FROM THE SPORTS DAILY:
MORE FROM YARDBARKER
NFL News

Delivered to your inbox

You'll also receive Yardbarker's daily Top 10, featuring the best sports stories from around the web. Customize your newsletter to get articles on your favorite sports and teams. And the best part? It's free!