Found March 05, 2012 on Waiting For Next Year:
Amidst the whirlwind of implications surrounding former New Orleans Saints defensive coordinator Greg Williams and a "bounty" program, we have a report that includes current Cleveland Browns linebacker Scott Fujita.
ESPN's Chris Mortensen reports that Fujita is one of several players who had allegeldy obtained additional benefits as a part of the Saints much-discussed  program which paid players for intentionally injuring the opposition, specifically geared toward quarterbacks. Fujita, an NFLPA member and well-renowned philanthropist, may find himself in a tough position as he was one of the individuals who went to bat for the players during the recent lockout, aiming to improve health benefits beyond the field of play.
The 32-year-old linebacker played in New Orleans between 2006-2009 and was named Saints "Man of the Year" in 2009 due to his work with variable charities.
It is anticipated that additional player names will bubble up as this situation unfolds. Additional details are assured to follow.
[Related: Bounties are wrong, but it doesn't really bother me that much]
Original Story:
http://www.waitingfornextyear.com/201...
THE BACKYARD
BEST OF MAXIM
RELATED ARTICLES
According to a story by Peter King of Sports Illustrated, Browns linebacker Scott Fujita contributed money for extra incentive while a member of the New Orleans Saints. Here is the relevant piece on Fujita- "On Sunday, Fujita said, "Over the years I've paid out a lot of money for big plays like interceptions, sacks and special teams tackles inside the 20. But I've never...
The Hillis game of musical chairs appears to be coming to an end once again and Jimmy Sexton seems to have found a chair again. According to a source who talked to ProFootballTalk, Hillis will welcome back his old agent. Now, a source with knowledge of the situation tells PFT that Hillis plans to re-hire Jimmy Sexton, who has since joined CAA. Per the source, Ben Dogra of CAA also...
Certainly the biggest story of next month's NFL draft is where Baylor quarterback and Heisman Trophy winner Robert Griffin III will land. Almost everyone is saying the speedy dual-threat QB is a lock to go second overall after Andrew Luck, but the St. Louis Rams, currently slotted with second pick, are all set wit quarterback Sam Bradford. So that's fueled rampant trade rumors...
According to ESPN's Pat Yasinskas, the New Orleans Saints will save $4.78 million in cap room after resctructuring defensive end Will Smith's contract. Smith's 2012 salary from brought down from $7 million to the veteran minimum of $825,000, since the Saints turned his salary into a $6.175 million signing bonus. Smith will also earn a $1 million roster bonus in late March and...
The past week has been one of the more trying periods in franchise history for the Saints, which is saying quite a bit considering what they went through in the aftermath of Hurrican Katrina. Adding insult to injury, the latest news out of New Orleans casts an even darker cloud over the team as quarterback Drew Brees is reported to be "livid" over being franchise tagged prior...
News just keeps getting worse and worse in New Orleans. The latest batch of bad news comes from Larry Holder of CBS Sports. Holder cites a report from WIST-AM in Louisiana that Drew Brees is "livid" about being hit with the franchise tag and he won't sign the deal.Drew Brees is "livid" about being franchise tagged and not receiving a long-term contract, according to WIST...
Spygate has been thrust back into the limelight following the recent revelations regarding the New Orleans Saints' bounty program. But why? Aside from both instances breaking NFL rules, is there really a comparison to be made between the two? The Patriots' Spygate situation involved videotaping defensive coaches' signals, whereas the Saints' bounty program -- spearheaded...
There are always two sides to every story. We've heard the NFL's side, the reaction, and the overreaction to it.  And since the Saints won't be trotting out their side of the story anytime soon, it's up to others to find it.  Enter the Wall Street Journal, who stepped up to the plate to lend the Saints a helping hand.They reviewed all 46 regular season games and six postseason...
Kerry Byrne took to the stats to find out if the bounty system employed by Gregg Williams in New Orleans (and most likely all of his teams) had an impact: The Cold, Hard Football Facts are not pretty, folks: Williams has fielded some nice defenses. But he's also fielded plenty of bad defenses. At the end of the day, he is what his team's performances say he is: an average coach...
NFL players are inherently tougher than the majority of normal people. They take and give beatings every day that they step onto the football field and fans love it. Fans love the big hits, the crushing blows and the brute force that these players use on each other. It should come to no one's surprise that players enjoyed delivering these crushing blows just as much as fans like...
NFL Commissioner Roger Goodell is not a happy camper these days. A report from Sports Illustrated's Peter King on the magazines Facebook page has suggested that Goodell is extremely furious at the events that have taken place with the New Orleans Saints organization, and is will not show mercy with his discipline. "This is a seminal moment in the culture change we have to make...
NFL News

Delivered to your inbox

You'll also receive Yardbarker's daily Top 10, featuring the best sports stories from around the web. Customize your newsletter to get articles on your favorite sports and teams. And the best part? It's free!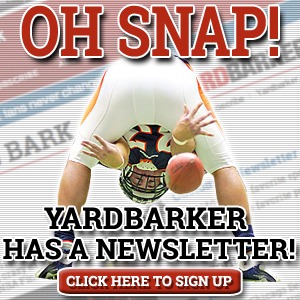 Latest Rumors
Best of Yardbarker

Today's Best Stuff

For Bloggers

Join the Yardbarker Network for more promotion, traffic, and money.

Company Info

Help

What is Yardbarker?

Yardbarker is the largest network of sports blogs and pro athlete blogs on the web. This site is the hub of the Yardbarker Network, where our editors and algorithms curate the best sports content from our network and beyond.