The NFL is supposed to be testing for HGH among its players by now. Back in 2011, the NFLPA and the NFL agreed to blood-testing, but both have dragged their feet in terms of implementing the tests. According to one player speaking to the Milwaukee Journal-Sentinel, the use of human growth hormone as at an all-time high in the league:
"It's like clockwork nowadays," he said, estimating 10-15 players on each team use the banned substance. "Not tested and it's easy to get. Nowadays, dude? In 2013? (Expletive) yeah. I'm just being real."
That number of players is an extremely high and if that estimation is accurate, that would be roughly about 18-20 percent of the league taking what is banned substance. We are inclined to believe that number might be more in the 10-15 percent range. That being said, having at least five guys on a single team is quite a bit. It is more likely that the use is more spotty around the league, with some teams having many more, and some teams with zero players using it.
The actual benefits of HGH in terms of being a performance-enhancing drug are still in question. There is not a lot of medical proof that the substance does anything to make a player better at what he does. But with football often being more about strength and stamina, and not necessarily hand-eye coordination like baseball, the belief in that it aids in someones training lends itself to being a cheat aid for those using it. There aren't many case studies, though, to show us a decline in a players ability on and off HGH.
But athletes are always looking for an edge, and they seem to believe that HGH gives it to them, and that is why they continue risk it:
"I say, just let guys do it," he said. "This is our career. We're putting on for fans. I say . . . HGH isn't anything. I say, do it. . . . You're going to get hit hard regardless whether you're clean or not clean. It's just a matter of how hard you get hit. I don't care who's taking it. A hit is a hit."
Don't expect the the players nor the league to rush with the implementation of the blood testing, even though the NFL likes to point the finger at the players assocation. Congress will likely get bored at some point with the real issues plaguing this country and once again stick their nose into this topic and force action.
MORE FROM YARDBARKER
NFL News

Delivered to your inbox

You'll also receive Yardbarker's daily Top 10, featuring the best sports stories from around the web. Customize your newsletter to get articles on your favorite sports and teams. And the best part? It's free!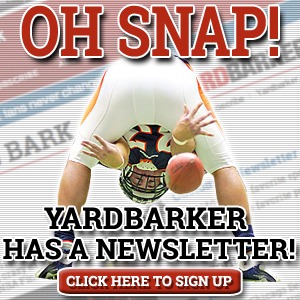 Latest Rumors
Best of Yardbarker

Today's Best Stuff

For Bloggers

Join the Yardbarker Network for more promotion, traffic, and money.

Company Info

Help

What is Yardbarker?

Yardbarker is the largest network of sports blogs and pro athlete blogs on the web. This site is the hub of the Yardbarker Network, where our editors and algorithms curate the best sports content from our network and beyond.