Found September 21, 2012 on Pro Football Zone:
According to Michael Silver of Yahoo! Sports, many NFL executives around the league aren't very fond of Tampa Bay Buccaneers head coach Greg Schiano. They actually consider him to be a bully.
"As one veteran NFL coach said of Schiano earlier this week, 'It's his way or [expletive] you. He needs to back up a little bit, or he's going to have a very hard time in this league over the long haul.'
"In conversations with nearly a dozen NFL general managers, personnel executives, scouts and coaches familiar with Schiano's time at Rutgers, I detected an almost unprecedented degree of resentment and disdain for a man who has yet to coach his third professional game. They believe his decision to instruct his defenders to blow up the Giants' line and lunge at quarterback Eli Manning in a typically uncontested scenario was indicative of the unapologetic arrogance that made Rutgers a notoriously dreaded stop on most scouts' itineraries during his tenure. In the words of one NFC personnel executive,'It was pure misery,'" wrote Silver.
When Schiano was at Rutgers and NFL scouts would visit, they were treated in a unprofessional manner.
"Penn State was off limits for all but two days a year, but they didn't make you feel as unwelcome," says one AFC team's top personnel executive, per Silver. "At Rutgers, it was a really unpleasant day. You were made to feel like an outsider, like you weren't welcome. And everyone was scared to talk to you.
"[Schiano] tried so hard to be a hard *** and went out of his way to be rude. When you'd pass him in the hallway, you might say, 'Good morning,' and he'd look at you like you're a [expletive] idiot. A guy like him doesn't realize that probably half of us played the game at a really high level – it's completely condescending. He would go out of his way to make you feel as uncomfortable as he could."
After last week's kneeling incident with the Giants, Schiano has found himself in a bad situation with many NFL executives.
"He pissed off The Godfather," said one front-office executive for an NFC team, per Silver. "Here's Tom Coughlin, one of the most respected men in this league, telling him he's out of line, wondering why his [$97-million] quarterback was put in harm's way. You have to understand that the NFL really is a brotherhood – these guys are in the same union, and some of them socialize together, and some end up as teammates down the road.
"He's been perceived as a bully in the NCAA, and he's still trying to bully. This league has little patience with that. It won't fly. And even before this, the NFL's scrutinizing eyes were already upon him."
While watching Schiano's interview with the NFL Network last night, it was obvious to me that this is a man who is full of arrogance and it's either his way or the high way. I hate to say it, but with that attitude, coaches don't last long in the NFL.
Original Story:
http://feedproxy.google.com/~r/ProFoo...
THE BACKYARD
BEST OF MAXIM
RELATED ARTICLES
Putting pressure on a team kneeling down to run out the clock at the end of a game could be considered a dirty call, but Tampa Bay head coach Greg Schiano doesn't think so. Schiano had his defense rush Giants quarterback Eli Manning at the end of a Week 2 matchup in which New York came out victorious. Schiano told Pro Football Talk on Friday that he wasn't telling his players...
BC follower @misterfacetious sent us this dispatch: "I'm sure these will roll in. Mike Wallace aka Eli Manning. Eli, get out of the tanning bed!" This wouldn't be so bad, but Wallace is a very, very black man. If it wouldn've been a lighter black guy like Hines Ward, this fail wouldn't have been so epic. And how do you mistakenly get Eli's career bio in there and mix...
Manning and Newton should put up big numbers tonight. New York Giants (1-1) @ Carolina Panthers (1-1) Last week, Eli Manning and the Giants were down 27-13 in the third quarter. What did Manning do? Nothing much, just led his team on five scoring drives including two touchdown passes in the fourth quarter.  He finished with 510 yards, 3 TDs, and 3 INTs. Not too shabby.  Cam...
After a stunningly poor performance last week against Seattle, the Cowboys look to right the ship this week in their home opener, against Tampa Bay. The Buccaneers also suffered a setback last week against the Giants, when Eli Manning torched the Bucs secondary for 500+ yards. It'd be nice to see Romo do some of [...] Related posts: Cowboys Fate Comes Down To Final Game The Cowboys...
Oh boy, So, BuzzFeed produced all 32 NFL Quarterbacks & their Muppet body doubles. Check out the list. Eli Manning and Michael Vick? Spot on. Why not click the Google +1 &... Full story at Bob's Blitz ~ http://www.bobsblitz.com
CHARLOTTE, N.C. (AP) -- Eli Manning didn't need a big comeback Thursday night, not with Andre Brown running for a career-high 113 yards and two touchdowns in the New York Giants' 36-7 victory over the Carolina Panthers. Brown got the start in place of Ahmad Bradshaw, who sat out with a neck injury. Ramses Barden caught nine passes for a career-high 138 yards in his first...
Greg Schiano's welcome to the NFL moment came in the same state where he coached Rutgers University for 11 seasons. First, the Bucs lost the battle of the chalkboard to Eli Manning and the Giants, who passed for 510 yards and three touchdowns last Sunday. Then Schiano got another teaching moment from Giants coach Tom Coughlin, who didn't like the first-year coach ordering...
Tampa Bay Buccaneers @ Dallas CowboysTampa Bay Buccaneers:  The Bucs came off a ridiculous and ultimately heart-breaking come from behind loss to the Giants in Week 2.  For one half the Bucs actually looked good on both offense and defense, capitalizing and Eli Manning miscues and taking a commanding lead.  Then of course, Manning came storming back, took the lead, and then we...
Eli Manning didn't need a scintillating fourth quarter comeback Thursday night. The two-time Super Bowl champion quarterback, running back Andre Brown and the rest of the New York Giants were too good for the first three quarters to need one. Brown ran for a career-high 113 yards and two touchdowns in his first NFL start and the routed the Carolina Panthers 36-7. Four days...
HeroesEli Manning came into this game and immediately took control. He was 8-9 on the first drive, finishing with a touchdown to tight end Martellus Bennett.Eli also made due with a patchwork receiving corps and backfield, as wide receivers Hakeem Nicks, Domenik Hixon, and also starting running back Ahmad Bradshaw were all out with injury.Their replacements came in and played well...
NFL News

Delivered to your inbox

You'll also receive Yardbarker's daily Top 10, featuring the best sports stories from around the web. Customize your newsletter to get articles on your favorite sports and teams. And the best part? It's free!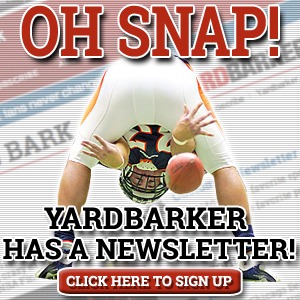 Latest Rumors
Best of Yardbarker

Today's Best Stuff

For Bloggers

Join the Yardbarker Network for more promotion, traffic, and money.

Company Info

Help

What is Yardbarker?

Yardbarker is the largest network of sports blogs and pro athlete blogs on the web. This site is the hub of the Yardbarker Network, where our editors and algorithms curate the best sports content from our network and beyond.