Found August 07, 2013 on BlackSportsOnline:
There are reports out of Philly that Riley Cooper was not magically healed from racism in four days because he never went to counseling. "I went out and seeked help," Cooper said. "I talked to my family and seeked some help. But I'm going to keep that between me and the others that are helping me out. It went well." What we know is that Riley went home to Florida and spent time with his parents. So was this all just an a long paid vacation where the Eagles were hoping things would blow over? Cooper says he spoke with each and every one of his teammates individually and said: "I told them, 'I don't want you to forgive me, because that puts the burden on you. I want it all on me.' I told them that, and I told 'em I apologize." Only time will tell if this will all go away for the Eagles and Cooper. I would bet it won't though.
Original Story:
http://blacksportsonline.com/home/201...
THE BACKYARD
BEST OF MAXIM
RELATED ARTICLES
Week Three: Riley Cooper Yeah, I am reaching for the low hanging fruit Riley Cooper's name never should have carried so much weight.  Lately you would think the kid was a tier-one Pro Bowler. Here is an ugly truth. He may or may not be a pro football player that may or may not have a job. He is also our latest symbol for intolerance. One day he will be afterthought. Today...
BACK IN THE FOLD
Eagles wide receiver Riley Cooper, after being excused to undergo counseling last week, has made his return to practice on Tuesday and reportedly played well.
Remember when I said that the Eagles decision to welcome Riley Cooper back into the fold after just four days would give cynics all the ammunition they needed? Well, one cynic has taken that ammunition and taken a direct shot at the Eagles for the handling, or lack thereof, of this whole situation.Phil Sheridan of the Philadelphia Inquirer pulled no punches in a column that ran today...
After the first of his three deep-ball catches late in the 11-on-11 drills between the Philadelphia Eagles and the New England Patriots Riley Cooper was greeted in the end zone by a leaping chest-bump from teammate Jason Avant. After the third catch Cooper was applauded by the fans at the Eagles' facility. One shouted "Way to go Coop!" Cooper's return from a leave...
Follow Jeff on Twitter @Jeff1470TheFox for all the latest on Eagles After only four days removed since the Eagles  granted his excused absence from team activities, wide receiver Riley Cooper  returned to the Novacare Complex to participate in Eagles practice on Tuesday  afternoon. Reports also surfaced from ESPN's Sall Palantonio [...]The post WR Cooper Returns, Speaks To Media...
Riley Cooper is back with the Eagles. The team has confirmed that the fourth-year wideout returned from his excused absence Tuesday and is scheduled to practice with the team.
According to ESPN's Chris Morentson, Riley Cooper has rejoined his fellow teammates at practice today.It is a monumental step for the receiver, who was expected to be gone for all of August, turns out to be under a week.Everyone knows the story, Cooper was filmed at a Kenny Chesney concert laying down some disgusting words on a security guard and it didn't go viral until...
Is Riley Cooper a bad guy?  I don't know.  Is Riley Cooper a racist?  I don't know either.  But Riley Cooper used a word you can't use, in a manner you definitely can't use it, and what he was before, or is after means nothing in a "perfect" world out for blood. Everyone makes mistakes, right?  Not today.  Not anymore.  And not those on the "right" side...
I'm not sure if Eagles wide receiver Jason Avant conferred with LeSean McCoy on Riley Cooper, but he sure spoke as if the Eagles as a team were ready to move back the incident of racial slurs. Avant was asked about Cooper, who returned to the Eagles training camp after he was excused for four days to deal with the ramification of being caught on video calling someone a *******...
Riley Cooper is likely to get second chance from Philadephia Eagles | The MMQB with Peter King: I...
Riley Cooper said what he said and the world freaked out. For starters that video of Cooper at the Kenny Chesney concert couldn't be passed around fast enough. Did you see it yet? No? Quick go here or there or somewhere else and click that thing. Watch Riley Cooper set his career on fire. Within an hour Cooper was trending on Twitter and not for great reasons. Obviously. People...
When last we left mooch avenger, Peter King, he told us how he was the first one in all of NFL meduiato consider that the Anquan Boldin trade might be of some significance. He also took a firm stance against airline boarding gate moochers, perhaps the most vile breed of moocher. Finally, Peter further professed his love for "The Newsroom" because there's no more appropriate...
Eagles News

Delivered to your inbox

You'll also receive Yardbarker's daily Top 10, featuring the best sports stories from around the web. Customize your newsletter to get articles on your favorite sports and teams. And the best part? It's free!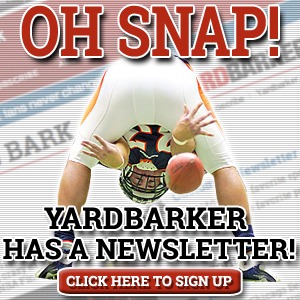 Latest Rumors
The Backyard

Today's Best Stuff

For Bloggers

Join the Yardbarker Network for more promotion, traffic, and money.

Company Info

Help

What is Yardbarker?

Yardbarker is the largest network of sports blogs and pro athlete blogs on the web. This site is the hub of the Yardbarker Network, where our editors and algorithms curate the best sports content from our network and beyond.