Found March 06, 2012 on The Victory Formation: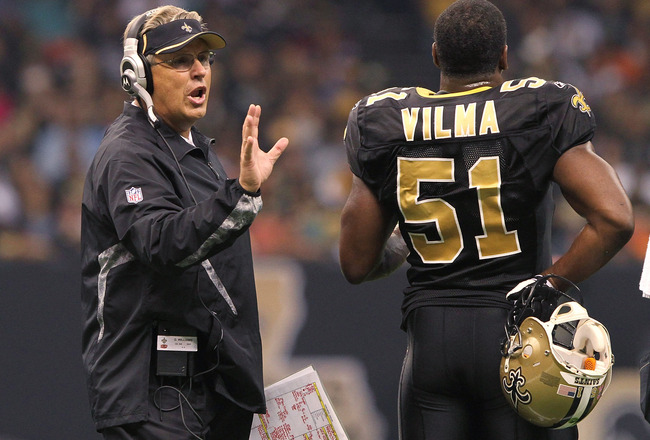 NFL Commissioner Roger Goodell is not a happy camper these days. A report from Sports Illustrated's Peter King on the magazines Facebook page has suggested that Goodell is extremely furious at the events that have taken place with the New Orleans Saints organization, and is will not show mercy with his discipline.
"This is a seminal moment in the culture change we have to make," a source close to Goodell said. "This has to stop now. Every team needs to hear the message that we're in a different era now, where this appalling behavior is going to end."
Gregg Williams is obviously front-and-center of the investigation and punishment that will be handed down. What may be the most damning piece of information for Williams is that he allegedly lied directly to the commissioner when he was asked about it.
As we reported yesterday, Goodell is looking to come down hardest on Williams, Sean Payton and Mickey Loomis. Whereas Goodell is obviously upset that the bounty program is taking place, he appears to be even more upset by the deception from the Saints organization. It definitely isn't looking better for Payton. One league source went as far as to compare the way he runs his ship to the "Nixon White House."
Jonathon Vilma, who is danger of being cut by the Saints, is also going to feel the wrath of the commissioners office, as he offered $10,000 for Brett Favre to be taken out during the NFC Title game. After Favre was injured in the game on-field microphones picked up a couple of quotes that definitely aren't helping the Saints.
"Favre is out of the game! Favre is done! Favre is done!"

-DL Anthony Hargrove

"Pay me my money!"

-unidentified player
Whether or not you agree with the direction that Roger Goodell is trying to steer the league, the behavior that we are used to and accept is going to be forced to change.
Original Story:
http://www.thevictoryformation.com/20...
THE BACKYARD
BEST OF MAXIM
RELATED ARTICLES
Commissioner Roger Goodell has ordered the owners of all 32 NFL teams to make sure their clubs are not offering bounties like the New Orleans Saints did from 2009-11. Goodell's memo instructs each team's principal owner and head coach to certify in writing by March 30 that no pay-for-performance system exists. Goodell says Wednesday that bounty programs ''are incompatible...
In the midst of the Gregg Williams "Bounty-Gate" scandal, the NFL Network has decided not to re-air the 2009 NFC Championship Game between the Minnesota Vikings at the New Orleans Saints. The NFL Network has been re-airing "classic" games over the past few days and the re-airing of the 2009 NFC Championship game was supposed to take place on Monday at 3pm EST...
In a national notebook, we have a few updates on Gregg Williams' "bounty" controversy and a draft update on Penn State cornerback D'Anton Lynn.
Rams defensive coordinator Gregg Williams is at the center of a firestorm over his admitted bounty program while with the Saints. It's a good time to expose Williams for what he is: an average coach and symbol of the good ole boy network that dominates NFL sidelines.....
Defensive lineman Kedric Golston says Gregg Williams offered cash incentives for certain plays when Williams was the defensive coordinator of the Washington Redskins. Golston said Monday that Williams would reward players for a ''sack or an interception'' or ''a pivotal play.'' But Golston also said: ''I've never seen a player get any...
Then again it would probably have unintended consequences as it did for a Swedish floorball coach who found himself in trouble after using a unique method to coach defense. The unnamed coach of the FBC Engelholm floorball team recently returned from suspension after another floorball coach reported him for employing his "Snygga brudar i försvaret" or "Hot Babes on Defense"...
Antonio Cromartie and Travis Henry better watch out. Michael Turner's coming at them with a vengeance. Roger Goodell and Peter King can check their fake indignation. No bounties are involved unless one counts child support. Police were called to Turner's house after his current girlfriend attacked his baby mama with a move that would have made Elin Woods proud. According to...
Andrew Juge of The Saints Nation stops by to chat with Ralph Malbrough to try to figure out who Saints fans should be most mad at. Is there anyway the Saints can convince Roger Goodell to show mercy? Andrew also wonders how bounty fest is affecting Mickey Loomis' ability to do his job.***WARNING - EXPLICIT LANGUAGE*** Podcast Powered By Podbean
I didn't want to write anything about the BountyGate coverage knowing I could never give an unbiased, fair assessment of the scandal as a lifelong Saints fan.  I've always been curious what it'd be like to have my team at the center of a scandal big enough it got its own "Gate" attached to it... now I know, it sucks.  This is worse than going through the...
Spygate has been thrust back into the limelight following the recent revelations regarding the New Orleans Saints' bounty program. But why? Aside from both instances breaking NFL rules, is there really a comparison to be made between the two? The Patriots' Spygate situation involved videotaping defensive coaches' signals, whereas the Saints' bounty program -- spearheaded...
NFL News

Delivered to your inbox

You'll also receive Yardbarker's daily Top 10, featuring the best sports stories from around the web. Customize your newsletter to get articles on your favorite sports and teams. And the best part? It's free!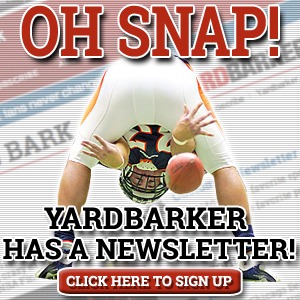 Latest Rumors
Best of Yardbarker

Today's Best Stuff

For Bloggers

Join the Yardbarker Network for more promotion, traffic, and money.

Company Info

Help

What is Yardbarker?

Yardbarker is the largest network of sports blogs and pro athlete blogs on the web. This site is the hub of the Yardbarker Network, where our editors and algorithms curate the best sports content from our network and beyond.