Found January 18, 2013 on Grits Blitz:
  One thing that has been lost in all of the discussion of this week's NFC Championship Game is how Jim Harbaugh's 49ers have performed in road playoff games. It's stunning that the pundits have not discussed the road playoff games where Harbaugh's 49ers....um...and...then they...well... Oh - that's right. This is the first road playoff game for all but a handful of 49ers players - and the first road playoff game for its Head Coach. No one has pointed out that they beat the Saints at home last year, then lost to the Giants at home...then beat the Packers at home to start off this year's playoffs.   Let's also not forget that they are bringing a QB who has started only 9 games total. Shouldn't this matter to some pundit, somewhere? I certainly haven't seen anyone bring it up. The Falcons are 34-7 at home under Mike Smith, and 34-6 in games where Matt Ryan starts - that's only surpassed byt the Patriots. They are playing a team where every single player of import is making their first playoff road trip, and most Falcons players are now into the 5th playoff game of their careers. This might be a minor point - but road travel matters in a long NFL season - and matters even more when a team is travelling 2,400 miles over 3 time zones for their first EVER road playoff game. Furthermore - what about history? Can anyone remember the last time the 49ers won a road playoff game? No? I'll give you some time... Give up? Okay - it was the 1988-89 NFC Championship Game against the Chicago Bears. They're 0-5 since - including a 20-18 loss to the Falcons in 1998. Tell me - do you think if the Falcons were on the kind of road playoff losing streak, heading into San Fran, that it wouldn't be brought up? The Falcons, incidentally, are 3-1 in their last 4 home playoff games. Granted - it's taken 14 years to accumulate that record. They're also 13-0 this year against teams they've faced only once - the category the 49ers fall into. I don't know what it is - but Mike Smith is ridiculously good at home when he needs to take down a team only once. Jim Harbaugh might get a lot of credit for having a great start to his playoff career - but he's gotten to start it all off in the cozy, cavernous, confines of Candlestick Park (seriously, get a new stadium). It helped last year that he played in easily the weakest division in football. If you go back and look at Mike Smith's first year, I think we'd all agree he would've won the game against Arizona if it had been played here in Atlanta. He didn't get that luxury. Everyone is rushing to annoint the 49ers this week - and while I have much respect for them - I think it's very fair to point out that this team, and this regime, is completely unproven on the road in must win kind of games. Unless...of course...you count that one game in Seattle no one is talking about. I know, I know...the 49ers are huge, physical, fast, etc. It's a mystery that they managed to lose 4 games, and tie one...just like it's a miracle that the Falcons stumbled into 13 wins for the 2nd time in 3 years. Why should the Falcons even bother to show up? Probably for the same reason the Giants, Vikings, Rams (twice) and Seahawks showed up to play the Niners this year. Every week in the NFL is different. A+B rarely equals C. If you've ever bet on an NFL game, you know that's true. This week might be as predictable as traffic jams in an Atlanta Rush Hour - but history says it likely won't be.
Original Story:
http://www.gritsblitz.com/2013-articl...
THE BACKYARD
BEST OF MAXIM
RELATED ARTICLES
According to Sam Farmer of the Los Angeles Times, 49ers head coach Jim Harbaugh placed a laminated photo of each of his players from back in high school and what they were nationally ranked as football players. Coach Jim Harbaugh had a laminated sheet made for each player during wild-card weekend, which the 49ers had off, then surprised the players with them when they reentered...
The fact that John and Jim Harbaugh each have their teams in the conference championship for a second straight season is not a coincidence. The Harbaugh brothers are tremendous NFL coaches and masters of motivation, which is why we would never question any of Jim Harbaugh's motivational tactics — no matter how strange they may seem. According to the LA Times, Harbaugh had someone...
San Francisco 49ers head coach Jim Harbaugh is all about using whatever tactics he can to motivate his players, so last weekend Harbaugh went old school on them according to the L.A. Times, and hung up their photo's from when they were in high school, with their rankings above each locker to remind them of expectations and earlier aspirations. Each player got a laminated sheet...
O Brother, Where art thou? The Harbaugh brothers, Jim and John, are each, for the second consecutive year, one step from the Super Bowl. That is pretty, pretty good. No? It raises the question (though it does not beg it, because begging the question is a philosophical term that has nothing to do with raising a question): Are the Harbaugh brothers to NFL coaching what the Manning...
San Francisco 49ers head coach Jim Harbaugh told the media today that he wants wide receiver Randy Moss to come back next season. Moss recorded 28 receptions for 434 yards and 3 touchdowns during the regular season. I'm not sure why Harbaugh wants Moss back, there are better receivers in free agency then Moss right now. Moss had no comment when asked about Harbaugh wanting him...
Jim Harbaugh has done pretty well for himself in the NFL, going 24-7-1 and making it to the NFC Championship Game in both of his years as head coach of the San Francisco 49ers. But when it comes to comparing himself to older brother John Harbaugh, who is 54-26 with three AFC Championship Game visits over five years with the Ravens, Jim won't concede that he's in the same class...
SAN FRANCISCO -- For a team as storied as the San Francisco 49ers, it sure has been awhile since the last time they won a road playoff game. Jan. 8, 1989, to be exact. The 49ers traveled to Chicago, where they beat the Bears 28-3 at Solider Field as a pit stop on their way to the Super Bowl title in New Orleans. It wasn't until later that year when rookie running back LaMichael...
Randy Moss has been on his best behavior this season, even in the midst of probably his worst statistical season as a pro.  Moss has been a pro though and offered guidance and wisdom to the young receivers starting in front of him. Head coach Jim Harbaugh is aware of that, it's not lost on him, and because of the way Moss has carried himself, he would love to have Moss back next...
Bill Belichick has this nice habit. He coaches in Super Bowls. John Harbaugh has established an impressive trend, too: winning playoff games. When they face off Sunday for the second straight year in the AFC championship, Belichick's Patriots and Harbaugh's Ravens will offer further proof of the value of stability. No coaching carousels in New England and Baltimore. Belichick...
NFL News

Delivered to your inbox

You'll also receive Yardbarker's daily Top 10, featuring the best sports stories from around the web. Customize your newsletter to get articles on your favorite sports and teams. And the best part? It's free!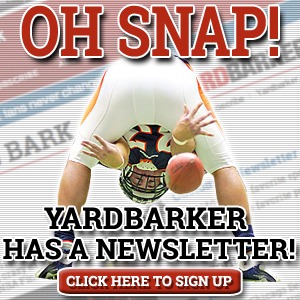 Latest Rumors
Best of Yardbarker

Today's Best Stuff

For Bloggers

Join the Yardbarker Network for more promotion, traffic, and money.

Company Info

Help

What is Yardbarker?

Yardbarker is the largest network of sports blogs and pro athlete blogs on the web. This site is the hub of the Yardbarker Network, where our editors and algorithms curate the best sports content from our network and beyond.