Found January 25, 2013 on Phin Nation:
The Miami Dolphins have to make some tough decisions in the near future regarding their own players.  One player, that I've found to be pretty polarizing with the fan base is Sean Smith.  Some Dolphins fans think Smith is worth of a Pro Bowl birth, while others think the Dolphins should move on from the soon-to-be unrestricted free agent.  Personally, I'm in between, but reside closer to the side that wants the Dolphins to move on.  The problem I see, is finding a suitable replacement when there is absolutely zero depth at that position on the roster.  We'll get to Sean Smith another time, but for now we want to share with you our thoughts on the possibility of Derrelle Revis being Sean Smith's replacement. Photo Courtesy of Dolphins.com Put simply, it's not happening.  When healthy, Derrelle Revis is the best corner in the NFL.  He's an All-Pro type of player.  I don't think he's Deion Sanders, but he's the best cornerback in the NFL today.  Well, when reports surfaced yesterday that the rebuilding Jets will look to trade Revis, Dolphins fans immediately started thinking about Revis wearing Aqua and Orange (or whatever color the new logo ends up being).  I'm not going to say it's 100% not going to happen, but I'd say it's 99.9% not going to happen. What is my reasoning behind this?  First, the Jets know how good Revis is, he's the best player on their team.  Why would they trade him to a division rival that finished ahead of them in the standings?  That would be like the Dolphins trading Cameron Wake last year, when they began to rebuild, to the Patriots.  The last notable in-division trade that happened was when the Dolphins sent Wes Welker to the Pats.  How'd that work out for the team trading the player? The second reason is that Revis is always looking for more money.  He's held out on more than one occasion.  His current contract voids after the 2013 season and would make him a free agent in the 2014 offseason.  His cap hit for this season would be $9 million, which isn't terrible for the best cornerback in the league, I get that.  BUT, you would also have to pay Revis a big contract to make him happy.  You would have to sign him to an extension because any team that is trading for Revis, would want more than 1 year from him. He's going to be 28 when the 2013 season starts and you would probably have to give him a 4-5 year deal, which would bring him to 32-33, which is usually when players' production begins to decline.  On top of all of that, the Dolphins would probably have to offer up a pretty high draft pick or package of picks to get him.  In fact, since it would be an in-division trade, the Dolphins would probably end up having to overpay to get him.  It might cost the #12 pick or a package of the 2′s and 3′s the Dolphins have.   (cont'd on page 2, click below)
Original Story:
http://www.phinnation.com/revis-islan...
THE BACKYARD
BEST OF MAXIM
RELATED ARTICLES
  One of the many questions that the Miami Dolphins front office is facing is whether or not to re-sign Jake Long.  In Madden terms, Jake Long is a "big mauler" or a stalwart left tackle.  The Dolphins have paid Jake Long well over 60 million since his rookie deal in 2008. Jake Long can pass block and run-block quite well...when healthy. The pros for re-signing...
Alright Dolphins fans, this is the third and final installment of our offseason plan.  The Dolphins haven't even gotten to the point where they have resigned any of their own free agents and we're about to finish our full offseason plan.  Can you tell we're anxious for the offseason to get underway?!  If you missed Part 1 or Part 2 of our plans, you can click on here for...
According to Armando Sagluero of the Miami Herald, Dolphins cornerback Sean Smith will look to strike it big in free agency and land a contract that will pay him $8-$10 million per season. Elite cornerbacks are expecting $10 million per season. Agents will be looking at Brandon Carr's five-year $50 million deal with Dallas and Jason McCourty's 5-year, $43 million deal to stay...
According to Armando Salguero of the Miami Herald, Dolphins wide receiver Brian Hartline will look to earn $5-$6 million per year as he gets ready to hit the free agent market. The Dolphins will have to decide whether or not it makes sense for them to pay a number two wide receiver that kind of money when they still need a number one target for quarterback Ryan Tannehill.    ...
FORT LAUDERDALE, Fla. Jeff Ireland holds one of the most scrutinized jobs in South Florida as general manager of the Miami Dolphins. Admitting hes in a big offseason for us, Ireland perhaps faces more pressure than at any point during his five years on the job. But every night he goes home, Ireland embraces another challenge raising 17-year-old autistic twin daughters Haley and...
Armando Salguero of the Miami Herald writes that the Dolphins could be in for a pretty expensive offseason if they are to prevent some of the best free agents from leaving in the coming months. Salguero mentions that WR Brian Hartline will likely be targeting a deal that would pay him $5-$6 million per year on the open market. On top of that, CB Sean Smith could be using the contracts...
Cameron Wake is probably the most notable example. A player who's gone from the CFL to the NFL, and become a star. Wake didn't get much of a shot in the NFL at first, but he's proving why that was a mistake. After being cut in his first year with the Giants, Wake signed with the CFL two years later. He was named rookie of the year and defensive player of the year and...
After selecting who they hope to be their franchise quarterback last offseason in Ryan Tannehill, the Miami Dolphins' primary goal this offseason is to build a team around him that will set them up for long-term success.Fortunately, the Dolphins are in an ideal position to revamp their roster and do just that. Miami will have an estimated $45-$50 million in cap space to sign...
Dolphins News

Delivered to your inbox

You'll also receive Yardbarker's daily Top 10, featuring the best sports stories from around the web. Customize your newsletter to get articles on your favorite sports and teams. And the best part? It's free!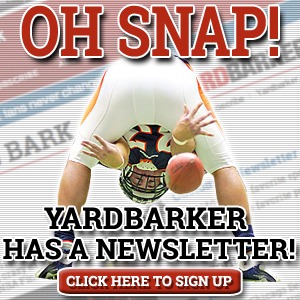 Latest Rumors
Best of Yardbarker

Today's Best Stuff

For Bloggers

Join the Yardbarker Network for more promotion, traffic, and money.

Company Info

Help

What is Yardbarker?

Yardbarker is the largest network of sports blogs and pro athlete blogs on the web. This site is the hub of the Yardbarker Network, where our editors and algorithms curate the best sports content from our network and beyond.