Found April 27, 2013 on Turn On The Jets:
PLAYERS:
Rex Ryan
,
Mark Sanchez
,
Eric Smith
,
Peyton Manning
,
Tom Brady
,
Woody Johnson
,
Sheldon Richardson
,
Quinton Coples
,
Bart Scott
,
Bryan Thomas
,
Demario Davis
,
Antwan Barnes
,
Dee Milliner
,
Mike Goodson
,
Santonio Holmes
,
Stephen Hill
,
Jeremy Kerley
,
Antonio Cromartie
,
Kyle Wilson
,
Ellis Lankster
,
Willie Colon
,
Stephen Peterman
TEAMS:
Cleveland Indians
,
New York Jets
,
New England Patriots
One of the major storylines heading into the 2013 season in Jets Land is the status of Head Coach Rex Ryan. The media would have you believe he has one foot out the door and the team has set him up for failure. The organization has supposedly handed him the real life version of the Cleveland Indians in Major League, a group of misfits so terrible that he doesn't stand a chance to win and he will be fired after the season.  We've heard it all at this point: He's a LAME DUCK. He's been muted. He has no more personnel power. He has to take the bullets this year so the team can start fresh in 2014 with a new coach. He's only here because Woody doesn't want to pay him to leave. His tattoo is stupid. He should go back to being a coordinator. Well, I don't necessarily see it like that, and the first two days of the NFL draft only reinforced my belief. I think the "Rex is a lame duck" stuff is a media creation. Why draft a "QB of the future" if you plan on firing your coach after the season and bringing in a new coach who may want his own guy? No, this team is building for a future that includes Rex Ryan. I think he is here for the long haul. Call it Rex 2.0. First of all, let me state what should be the obvious: Rex Ryan is a terrific coach. Does he have his faults? Absolutely, but what coach doesn't? This is a man who took a team quarterbacked by the man everyone says sucks, Mark Sanchez, within a few plays of the Super Bowl, not once but twice. He fields a top defense every season, even when it features players like Eric Smith and a trio of washed up linebackers. He figured out a way to go into Peyton Manning and Tom Brady's homes and beat them in the playoffs in back-to-back weeks. He has a 38-32 overall record including the playoffs, and that should even be a few games better if not for some epically bad QB play in a few winnable games last season. Hell, he even managed to get 6 sacks out of NFL bust Aaron Maybin, which is a major accomplishment. The man can coach. He's clearly learned from his mistakes, such as getting too attached to players (see: Sanchez, Mark), and putting too much pressure on his team with his guarantees, and he's ready to move forward. He's matured. He's ready to do it right this time. Everyone scoffed back in january when Rex said he was looking at this year like it is his first year on the job, but that's really how things are looking at this point. Maybe Woody Johnson kept Rex around for the rebuild because he thinks Rex is the best man for the job. Maybe it's not because he likes him personally, but because he respects the hell out of him professionally. The grass is not always greener on the other side. The Jets have a good coach and there's no reason to change that. It's a fresh start, and this time Rex has a more solid plan. Rex Ryan has evolved, as all good coaches do. There are no more guarantees, no more blind faith in his quarterback, no more boasting to the media. There are no more half-measures and quick fixes, no more coddling players. He, along with John Idzik, have preached competition across the board this offseason, and they've made a series of smart, calculated moves. The boldest of the bunch, of course, was drafting Geno Smith in the 2nd round of the draft and telling Mark Sanchez that the jig is up. No more free passes. No more being the teacher's pet. It's time to put up or shut up. The best players will play. Rex 2.0 is doing it right this time around. And then take a look at the other side of the ball and what's going on with the defense. This is the kind of defense Rex Ryan wanted from Day 1. It's young, fast, and aggressive. The defensive line is extremely talented, and set to cause a lot of havoc up front this year. Sheldon Richardson is Rex's kind of player, joining two other Rex players, Quinton Coples and Mo Wilkerson. Those three guys up front fit what Rex Ryan wants to do to a T. They are versatile, athletic, and they will get in the quarterback's face right up the middle. They allow Rex to open up his playbook and take advantage of his defensive wizardry. Those guys play Rex Ryan football. The Jets also dumped fossils like Bart Scott and Bryan Thomas and replaced them with fast, explosive linebackers like Demario Davis and Antwan Barnes. They have three First Round pick cornerbacks in the secondary. We all know Rex loves corners, and the team went ahead and used their first pick this year on another one for him in Dee Milliner. The Jets are ready to get back to Rex Ryan football. And I don't buy that there is no talent on this team. In fact, I don't think it's all that much worse than the 2009 team that went to the AFC Championship. Chris Ivory and Mike Goodson were brought in to bolster the run game in a big way. Santonio Holmes is back from his injury. Stephen Hill is developing. Jeremy Kerley is coming into his own as a very good receiver. The offensive line will be improved over a year ago, and the defense got much more athletic and explosive this offseason. They're back flying under the radar and can surprise everyone. And just as importantly, the team upgraded at Head Coach. Rex 2.0 is a quieter, wiser version of the first one. He brought in a legit offensive coordinator and he unhitched his wagon from Mark Sanchez. The defensive genius is still inside and ready to show the world that reports of his demise were greatly exaggerated. The Jets may not be great in 2013, but the pieces are definitely in place to build something going forward. Rex 2.0 is going to do it right this time. He is the man to lead this team in 2014 and beyond, and that's a good thing. - For those that follow along on Twitter, I've made some of my thoughts on the first two days of the draft known, but here's a Mini Stock Watch on the Jets comings and goings from the past few days. BUY: Dee Milliner and Sheldon Richardson in the 1st Round – I didn't want a CB in the first round of the draft, but if Milliner was their second rated player on their board as has been stated, then it's a no brainer to take him at 9. He will start alongside Antonio Cromartie and push Kyle Wilson back to the nickel role. It also pushes Ellis Lankster back to the bench, which eliminates a huge hole. Milliner is a very good player and this was a solid pick. As for Richardson, I was confused about this choice at first, but it makes a ton of sense. He was the top interior pass rusher in this draft, and as we know that is where Rex Ryan likes to attack the quarterback from. A defensive line featuring Mo Wilkerson, Quinton Coples, and Richardson is going to be absolutely lethal. SELL: Comparing Milliner to Revis – I'm not the first one to say this of course, but it's important Jets fans realize that Antonio Cromartie is the one replacing Revis in our defense, not Milliner. Cro will be on the "Island" like he was all of last season, when he had an excellent season. It isn't fair to compare Milliner to Revis, even though every time he gives up a completion he probably will be ridiculed. Don't be one of those people. SELL: Geno Smith – I don't love Geno Smith as a prospect. I think he was a product of the system as West Virginia and he struggles throwing down the field. I was not psyched when his name was called, I'll leave it at that, but… BUY: The Geno Smith Pick – While I don't love Smith as a prospect, I think drafting him was a pretty solid move. They got him in the 2nd round when many expected him to go much earlier, and they didn't trade up to get him as was rumored. Most importantly, it signals a new era to Jets players and fans. There will be competition for the quarterback spot and Mark Sanchez won't just be handed the job again. Many players have grown tired of Sanchez, and regardless of what anybody thinks of Smith, this shows that the Jets are serious about competition and letting the best players play. BUY: The Chris Ivory Trade – Readers of this site know how pro-Ivory we are around these parts and I couldn't be happier that this became a reality. Once running backs started flying off the board in the late second round, Idzik knew he had to pull the trigger and bring in this bruising running back. Ivory and Mike Goodson make this running attack infinitely better than last season, and we may actually even see a few runs longer than six yards this year! What a concept! BUY: Brian Winters – The Jets lost both of their starting guards from last year and were clearly looking to improve the position for 2013. Willie Colon and Stephen Peterman were signed as stopgaps, and this 320-pound mauler was drafted in the 3rd round to man the spot for the future. He will have a chance to win the starting job in camp, but even if he has to sit for a year, he will make his mark in 2014 and beyond.
Original Story:
http://turnonthejets.com/2013/04/rex-...
THE BACKYARD
BEST OF MAXIM
RELATED ARTICLES
Are we so sure that Rex Ryan is a lame duck coach who has no influence in Florham Park anymore? Tonight felt an awful lot like many previous drafts with Rex Ryan as the head coach, as the New York Jets selected a defensive lineman in the first round for the third straight year and added a cornerback in the first round for the second time in three years. The results were surprising...
According to ESPN's Chris Mortenson. Robert Wuhl. Unintentional straight man. **Follow us on Twitter or Facebook. Subscribe, or Return to BobsBlitz.com.Follow us on Twitter. Subscribe or... Full story at Bob's Blitz ~ http://www.bobsblitz.com
BY NICK ST. DENISIt looks like Rex Ryan still has some power. That, or he and New York Jets general manager John Idzik share a brain.Four picks after taking cornerback Dee Milliner with their first of two first-round selections, the Jets took another defender in Missouri defensive tackle Sheldon Richardson.Richardson, who led the SEC in tackles in 2012 and tallied a game-high 14...
West Virginia quarterback Geno Smith was not the first quarterback selected in the 2013 NFL Draft as many pundits suggested. As the second-round gets underway this evening, the prolific college quarterback remains on the board. Are the New York Jets seriously looking at possibly drafting Smith in the second? According to Jets beat writer Manish Mehta on Twitter, they are giving him...
One year after trading for Tim Tebow, the New York Jets released the quarterback on Monday. The Jets announced the release of Tebow with a three-paragraph news release: "The New York Jets have 
The first round of the NFL Draft is in the books.  The New York Jets come away with two defensive players, creating some criticism from fans at the lack of offensive playmakers. If Gang Green was considering WR Tavon Austin, he was taken away as a possibility, as the St. Louis Rams made a trade with the Buffalo Bills, to draft at 8 for Austin. The Jets attempt to "replace...
New York, NY - The New York Jets haven't drafted an offensive player in the first round since they took some guy named Mark Sanchez back in 2009.Remember him?Despite new management and the league's 30th ranked offense, the Jets were back to their old tricks on Thursday night, taking defensive players Dee Milliner and Sheldon Richardson with both of their first round selections...
One right after another they went Friday -- the boyfriend of fake dead girlfriend fame and the green-room sympathy case finally became NFL players. And just as quickly, Manti Te'o and Geno Smith also became the story of this NFL Draft. Day 2 of the draft unintentionally became a parade of The Island of Misfit Toys. All the guys who slid out of the first round because of doubt...
The New York Jets selected West Virginia quarterback Geno Smith with the 39th overall pick in this year's draft. I would expect Smith to come in right away and have a chance to start.  The only player I can see beating out Smith for the Jets' starting job is David Garrard. The one problem with the Jets drafting Smith is that if Rex Ryan gets fired after this season and a new...
2013 NFL Draft 9th Pick: CB Dee MillinerCollege: AlabamaHeight: 6'0"Weight: 201Headline: The Milliner Peninsula? Initial Reaction:With the 9th pick in the 2013 NFL Draft, the New York Jets selected CB Dee Milliner out of Alabama. A consensus top 10 overall pick, its fair to say the Jets received good value in their selection of Milliner. Many draft experts had Milliner...
Day 1 of the 2013 NFL Draft had many Jet fans feeling "meh." The selections of CB Dee Milliner and DT Sheldon Richardson were met with mixed reactions, and questions as to why the Jets went with two defensive players in the first. "Is Rex Ryan still running the show?" Day 2 helped bring together the picture of the new regime. John Idzik and his associates...
Could the 'no-ring circus' laughingstock of the National Football League actually be starting (using that term loosely) to look like a real football team again? Of course, I don't need to preface the above statement for you to know who I'm talking about. The New York Jets made some bold moves in the first round of the draft. Dee Milliner—the Jets first pick, drafted 9th...
NFL News

Delivered to your inbox

You'll also receive Yardbarker's daily Top 10, featuring the best sports stories from around the web. Customize your newsletter to get articles on your favorite sports and teams. And the best part? It's free!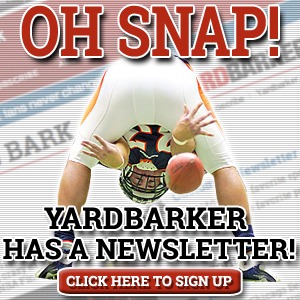 Latest Rumors
The Backyard

Today's Best Stuff

For Bloggers

Join the Yardbarker Network for more promotion, traffic, and money.

Company Info

Help

What is Yardbarker?

Yardbarker is the largest network of sports blogs and pro athlete blogs on the web. This site is the hub of the Yardbarker Network, where our editors and algorithms curate the best sports content from our network and beyond.