Found December 25, 2012 on The Other Paper:
Rex Ryan wasn't in a Christmas giving mood Monday when he sidestepped reporters' questions about whether or not quarterback Tim Tebow actually refused to play in the Wildcat formation during the New York Jets loss to the San Diego Chargers on Sunday. During a 20-minute conference call with reporters, the would not divulge any specifics about Tebow's reaction to being passed over as starter for Greg McElroy except to say his Wildcat quarterback was "disappointed." Ryan's answers didn't confirm or deny if Tebow had demanded his exclusion in any Wildcat schemes on Sunday and he danced around the questions regarding Tebow's status on the team. Maybe the head coach was taking this whole "Silent Night" thing a little too seriously. "He is a competitor and he was disappointed," Ryan said.  "He was disappointed that he was not named the starter." Even with Tebow's limited role this season, yesterday's interview still centered on the polarizing quarterback and if he asked out of the Wildcat offense. According to various sources, Tebow was irked when Ryan announced he was passing him up for McElroy last Tuesday.  The angry quarterback voiced his frustration to Ryan then didn't speak to his head coach for three days.  On Friday, Tebow finally told Ryan he was available for any role the team deemed him nessessary for. Tebow was inexplicably active but did not play in the 27-17 loss to the Chargers. Ryan was evasive about answering questions why Jeremy Kerley was used as the Wildcat quarterback in that game — the position that the ballyhooed Tebow was brought to the Jets for — while Tebow lingered on the sidelines. "If I would have asked Tim to play in anything," Ryan said Monday.  "Tim would have gone into the game and done that ... I don't think there's any doubt about that. "I'm not going to give you a private conversation that I would have with a player," continued Ryan. "That's between him and I.  If he wants to share whatever the conversation is  — Tim or anybody else — that's up to him." While the normally transparent and usually unflappable head coach danced around the questions surrounding Tebow's reported insubordination, Ryan also didn't delve into who was the true No. 2 quarterback — Tebow or Mark Sanchez. "There's no way I'm going to answer that now ... ever.  I'm just kidding," said Ryan.  "We had both quarterbacks up and, depending on how the game was going ... I just wanted to make sure I had both options open." Ryan avoided direct answers as to whether or not the Tebow trade was an unmitigated disaster and was  partly to blame for to the Jets failures this season. "I thought he'd do a great job in the Wildcat," said Ryan.  "I wanted to get that part back into our offense.  I thought we'd do some better things out of that Wildcat. It hasn't happened.  I'm not blaming it on Tim Tebow."
Original Story:
http://ihatelupica.blogspot.com/2012/...
THE BACKYARD
BEST OF MAXIM
RELATED ARTICLES
BACKUP PLAN
It's a been a difficult year in New York for Tim Tebow and the Jets, and in a recent interview with ESPN, the polarizing QB tried to set the record straight on a few things.
  There was a time when it was rumored that Lucy Pinder and Tim Tebow were dating. We still aren't sure if this was ever true, but regardless of any rumors Lucy Pinder does not need Tim Tebow to make a name for herself. All she needs is a bikini! Check out her gallery below: [...]
There is a reason that Super Bowl Champs aren't getting much attention, even though they are in the midst of wasting a three-game lead in their division by losing six of eight in the second hand of the season. The New York Jets are taking all the attention away from them, much like they did [...]
Tim Tebow did not ask out of the wildcat package last week. The backup quarterback for the Jets is upset that critics say he quit on the New York Jets. "For people to not know the situation and start to bash your character and say you're a phony, you're a fake and you're a hypocrite, I think that's what's disappointing and that's what's frustrating," Tebow said...
This March, as we all know, Tim Tebow was traded from the Denver Broncos to the New York Jets. There was some ambiguity at the time but  everyone involved in the trade not named Tim suggested that with two teams interested the choice came down to the player's preference. With reports emerging that Tebow will end up in Jacksonville this offseason it's hard not to wonder if...
It may seem a little disingenuous using a biblical reference to describe the latest situation surrounding New York Jets' backup quarterback Tim Tebow but what would be the point in writing these things if you couldn't have a little fun with it? Besides, it kind of fits in a way. Especially when you consider how Tebow's football odyssey has gone so far.CLICK HERE TO READ MORE »
With Jaguars owner Shad Khan understandably desperate to put fans in the seats at EverBank Field, it is "a virtual certainty" that useless New York Jets employee Tim Tebow will play quarterback in Jacksonville next autumn. Tebow, who the Broncos … Continue reading →
With Mark Sanchez struggling greatly, the New York Jets surpassed Tim Tebow in favor of Greg McElroy against the San Diego Chargers on Sunday. Tebow was still active, but the Jets lost 27-17, with many still wondering why he has yet to get a chance. He was brought into town to be used in Wildcat packages to take advantage of his unique skill set as well as serve as the backup quarterback...
For sports fans tired of hearing the endless speculation about Tim Tebow's future and Dwight Howard's next team, be forewarned: 2013 could be just as bad. Many of 2012's major storylines will be laid to rest this week, with champions crowned and players settled into their new teams. But for some, like Tebow and Howard, 2012 only cracked the lid on what's expected to be a...
The New York Jets' season appears to be ending much the way it began - fit for a three-ring circus. But the main attractions may all soon be gone. New York can cap its chaotic year on a positive note Sunday when it travels to Buffalo to play the Bills, whose quarterback and coaching situations are also in a state of unrest. Sunday could prove to be the final game with coach...
If you didn't find The Post's characterization of Woody Johnson, Mike Tannenbaum, and Rex Ryan as clowns to be accurate -- you will now. The team has designated BOTH Tim Tebow and Mark Sanchez as... Full story at Bob's Blitz ~ http://www.bobsblitz.com
BY NICK ST. DENISThe New York Jets boasted the NFL's best offensive line during Rex Ryan' first season as head coach in 2009. It's gotten worse each year since, but so has the rest of the offense.Gang Green's front unit surrendered a team record-tying 11 sacks in yet another debilitating loss, this time a 27-17 stinker against the San Diego Chargers with Greg McElroy...
NFL News

Delivered to your inbox

You'll also receive Yardbarker's daily Top 10, featuring the best sports stories from around the web. Customize your newsletter to get articles on your favorite sports and teams. And the best part? It's free!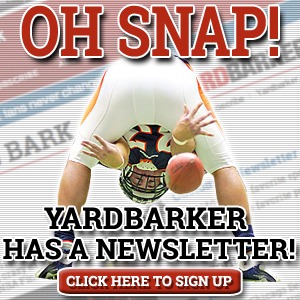 Latest Rumors
Best of Yardbarker

Today's Best Stuff

For Bloggers

Join the Yardbarker Network for more promotion, traffic, and money.

Company Info

Help

What is Yardbarker?

Yardbarker is the largest network of sports blogs and pro athlete blogs on the web. This site is the hub of the Yardbarker Network, where our editors and algorithms curate the best sports content from our network and beyond.