Found April 06, 2012 on Football Nation:
Colts owner Jim Irsay's unannounced decision of his first round pick may have gotten a little easier after Baylor quarterback Robert Griffin III declined to meet with the Colts April 3.   Irsay reveled on Twitter that he was playing the field evenly. He reached out to Robert Griffin III agent Ben Dogra to meet, but he said no. It is unclear if Irsay intended to workout with Griffin or simply have a meeting, but it appears Griffins declined with reasoning.   Since college football ended in December and Griffin and Luck declared for the draft, Luck was the favored first round pick for the Colts and Griffin was projected to go to the Redskins after they traded the Rams for their No. 2 pick.   While Colts' team officials attended Luck and Griffin's Pro Day, the Colts set up a private workout and meeting with Luck but not Griffin. General manager Ryan Grigson said, circumstances did not allow for anything private with Griffin.   Now Griffin is perpetuating the same message back to th...
Original Story:
http://www.footballnation.com/content...
THE BACKYARD
BEST OF MAXIM
RELATED ARTICLES
AS LUCK WOULD HAVE IT
With only a couple weeks left before the NFL Draft, Colts owner Jim Irsay took to Twitter to give his team's fans some insight on which QB they might select.
Yesterday, Colts Authority took a look at the ongoing rebuild in Indianapolis by focusing on the major pieces and contributors the team has lost leading up to the 2012 season. The names were all very familiar and their contributions were all extremely significant to past Colts teams but, in most cases, drop-offs in production, injuries, age, and a more objective analysis...
The 2012 NFL Draft is just around the corner and the Indianapolis Colts are on the clock. It's a foregone conclusion that Jim Irsay and the Colts are going to select former Stanford quarterback Andrew Luck with the first overall selection to replace Peyton Manning, who after being released signed with the Broncos. The talking heads on various sports sites want you to believe there...
Let's face it, anytime there is widespread turnover with an NFL franchise it typically spells doom for a team's success for a year or two, at least. It should come as no surprise  that most expert NFL analysts, bloggers, and the fan community in general are heading into the Colts transition with low short-term expectations. There are stark differences between the context...
Every off-season, fans join in with experts to come up with their best idea of how the upcoming draft will turn out. Some try to pick for every team, effectively prognosticating the entire draft outcome, while others will focus just on the picks of their favorite team. No matter which method is used, very few of the picks end up being right for the vast majority of those who...
I've got a nagging feeling that Robert Griffin III may develop into the better overall quarterback than his draft class peer, but, if I'm the Colts it still makes sense to go with Luck rather than what lies behind door #2. I apologize for the bad Luck pun, we were all subjected to it during this season's 'Suck for Luck' campaign, and, we're going to have to put up...
The Indianapolis Colts have signed free agent defensive tackle Brandon McKinney. In 61 career games with the San Diego Chargers (2006-07) and Baltimore Ravens (2008-11), the 6-2, 345-pound McKinney had 82 tackles, one forced fumble and one fumble recovery. McKinney was originally signed as an undrafted free agent by the Chargers in 2006. He was released in 2008 and was signed by...
Former Baltimore Ravens nost tackle, Brandon McKinney, is the latest ex-Raven to join his former defensive coordinator and new Colts' head coach, Chuck Pagano, in Indianapolis as he and the Colts agreed on a two-year deal Thursday, according to Jeremy Fowler of The St. Paul Pioneer Press. McKinney, 28, joins defensive end Cory Redding and [...]
At this point in free agency, most of the top names have already been signed to teams to play for in 2012. Still, all nine of these players have the potential to fill a crucial need for your team in 2012 without breaking the bank. 1.Dallas Clark- Not long ago, Dallas Clark was one of the very best tight ends in football. Although I am sure many people would disagree, I still think...
While hardly a surprise, the Indianapolis Colts are expected to take Stanford quarterback Andrew Luck with the first overall pick of the draft later this month. Although Jim Irsay hasn't said as much, the Colts owner essentially showed his hand to his Twitter followers on Saturday. "ColtsFans, roster reshaping exciting (and) producing a very physical MONSTER! Things have...
Jim Irsay and the Indianapolis Colts have confirmed via Twitter that the Robert Griffin III's camp has declined a request for a private workout. Griffin's agent formally turned down the request, and while Griffin himself didn't do the talking, the writing is on the wall. By not working out for the Colts, it ensures Griffin will be selected by the Washington Redskins...
NFL News

Delivered to your inbox

You'll also receive Yardbarker's daily Top 10, featuring the best sports stories from around the web. Customize your newsletter to get articles on your favorite sports and teams. And the best part? It's free!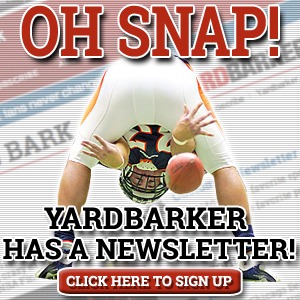 Latest Rumors
Best of Yardbarker

Today's Best Stuff

For Bloggers

Join the Yardbarker Network for more promotion, traffic, and money.

Company Info

Help

What is Yardbarker?

Yardbarker is the largest network of sports blogs and pro athlete blogs on the web. This site is the hub of the Yardbarker Network, where our editors and algorithms curate the best sports content from our network and beyond.