Found October 01, 2012 on 60 Max Power O:
With one minute and forty two seconds left in the fourth, Robert Griffin III led the Washington Redskins 56 yards for the the game winning score. Billy Cundiff's 41 yard last second field goal narrowly slid inside the left post to finish off the Tampa Bay Buccaneers. It was as nerve racking a game as possibly imaginable, yet they won. Final score: 24-22 Redskins.
On that last drive Griffin threw 4-4 (not including the spike), for 46 yards and had a crucial 15 yard run to bring Cundiff within distance. Santana Moss, Fred Davis and Evan Royster were the recipients of RGIII's final passes (Moss had two). After the game, the rookie phenom said he called "about half" the plays on last drive because the headset went out. He also said they practiced for that.
The Redskins scored 21 points in by halftime, but couldn't hold on to the lead and nearly blew the victory. On offense, they didn't cross the Buccaneers' 40 until there were about 20 seconds left. On defense, they gave up two more deep throws of 65 and 54 yards (which both led to touchdowns) and a separate field goal with less than two minutes to go.
It was another great game for 'Bob' Griffin. He ended the game with 326 yards on 26-35 passing and added 47 more yards on the ground. He became only the third rookie to throw for 1,000 in his first four games. Griffin also had a quarterback rating over 100 (102.4) for the third time–in just four games!
Considering Trent Williams was limping around all week, he proved to be extremely effective. He helped spring Alfred Morris's 39 yard touchdown and did a good job keeping defenders off "the franchise." After the game Williams said he "owed it to this team, [he] owed it to this city to get out there and battle through the pain."
Alfred Morris, of course, also had a stellar day, rushing for 113 yards on 21 carries–including that 39 yard score. Grant Paulsen of CBS Sports did some math and found that Morris is on pace for 1,504 yard and 16 touchdowns. That would easily be the best season any Redskins' runner has had in the last decade-plus. And don't forget, this guy's a rookie too.
The Skins are set on offense. Honestly, the kicker left at least six points on the field; meaning RGIII put them in position to drop another 30-spot.
It's the defense–particularly the secondary–that still has folks in Washington worried. They clearly miss Brian Orakpo. And Brandon Meriweather, who was expected to make his season debut tonight, was inactive due to a pre-game collision with Aldrick Robenson (who was also inactive afterward). The Redskins still have a season full of above average quarterback-receiver tandems ahead. They won't get much healthier. Can they get any better?
The Redskins will need them to. Robert Griffin III has placed this team on his back and he isn't likely to slow down. The Skins will go as far as the defense takes them. How's that for a philosophy change?
Be sure to check out other great articles at Sports Media 101.
Original Story:
http://www.60maxpowero.com/patriots/c...
THE BACKYARD
BEST OF MAXIM
RELATED ARTICLES
Robert Griffin III led the Redskins to a 24-22 victory at Tampa Bay on Sunday and, making matters more impressive, he did it all despite not having proper communication with his coaches because of a headset malfunction on the final drive.Griffin could be seen pointing to his helmet with both index fingers during the final drive as it to say, "I can't hear anything." He confirmed...
Washington Redskins players are impressed with rookie quarterback Robert Griffin III after their 24-22 comeback victory over the Tampa Bay Buccaneers Sunday. Griffin completed 26-of-35 passes for 323 yards and ran the ball seven times for 43 yards and a touchdown.   Griffin's most impressive performance Sunday happened in the final minute and 42 seconds left in the game.  He...
The Redskins had some issues to overcome on their game-winning drive on Sunday against the Bengals, and those issues even surpassed having to rely on Billy Cundiff to kick a game-winning field goal. The Skins were also battling a communication issue, as quarterback Robert Griffin III's headset picked the worst time to stop working correctly. According to NFL.com, Griffin was...
WASHINGTON (24) d TAMPA BAY (22) The Headline: Billy Cundiff makes a last second field goal to seal the Redskins win. The Story: Sometimes you have to feel sorry for Billy Cundiff, leading up to the final kick of the game, Cundiff had missed three kicks on the afternoon and this was his first attempt at a game winning field goal since that little miss he had for the Ravens at the...
The Washington Redskins beat the Tampa Bay Buccaneers 24-22 on a last second, Billy Cundiff fake missed field goal attempt that accidently passed within inches inside the left upright. The Redskins were shocked, but not nearly as much as they were when Cundiff missed three field goal attempts during the game. Tell me again why the Redskins cut Graham Gano, because I forgot. #Shankopotamus...
Remember a few weeks ago when the Redskins won their first game. Robert Griffin III was all the rage. Everyone in fantasy football land was climbing over their own kids trying to move up the waiver wire to claim him.Four weeks was such a long time ago.The Redskins now sit at 2-2. Yes, we're only four weeks into the season, so a 2-2 record isn't really that bad. It's simply...
TAMPA, Fla. (AP) -- Billy Cundiff redeemed himself for a poor day kicking, booting a 41-yard field goal with 3 seconds remaining to give the Washington Redskins a 24-22 victory over the Tampa Bay Buccaneers on Sunday. Cundiff missed three earlier attempts, including a 31-yarder that wound have put the Redskins (2-2) up by two scores early in the fourth quarter. He also missed twice...
According to ESPN's Adam Schefter, Washington Redskins wide receiver Pierre Garcon will likely play today on a "pitch count." Garcon is still a game time decision, but there's a very good chance that he plays. Tweet
TAMPA, Fla. -- Billy Cundiff turned from goat to hero with one swift kick. Cundiff atoned for three earlier misses by booting a 41-yard field goal with three seconds left Sunday to lift the Washington Redskins to a 24-22 victory over the Tampa Bay Buccaneers. Rookie quarterback Robert Griffin III drove the Redskins to the winning score after the Buccaneers had overcome an 18...
Griffining has not caught on as much as we expected it to after it was introduced following Robert Griffin III's stellar debut against the Saints this season. However, it appears RG3 himself is a fan of it, as evidenced by the photo above that D.C. Sports Bog shared with us.The woman with Griffin is Olympic track star Kellie Wells, who won a bronze medal in the 100-meter hurdles...
Why must there always be controversy or a sacrificial pig, even in a clean victory?Robert Griffin III was delivered something to complain about this week, but it wasn't botched penalties or Greg Schiano's patented kneel-down bull rush.He and Billy Cundiff didn't leave any time for that hogwash.Down 22-21 to the Tampa Bay Buccaneers (1-3) with one timeout and 1:42 remaining...
When the Washington Redskins gave up a lot to move up to select Robert Griffin III with the No. 2 overall pick in the 2012 NFL Draft, many were skeptical. But through the first quarter of the 2012 NFL season, Griffin III has eased the minds of the Redskins after helping them get off to a 2-2 start. Simply put, Griffin III has been the most impressive player through the first four...
Redskins News

Delivered to your inbox

You'll also receive Yardbarker's daily Top 10, featuring the best sports stories from around the web. Customize your newsletter to get articles on your favorite sports and teams. And the best part? It's free!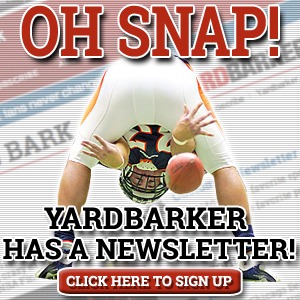 Latest Rumors
Best of Yardbarker

Today's Best Stuff

For Bloggers

Join the Yardbarker Network for more promotion, traffic, and money.

Company Info

Help

What is Yardbarker?

Yardbarker is the largest network of sports blogs and pro athlete blogs on the web. This site is the hub of the Yardbarker Network, where our editors and algorithms curate the best sports content from our network and beyond.