Found January 01, 2013 on One-Handed Grab:
PLAYERS:
Tom Brady
,
Aaron Rodgers
,
Matt Schaub
,
Peyton Manning
,
Drew Brees
,
Ben Roethlisberger
,
Eli Manning
,
Matt Hasselbeck
,
Robert Griffin III
TEAMS:
Washington Redskins
,
New England Patriots
,
Green Bay Packers
,
Houston Texans
,
New Orleans Saints
,
Pittsburgh Steelers
,
New York Giants
,
Tennessee Titans
Robert Griffin III helped the Washington Redskins win the NFC East for the first time since 1999 this year with his dynamic play at the quarterback position. Griffin led the league as a rookie in both pass yards per attempt (8.14, only player over 8) and rush yards per attempt (6.8, Adrian Peterson & C.J. Spiller were the only other players with at least 6 yards per attempt at 6.0). Griffin also won the Positive Impact Factor (PIF) MVP with a PIF of 62.3, which shatters Cam Newton's rookie PIF record of 49.9 in 2011. Here's the full standings (min. 224 touches, rookies in bold): 1. RGIII, WAS, 62.3 2. Tom Brady, NE, 60.2 3. Colin Kaepernick, SF, 56.6 4. Aaron Rodgers, GB, 53.8 5. Matt Schaub, HOU, 53.4 6. Russell Wilson, SEA, 52.2 7. Peyton Manning, DEN, 51.9 8. Alex Smith, SF, 51.7 9. Matt Ryan, ATL, 50.8 10. Cam Newton, CAR, 50.0 11. Drew Brees, NO, 46.7 12. Sam Bradford, STL, 46.6 13. Ben Roethlisberger, PIT, 44.9 14. Eli Manning, NYG, 43.9 15. Matt Hasselbeck, TEN, 4...
Original Story:
http://www.yardbarker.com/blog/onehan...
THE BACKYARD
BEST OF MAXIM
RELATED ARTICLES
GOTCHA
Robert Griffin III is trying to loosen up his head coach Mike Shanahan as the two prepare for Sunday's NFC Divisional Playoff game against the Seattle Seahawks.  During Shanahan's press conference Wednesday, RG3 posed as a reporter in the crowd and asked Shanny a question. Shanahan started to answer before realizing it was Griffin.  "You got me by surprise there," Shanahan...
The Washington Redskins are feeling good after making it into the playoffs last week, and on Wednesday Robert Griffin III decided to give his coach the business. During a Mike Shanahan press conference on Wednesday, RG3 slipped into the crowd of reporters and was able to pepper his unsuspecting coach with a quick question. Griffin asked: "Coach, we just wanted to know, what did...
Your browser does not support iframes. Washington Redskins head coach Mike Shanahan began what he thought was a normal press conference on Wednesday when he was caught off guard by a familiar, yet unfamiliar, voice. The voice was familiar in that it is one the coach hears every day. It was unfamiliar in that it was the first time Shanahan had fielded a question from that voice while...
If allowed to perform in a spread offense, legendary college coach Urban Meyer expressed confidence that useless New York Jets employee Tim Tebow could thrive under center in the NFL like Robert Griffin III, Russell Wilson, Colin Kaepernick and Cam … Continue reading →
Washington Redskins quarterback Robert Griffin III hung around after his press conference Wednesday to prank head coach Mike Shanahan as he posed as a member of the media. Griffin asked Shanahan, "What did you do for New Year's?".   Shanahan began to answer before quickly realizing it was Griffin. "You got me by surprise there,'' Shanahan said, laughing...
QB: Robert Griffin III, Washington Redskins: If RGIII ran for mayor of DC tomorrow he would win, in a landslide. The Heisman trophy winner lived up to the hype, playing like a seasoned veteran throughout the season and leading the Redskins to an NFC East championship. Griffin will be competing with fellow quarterback Andrew Luck for rookie of the year honors. If RGIII can stay healthy...
On a night when rookies Robert Griffin III and Alfred Morris led the Washington Redskins to the top of the NFC East, team owner Dan Snyder sought out a long-suffering veteran during the postgame celebration. ''He said you've known how it's felt around here the last seven years,'' defensive lineman Kedric Golston said. ''So this is a sweet time.'...
As every NFL fan knows, the 2012-13 regular season is over. For fans of the 20 teams who missed the playoffs, they are in mourning I am sure. Of course, being a fan of the game, I miss it also.
After Sunday night's Redskins – Cowboys NFC East title game, Robert Griffin III told Tony Romo not to listen to all the negative comments and that he's not a good quarterback.Showtime's Inside the NFL will air audio live  on their show tonight.. @rgiii wired for sound to Romo – "Don't listen to what anybody else is saying about you. You're a great quarterback, man...
IRVING, Texas — An elusive player like Robert Griffin III or Vince Young or the like usually leads to really good conversion rates on third down, and for the Texas A&M Aggies, that's just what they've got in signal caller Johnny Manziel.
Tonight, the Redskins hosted the Dallas Cowboys in a de-facto NFC East championship game, and the Robert Griffin III led team ground out a a victory, their seventh straight, to win the division for the first time since 1999. The Redskins didn't throw the ball all over the field, but Griffin was efficient when he was called on to throw. Alfred Morris led the Redskins' ground...
NFL News

Delivered to your inbox

You'll also receive Yardbarker's daily Top 10, featuring the best sports stories from around the web. Customize your newsletter to get articles on your favorite sports and teams. And the best part? It's free!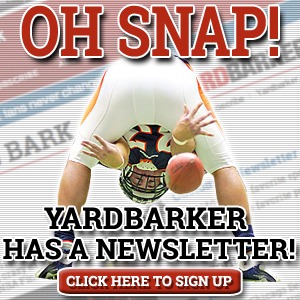 Latest Rumors
Best of Yardbarker

Today's Best Stuff

For Bloggers

Join the Yardbarker Network for more promotion, traffic, and money.

Company Info

Help

What is Yardbarker?

Yardbarker is the largest network of sports blogs and pro athlete blogs on the web. This site is the hub of the Yardbarker Network, where our editors and algorithms curate the best sports content from our network and beyond.