Found June 15, 2012 on Fox Sports Tennessee:
PLAYERS:
Robert Johnson
,
Mike Munchak
,
Michael Griffin
,
Chris Hope
,
Jordan Babineaux
,
Anthony Smith
,
Chuck Cecil
,
Kendall Wright
,
Jake Locker
,
Jason McCourty
,
Kenny Britt
,
Daniel Graham
,
Jared Cook
,
Craig Stevens
,
Taylor Thompson
TEAMS:
Tennessee Titans
For two seasons, safety Robert Johnson has barely been a blip on the Tennessee Titans depth chart. The fifth-round draft pick from 2010 was on the roster all through his rookie season, but was inactive for all 16 games. And when a new coaching regime came in last year with Mike Munchak as head coach and Jerry Gray as defensive coordinator, Johnson's chances of having a long-term role looked bleak. Not only was he stuck behind starters Michael Griffin and Chris Hope, but Tennessee brought in veterans Jordan Babineaux and Anthony Smith to help fortify depth at the position. So it was no surprise that Johnson was let go in final cuts by the Titans last year, though he was re-signed to the practice squad and spent the majority of the time there. When Smith suffered an injury late in the year, it opened the door for Johnson to get back on the 53-man roster, and he managed to play in three games on special teams. Now, with Hope and Smith both departed, Johnson's role has expanded, and he is seizing the opportunity, operating as the dime back in Tennessee's Ruby package (3-2-6). After having bounced back and forth between two systems (Chuck Cecil's in 2010 and Jerry Gray's last year and this year) and being tried at both strong and free safety, Johnson is back where he is most comfortable. He is playing free safety, backing up Michael Griffin and being used in the dime role as the sixth defensive back. "The first defense we had when I first came in, I had to learn that, then we switched that," Johnson said. "This is my second year into the defense that we have. It's an adjustment. Last year was my adjusting to the new defense. This year, I know the defense, I just have to pay attention more and be the coach on defense." As for the new-found playing time, Johnson says he is ready. "It's a nice step toward getting on the field and playing more," Johnson said. "Last year, I only played special teams, and this year, it's still early, but I am playing in the Ruby package where there's an extra safety. It feels good to get out there and play around. We'll see what happens during the season, because I'm planning on playing and helping the team win as many games as I can." He is also excited to be back at free safety where even Gray has noticed him this offseason. "Robert Johnson looks great to me. If you put him in the middle of the football field and you throw the football up, he can go get it," Gray said. "He proved that when he was at Utah. He had eight interceptions his senior year. The thing we've got to do is put him in position to be smart, and if that means putting him in the middle of the field and he gets eight picks, he gets eight picks, and let him be in a position where he is comfortable to go play football. I think that may be his spot." Johnson has bought into what Gray is selling and likes being back at free safety as part of it. "I played free safety in college, and when I got here, they had me learning strong. I never was comfortable enough to be down there in the box playing with the big boys and all that," Johnson said. "Then I started to adjust and I adjusted too slow, and then a new defense came in and I was at strong and then back at free, and the safeties were interchangeable. But now, coach Gray has said to me, 'You're going to play your primary position, which is free safety.'" NOTES, QUOTES --The Titans got a scare of sorts in minicamp on Thursday, June 14, when first-round pick Kendall Wright suffered a shoulder injury diving for a pass from Jake Locker. Wright was down for a couple of minutes, and was taken for an MRI, according to coach Mike Munchak, who indicated he did not believe the injury was serious. When it was over, Locker took responsibility for the throw that caused Wright to get hurt. "It's all my fault. You always hate to see a guy get injured trying to make a play he made a great effort at it and you just hope it's nothing too serious," Locker said. Wright will probably be held out of minicamp next week. --The Titans have begun preliminary talks on a contract extension for cornerback Jason McCourty, who is entering the final year of his rookie contract. McCourty, a sixth-round pick who has blossomed into a solid starter, was happy about the possibility of a second contract. "Oh man, it's truly a blessing. You come into the league you never know how it's going to go. Are you going to spend 10 years there or 10 days?" McCourty said. "To have that opportunity is definitely a blessing. I'm looking forward to seeing how it goes and where it goes from here. So just have my fingers crossed and waiting to see. This is my first time, so I don't know how it all works, so I'm getting used to it." --Wide receiver Kenny Britt was pleased that he was able to begin running again and on Friday (June 8) did some cutting on his surgically repaired knee that had a second procedure done last month. Britt said the second procedure was to remove a "clicking sound" in his knee that had cropped up following ACL surgery. Britt requested to run stadium steps and to begin cutting on the knee, which he did on Friday. "It's encouraging I know it's good for his piece of mind to be out here running again after the break because of the surgery," Titans coach Mike Munchak said. "That's a good thing. Hopefully that'll lead to him having a great month and being ready to help us in July." --In yet another sign the offense is evolving away from a run-first mentality, tight end Daniel Graham was released on Tuesday (June 12) with two years remaining on an 8.25 million contract. Graham caught just two passes last season and was losing reps to Jared Cook, Craig Stevens and rookie Taylor Thompson. QUOTE TO NOTE "I'm playing. That's why I'm here. I told my agent before these offseason workouts got started that I wasn't planning on holding out." - S Michael Griffin on signing a waiver and taking part in offseason work as the Titans franchise player.
Original Story:
http://www.foxsportstennessee.com/06/...
THE BACKYARD
BEST OF MAXIM
RELATED ARTICLES
The Tennessee Titans are looking to get back into the playoff hunt in 2012. The AFC South appears to be a two team race between the Titans and Texans and Tennessee fans believe their team can challenge. When looking at the roster of the Titans, like most teams, it has players that don't get the credit they deserve and other players that get too much credit. Who on the Titans...
In April, prior to the draft, I wrote about the Titans who would be in the final year of their contracts this season and how the Titans might draft to replace some of them.  Now that the Titans have drafted seven new players, added some undrafted free agents and signed a few veteran free agents, it's time to revisit the subject to evaluate the impact of those events, if any...
Getty Images According to Jim Wyatt of the Tennessean, Titans rookie wide receiver Kendall Wright left practice early and didn't return after suffering a shoulder injury.  Head coach Mike Munchak believes he won't practice during next week's three-day minicamp. "His shoulder is sore from falling on it," Munchak said. "He went for a ball, trying to make a play – that...
The Tennessee Titans are taking in a giant sigh of relief as prized rookie wideout Kendall Wright's X-rays on his injured shoulder came back negative, according to Jim Wyatt of the Tennessean. Fantasy Spin: Wright escaped with a minor shoulder strain, with no structural damage and expects to be good to go for the start of training camp. Wright will compete for the starting gig...
The Titans lost one stud cornerback this offseason and they apparently do not want the same thing to happen next offseason. The Titans have entered extension talks with Jason McCourty, who will become the Titans #1 cornerback in 2012 after the loss of Cortland Finnegan. A 6th round pick in 2009, McCourty has well exceeded his draft range. As the Titans #2 cornerback last season,...
Michael Griffin is still an unsigned franchise player, but unlike other unsigned franchise players, guys like Matt Forte, Dwayne Bowe, Ray Rice, and Drew Brees, Griffin is still attending the Titans' minicamp. Minicamp is mandatory for all of those players under contract and since Griffin is technically not under contract, he doesn't have to be there. In fact, he doesn't have...
Getty Images We just reported earlier that Tennessee Titans wide receiver Kendall Wright suffered a shoulder injury during practice today.  The good news is that it looks like his injury isn't that serious. According to Terry McCormick of TitanInsider.com, a source has told him that Wright's shoulder injury isn't that serious.  He's still expected to miss next week's minicamp.
Hot News for TE Daniel Graham
Titans News

Delivered to your inbox

You'll also receive Yardbarker's daily Top 10, featuring the best sports stories from around the web. Customize your newsletter to get articles on your favorite sports and teams. And the best part? It's free!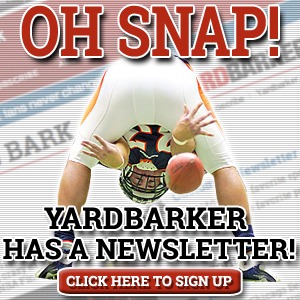 Latest Rumors
The Backyard

Today's Best Stuff

For Bloggers

Join the Yardbarker Network for more promotion, traffic, and money.

Company Info

Help

What is Yardbarker?

Yardbarker is the largest network of sports blogs and pro athlete blogs on the web. This site is the hub of the Yardbarker Network, where our editors and algorithms curate the best sports content from our network and beyond.