Posted October 11, 2012 on AP on Fox
PLAYERS:
B.J. Raji
,
Andrew Luck
,
Reggie Wayne
,
Clay Matthews
,
Aaron Rodgers
,
Bryan Bulaga
,
James Jones
,
Greg Jennings
,
Cedric Benson
,
Jermichael Finley
,
D.J. Williams
,
Davon House
,
Brian Cushing
TEAMS:
Houston Texans
,
Green Bay Packers
,
Indianapolis Colts
The defense is giving up big chunks of yardage - again. Injuries are piling up. Even the offense, which has carried the Green Bay Packers the last two years, is suspect. A year after opening the season 13-0, the Packers are in danger of letting the season get away from them. At 2-3 (yes, that includes that loss in Seattle that wasn't really a loss), they face something of a must-win game Sunday night when they play the unbeaten Houston Texans. ''It's a bit too early'' to say that, defensive tackle B.J. Raji said. ''A lot of the talk - people are used to seeing us win, and they're never used to seeing us in this position. It's just human for most people to think it's a must-win game. ''It's a big one,'' Raji added. ''We want to have it, and hopefully we can come out with something good.'' The Packers' early struggles may seem like a shock, coming just two years after their Super Bowl run and on the heels of last year's 15-1 regular-season record. But Green Bay has lost five of its last nine games dating back to last season and, if you look closely, signs were there that trouble was coming. Though the Packers had an NFL-best 31 interceptions last year and tied for the league lead with 38 total takeaways, they also gave up an NFL-high 6,585 yards of offense, more than 410 yards per game. They're somewhat improved this year, but the 344 yards a game they're allowing still put them in the bottom half of the NFC. They gave up 464 yards last weekend alone, including 362 yards passing to Indianapolis Colts rookie Andrew Luck. Luck drove the Colts 80 yards in the final 4 minutes before connecting with Reggie Wayne on the go-ahead touchdown with 35 seconds left. The Colts scored 27 points in the second half after trailing 21-3 at halftime. Clay Matthews leads the NFC in sacks with eight, and the Packers have five takeaways. But that figure could probably be doubled if not for dropped interceptions, penalties and, yes, better officiating. The larger problem, however, is the offense. Unlike last year, when Green Bay could count on Aaron Rodgers and Co. making up for any defensive flaws, the Packers have yet to find their groove. They're averaging just 5.2 yards per play. They haven't had a 100-yard receiver or rusher yet. The 21 sacks allowed are more than any NFL team besides Arizona. ''We've been inconsistent,'' offensive tackle Bryan Bulaga said. ''I don't think you can pinpoint one thing. We just haven't played to our capability, I think that's evident.'' Even Rodgers acknowledges he's not playing as well as he could or should be. ''I just have to do things I know I'm capable of doing on Sundays,'' he said. It might have been too much to expect Rodgers to maintain that NFL-record 122.5 quarterback rating he had last year. But the reigning MVP isn't even in triple digits, ranking eighth in the NFL with a 97 rating. He's thrown four interceptions, two fewer than he threw all last season. Rodgers does have the NFL's third-best completion rate at 68.8 percent, and is fifth with 10 touchdowns. ''It's on everybody, man. We've got to get better,'' receiver James Jones said. ''We're losing, so everything is zoomed in that much more. Everybody's under a microscope when you lose. If we was winning right now, 5-0, and we were still playing the way we're playing, it'd probably be a whole different story. But we've got to win.'' Injuries haven't helped matters. Receiver Greg Jennings has missed two games with a groin problem, and has said he won't play until he is 100 percent healthy so it doesn't slow him down the rest of the season. Running back Cedric Benson, who has had 71 of the team's 111 carries, is out at least eight weeks with a sprained left foot. Tight end Jermichael Finley is nursing a bum right shoulder, though he insists he'll play Sunday. D.J. Williams tweaked his hamstring in practice Wednesday. Raji is a game-time decision after he hurt his ankle against the Colts, and cornerback Davon House has a nagging shoulder injury. But all teams are dealing with injuries. The Texans lost linebacker Brian Cushing, their top tackler, to a torn left ACL in Monday night's game. And, really, injuries aren't the main source of the Packers' problems. It's a bunch of little things here and there that, when taken together, add up to a rough start. ''It's just the little details, being brutally honest,'' coach Mike McCarthy said. While the Packers aren't panicking - ''It's a punk mentality, frankly,'' McCarthy said. ''I think it's a loser mentality'' - there is a sense of urgency. Chicago, off this week, and Minnesota have a two-game lead on Green Bay, and the Packers can't afford to let that gap widen much more. ''I really don't want to just sit here and say it's a must win and all that stuff. We just need to go out there and play well,'' Jones said. ''Stack success and go onto the next game and play well. We've got too many ups and downs right now where, at times, we play well and then we're inconsistent. ''We just need to go out there and play a complete game and look up at the scoreboard when it's all said and done.'' Besides, the Packers better than anyone know it's not too late. After all, they started the 2010 season 3-3 and were 8-6, needing to win the last two games just to make the playoffs. Look how that turned out. Green Bay ripped off six straight wins, capping the run with a victory over Pittsburgh in the Super Bowl. ''It's really how you finish a season that matters,'' Rodgers said. ''I think we all know that.'' --- Online: http://pro32.ap.org/poll and http://twitter.com/AP-NFL
Original Story:
http://msn.foxsports.com/nfl/story/Ro...
THE BACKYARD
BEST OF MAXIM
RELATED ARTICLES
The Green Bay Packers look to get back to their winning ways this weekend in a tough matchup against the undefeated Houston Texans.Both teams are coming off weeks in which they received bad news regarding key players and injuries.Green Bay found out that Cedric Benson will be out a majority of the season and could possibly be out for the entire season.  The Houston Texans found...
GREEN BAY, Wis. -- Packers running back Cedric Benson has been placed on injured reserve after suffering a Lisfranc injury to his left foot Sunday. But unlike previous NFL seasons, Benson will have a chance to get back on the field later this year due to a new league rule that allows each team to designate one player for a possible return. With Benson being given that designation...
Im sure all football fans can agree that Aaron Rodgers and the Green Bay Packers hasnt been looking like themselves and if you dont think so, Rodgers agrees that he himself hasnt been playing his best football. Our friends over at ProfootballZone.com has a snippet of Rodgers interview with 540 AM in Milwaukee via NFL.com: "I set the bar high and I expect to play at a higher level...
According to Tyler Dunne of the Milwaukee Journal Sentinel, Alex Green will get the first crack at the Green Bay Packers' starting running back job while Cedric Benson is out.Packers head coach Mike McCarthy also confirmed that they'll ride the hot hand between both Green and James Starks.
Green Bay Packers running back Cedric Benson was placed on injured reserve Wednesday, but a "designated to return" tag was added, which means he might be back this season. Benson sprained his left foot in Sunday's loss to the Indianapolis Colts, and by being placed on injured reserve, he must sit out eight games. He's eligible to return in Week 14 against...
Packers WR Greg Jennings Expected To Miss Week 6 - Although he's yet to completely rule himself out for Sunday's game versus the Texans, Packers' WR Greg Jennings (groin) is not expected to play in Week 6. "I've kept things the same, making sure I don't rush it back like I did before," Jennings said. Still in shutdown mode, Jennings has not even tried running at full...
Jermichael Finley has little doubt about his playing status this weekend. ''I'm feeling good about Sunday,'' the Green Bay Packers tight end said Friday. The outlook for some of Finley's teammates is not so rosy. Green Bay (2-3), which has been rocked by injuries early in the season, will be missing another starter when it faces the unbeaten Texans (5-0...
GREEN BAY, Wis. -- The relationship between Packers quarterback Aaron Rodgers and tight end Jermichael Finley frequently boils down to one word: chemistry. In Finley's mind, chemistry between the two is often directly related to his personal statistics and those of the offense as a whole. With Green Bay's 2-3 record and an offense ranked 21st in the NFL in total yards and...
Quarterback Aaron Rodgers talks about the state of his season; plus injury reports and much, much more from a newsworthy Wednesday at Lambeau Field.
Top receiver Greg Jennings said more than once Thursday that "time will tell" how soon he can get back on the field after coping with a nagging groin injury the last two weeks. Coach Mike McCarthy is hoping the timing of the Packers' next game, Sunday night at the unbeaten Houston Texans, will work to the benefit of his injury-plagued team. McCarthy stressed Thursday...
NFL News

Delivered to your inbox

You'll also receive Yardbarker's daily Top 10, featuring the best sports stories from around the web. Customize your newsletter to get articles on your favorite sports and teams. And the best part? It's free!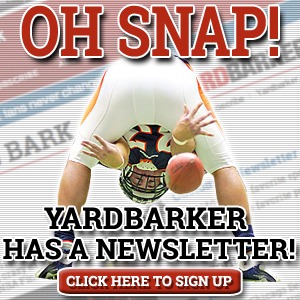 Latest Rumors
The Backyard

Today's Best Stuff

For Bloggers

Join the Yardbarker Network for more promotion, traffic, and money.

Company Info

Help

What is Yardbarker?

Yardbarker is the largest network of sports blogs and pro athlete blogs on the web. This site is the hub of the Yardbarker Network, where our editors and algorithms curate the best sports content from our network and beyond.