Posted January 10, 2013 on AP on Fox
PLAYERS:
Aaron Rodgers
,
Alex Smith
,
Joe Montana
,
Jim Harbaugh
,
Colin Kaepernick
,
Greg Jennings
,
Randall Cobb
,
Jordy Nelson
,
James Jones
,
Aldon Smith
,
Justin Smith
,
Drew Brees
,
Tom Brady
,
Patrick Willis
,
Ahmad Brooks
TEAMS:
Green Bay Packers
,
San Francisco 49ers
,
New Orleans Saints
,
New England Patriots
The anxiety-filled green room and draft day seem so long ago now to Aaron Rodgers. Still, on this weekend, any lingering feelings of frustration about how far he dropped will be directed right at the team that passed him up with the No. 1 pick nearly eight years ago. Rodgers brings the high-scoring Green Bay Packers (12-5) to Candlestick Park on Saturday to face No. 2 seed San Francisco (11-4-1) in prime time for a place in the NFC championship game. He'll take the field in the very venue where he became a regular fan as a boy rooting for Hall of Famers Jerry Rice and Steve Young. Rodgers, who appeared in a preseason game at Candlestick in 2008, will play his first meaningful game at the stadium at last, as an eighth-year pro. He will look to avenge a 30-22 season-opening home loss to the 49ers. ''It will be fun. I went to a few baseball games there growing up, and saw a game there when I was in college,'' Rodgers said. ''Stadium's got a lot of tradition. Looks like we're kind of fortunate with the weather right now. Still wonder what that's going to be like. ''But it will be a night game, it will be loud, it will be a great environment and it should be a good show for the fans.'' Rodgers is putting on quite a show, all right. He returns to Northern California, where he became a college star for California across San Francisco Bay in Berkeley, with a healthy cast of receivers and the swagger of a Super Bowl champion. When Rodgers dropped to No. 24 in the 2005 draft after Alex Smith went No. 1, he was asked about his disappointment. He so matter-of-factly said, ''not as disappointed as the 49ers will be that they didn't draft me.'' Now, everybody in the Bay Area and beyond will be watching his every move again. He already upset some friends he couldn't accommodate with tickets. Family first, with everybody else making the 4-hour trek from his hometown of Chico left to fend for themselves. Most important, of course, is getting Green Bay one step closer to another Super Bowl. Last season's chance at a repeat championship came to a screeching halt at the hands of the Giants in this very round at Lambeau Field. The Giants came to San Francisco the next week and won the NFC title game, 20-17 in overtime. Just as the Niners moved on from that heartbreaking loss and used it as a motivational push each day this season, the same goes for Rodgers after being slighted by his beloved San Francisco on draft day. ''It's been a long time since the green room,'' Rodgers said. ''I have a lot of good memories growing up watching Steve Young and Joe Montana on TV and the Super Bowl wins and being a 49ers fan. That was a team I enjoyed watching and dreamt about playing for. I'm eight years removed here, and obviously I'm really happy with the situation I'm in.'' A lot has changed in that time for San Francisco, too. The QB the 49ers picked ahead of Rodgers - Smith - spent the season's second half on the bench as coach Jim Harbaugh promoted second-year pro Colin Kaepernick. He will make his playoff debut Saturday. In an odd twist, Kaepernick was born in Milwaukee and adopted before moving to California at age 4. Yes, he began as a toddler Cheesehead, then changed allegiances ''when I got drafted,'' Kaepernick said. He has never met Rodgers. He still knows plenty. Even San Francisco's opportunistic, ball-hawking defense realizes just how hard it will be to rattle Rodgers or get him off his game. He hasn't thrown an interception in five straight games and 177 passes. His receiving corps is intact again at last, each of the big four of Greg Jennings, Randall Cobb, Jordy Nelson and James Jones capable of game-breaking catches and career performances. Jennings has 19 receptions for 226 yards and three touchdowns over the last three games. The 49ers will need big performances from Aldon Smith and Justin Smith, the defensive pass-rushing menace expected back after he missed the final two regular-season games with a partially torn left triceps. Not to mention their talented seconardy. Beating some of the NFL's top quarterbacks hasn't proven too much for San Francisco so far. Aside from the win against Rodgers in the opener, the Niners beat Drew Brees in New Orleans and shocked Tom Brady in New England. ''We've played some of the best quarterbacks this year and have done well,'' linebacker Patrick Willis said. ''This Saturday is going to call for our best. We can't afford to not play our best football, play our best defense. There's no tomorrow, there's no next week.'' Harbaugh has been impressed just how well Kaepernick seems to understand the magnitude of this task, while also remaining unfazed by the added hype and attention. ''It's a bit savant-like the way he's handling it so far this week,'' Harbaugh said. ''So, that's really encouraging.'' Poll the players and coaches around the 49ers and everybody believes Kaepernick is perfectly ready for his biggest game yet. ''I don't think we're going to see any big eyes,'' offensive coordinator Greg Roman said. This was the matchup everybody expected in last year's NFC championship game until New York came along and spoiled both teams' plans. Back in September, San Francisco linebacker Ahmad Brooks said the win at Green Bay might be an ''eye opener'' and ''maybe we'll see them again in the NFC championship.'' He was only one week off. Now, San Francisco wants to make sure it is still standing next week. ''We still feel we're just as good as we were last year,'' Willis said. ''Hopefully this is a new season.'' Same sentiments are coming from the Green Bay side. The Packers won three road games on the way to their championship two years ago, so why not keep a good thing going away from Lambeau Field? And coach Mike McCarthy is counting on Green Bay being better equipped to pound the ball in the run game. ''We have to be,'' the coach said, ''it's the playoffs.'' --- AP National Writer Nancy Armour in Green Bay, Wis., contributed to this story. --- Online: http://pro32.ap.org/poll and http://twitter.com/AP-NFL
Original Story:
http://msn.foxsports.com/nfl/story/Ro...
THE BACKYARD
BEST OF MAXIM
RELATED ARTICLES
Rodgers throws a pass against the 49ers in the week one matchup. (Getty Images/Andy Lyons) The Green Bay Packers head out west to take on the San Francisco 49ers with a trip to the NFC Championship game on the line. These two teams faced off in week one with the 49er's winning 30-22 in Lambeau.  Both teams have changed since that game, which will make this game completely different...
GREEN BAY, Wis. -- Aaron Rodgers is capable of making throws under pressure at an elite level. His combination of speed, scrambling ability and arm strength all make it look easy when defenses start caving in the pocket and yet he still rockets a completed pass downfield to a tightly covered receiver. But even a quarterback with Rodgers talent needs time to throw to be most effective...
GREEN BAY, Wis. -- Aaron Rodgers knows the Packers aren't going to advance to the NFC Championship Game without him performing at the elite level he's capable of. That's fine by him. In fact, the star quarterback and league's reigning Most Valuable Player embraces that role. "Guys are counting on me to play well," Rodgers said this week. "I take that...
There is no shortage of hype surrounding Saturday Night's NFC Divisional playoff game at Candlestick between the Green Bay Packers and the San Francisco 49ers. The breakdowns and the analysis of this game seems never ending. Yet the only analysis you need is this - if the Packers are to escape with a win, it will be because Aaron Rodgers is special. Period. End of discussion...
From Aaron Rodgers and Clay Matthews to Frank Gore and Aldon Smith, you know all the big names who will have key roles in the divisional playoff showdown. Here are six players who will be key performers on Saturday night that were not when these teams met in Week 1.
Here's a video from the tailgating scene at last week's Green Bay win over Minnesota courtesy of Coors Light, and now the Packers head to San Francisco where the weather should be a little warmer. You've got to love playoff football! Aaron Rodgers seems to be in top form, while the QB situation for the 49ers is much more muddled with a rookie taking over the reins. I like Green...
As we head into the weekend of Divisional round play in the NFL, most fans and pundits are focusing their attention, and rightly so, on the four matchups that will take place this Saturday and Sunday. At the same time, there is an awful lot of focus on the coaching merry-go-round; determining who is to blame for the knee injury suffered by Redskins' quarterback RGIII; and which...
In Part 1 of our five-part series previewing Saturday night's NFC divisional playoff game, beat writers Bill Huber of PackerReport.com and Craig Massei of NinersDigest.com break down the matchups when the Packers hand the ball to Aaron Rodgers and the passing game.
The San Francisco 49ers welcome the Green Bay Packers in a rematch of their week one battle during the 2012 NFL regular season. Aaron Rodgers and the Packers will look to avenge the 30-22 loss at Lambeau Field, while the 49ers, backed by the young Colin Kaepernick, will try to vault themselves to their second NFC Championship game in as many years. This is obviously a huge game in...
GREEN BAY, Wis. -- It seemed like it should have been a great day for the Packers' healthy group of wide receivers in the playoff win over the Minnesota Vikings. For the first time since Week 4, quarterback Aaron Rodgers had all of his playmakers on the field together for longer than one drive. But it wasn't Randall Cobb or Greg Jennings or Jordy Nelson or James Jones or...
Green Bay Packers (11-5) at San Francisco 49er's (11-4-1) Game Day: Saturday 8:00 p.m. ET, CBS Line: 49er's -3 Series Record: Green Bay leads series 6-1 (Although the 49er's won 30-22 this year) Just in case you didn't know: "Colin Kaepernick grew up watching Brett Favre while Aaron Rodgers grew up watching Joe Montana" -That's cute, but I'm sick of a lot of these...
NFL News

Delivered to your inbox

You'll also receive Yardbarker's daily Top 10, featuring the best sports stories from around the web. Customize your newsletter to get articles on your favorite sports and teams. And the best part? It's free!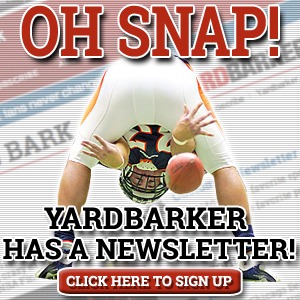 Latest Rumors
The Backyard

Today's Best Stuff

For Bloggers

Join the Yardbarker Network for more promotion, traffic, and money.

Company Info

Help

What is Yardbarker?

Yardbarker is the largest network of sports blogs and pro athlete blogs on the web. This site is the hub of the Yardbarker Network, where our editors and algorithms curate the best sports content from our network and beyond.