Posted December 21, 2011 on AP on Fox
PLAYERS:
Aaron Rodgers
,
Justin Verlander
,
Novak Djokovic
,
Cam Newton
,
Drew Brees
,
Tom Brady
,
Brett Favre
TEAMS:
Green Bay Packers
,
Pittsburgh Steelers
,
Detroit Tigers
,
Carolina Panthers
,
New Orleans Saints
,
New England Patriots
,
Minnesota Vikings
,
New York Giants
,
New York Jets
When Aaron Rodgers needs to rekindle the feelings that drove his rise from a junior college quarterback to Super Bowl MVP, he doesn't have to look too far. Rodgers held on to the many rejection letters he received from marquee college programs as he was coming out of high school. Even today, he leaves a few of them sitting out at his house. ''I chose the couple that I thought were most demeaning to display in a space in my house that really nobody is able to see but myself,'' Rodgers said. ''It's something that I think is important to keep fresh on your mind. Maybe not every day, but once a week your eyes might pan across it and you have a little laugh about the journey you've been on -- at the same time, remembering that there still are people out there that you can prove something to.'' Good luck finding those doubters now. Rodgers is the 2011 Male Athlete of the Year, chosen by members of The Associated Press, after he turned in an MVP performance in the Green Bay Packers' Super Bowl victory over the Pittsburgh Steelers in February and then went on to lead his team on a long unbeaten run this season. Rodgers received 112 votes out of the 212 ballots submitted from U.S. news organizations that make up the AP's membership. Detroit Tigers pitcher Justin Verlander finished second with 50 votes, followed by tennis standout Novak Djokovic (21), Carolina Panthers rookie quarterback Cam Newton (6) and NASCAR champion Tony Stewart (5). Rodgers is one of three quarterbacks to receive the honor in the past five years. The New Orleans Saints' Drew Brees won in 2010 and the New England Patriots' Tom Brady won in 2007. Rodgers says it still feels ''surreal at times'' to be considered among the biggest names in sports. ''Those guys are household names, the best of the best,'' Rodgers said. ''(It's) special to win the award, and something I'll remember.'' Through 14 games this season, Rodgers has completed 68.1 percent of his passes for 4,360 yards with 40 touchdowns and six interceptions. The Packers are 13-1, and Rodgers' play is leaving people speechless - even his coach, Mike McCarthy. ''I'm running out of things to say about him,'' McCarthy said earlier this month, after Rodgers drove the Packers into position for a last-second, game-winning field goal to beat the New York Giants. Green Bay's 19-game winning streak came to an end at Kansas City on Sunday, but the Packers remain a strong favorite to repeat as champions. That's thanks in large part to Rodgers' knack for making big plays without major mistakes. It has been a long and challenging journey out of obscurity for Rodgers, who wasn't offered a big-time scholarship out of high school and had to play a year in junior college. Then came his agonizing wait on draft day, three seasons on the bench behind Brett Favre and a tumultuous first year as a starter. If Rodgers' path to stardom had been smoother, he says he wouldn't be the player - or person - he is today. ''It's something that gives me perspective all the time, knowing that the road I took was difficult. But it did shape my character and it shaped my game as well,'' Rodgers said. ''I try and keep that on my mind as a good perspective, but also as a motivator, knowing that it took a lot to get to where I am now and it's going to take a lot to stay where I'm at.'' Strangely, earning widespread respect throughout the sports world could become a challenge in and of itself for Rodgers, who draws motivation from proving himself to his doubters and critics. Is that becoming more difficult? ''It would only be tougher if you stopped remembering or drawing or thinking about those things,'' Rodgers said. ''And I think a great competitor has to have at least some sort of chip on their shoulder, or at least the attitude that you have something to prove every time you take the (field).'' Unable to attract attention from a big-time college program, Rodgers played a year at Butte College in Oroville, Calif., near his hometown of Chico. His play there eventually got the attention of Cal coach Jeff Tedford, and Rodgers transferred. Rodgers thrived at Cal and went into the 2005 NFL draft expecting to be taken early in the first round. But he didn't hear his name called until the Packers chose him with the 24th overall pick. Once in Green Bay, Rodgers found himself backing up Favre, a revered Packer who didn't necessarily like the idea that the team had put his eventual successor in place. Favre kept fans and the franchise on their toes every offseason, flirting with the idea of retiring but always coming back. Then came the summer of 2008, when tension between Favre and the Packers' front office finally snapped after Favre retired, changed his mind and asked for his job back - or a chance to play elsewhere. Favre was traded to the New York Jets and Rodgers finally had his chance. Rodgers wasn't immediately embraced by a segment of fans who supported Favre. He even was booed at the team's ''Family Night'' scrimmage. He stayed calm on the outside and played pretty well in his first year as a starter despite the team's 6-10 record. But he still had his doubts. ''I had a lot of confidence in my abilities,'' Rodgers said. ''But the doubts and worries are associated with, `How am I going to be perceived by my teammates? How's my performance going to be scrutinized?' And you go through a point where you're reading your own clippings. You're 6-10 your first season, and you're reading some of these (Internet) comment boards, in the back of your mind, that negative voice is telling you, `You know, you're not going to live up to any expectations you put on yourself, and you're not as good as you think you are.' Those can mess with you a little bit, but you can also draw some motivation from those negative thoughts. And I did.'' Rodgers led the Packers to the playoffs in 2009 season - then won it all last February. ''I think a weight comes off your shoulders after you win a Super Bowl, and you realize that all those doubts and worries and successes and failures you had before then, a lot of those get wiped away and the slate almost goes clean,'' Rodgers said. ''Because you won the ultimate prize, and you had the chance to silence some of your critics, the challenges change, the way you're viewed changes. I think a lot of the things that you really worried about too much become very little in importance.''
Original Story:
http://msn.foxsports.com/nfl/story/Gr...
THE BACKYARD
BEST OF MAXIM
RELATED ARTICLES
Green Bay Packers QB AARON RODGERS received 1,581,982 fan votes to lead all NFL All-Stars in balloting for the 2012 Pro Bowl. Fan voting ended on Monday, Dec. 19. A record 100.64 million votes were cast by fans this year. <span style="font-family: "Arial","sans-serif"; font-size: 11.0pt;">The AFC and NFC All-Star squads are based on the...
GREEN BAY, Wis. -- Yes, it's true. The previously undefeated Green Bay Packers did lose to the Kansas City Chiefs. In that game, the Packers' defense didn't create any turnovers, and quarterback Aaron Rodgers completed less than 50 percent of his passes, both of which happened for the first time this season. But if there are any NFL teams who think that the Chiefs have...
GREEN BAY, Wis. — Aaron Rodgers is the 2011 Male Athlete of the Year chosen by members of The Associated Press after his MVP performance in the Green Bay Packers' Super Bowl victory in February and his stellar play during the team's long unbeaten run this season. Rodgers received 112 ...
Packers quarterback Aaron Rodgers, who followed a Super Bowl MVP performance early this year with perhaps the greatest regular season in NFL history, has been named the Associated Press male athlete of the year for 2011. Rodgers got 112 votes from the 212 American news organizations that voted for the award, easily outpacing the second-place…
For most of the 2011 season, the Green Bay Packers' Aaron Rodgers has been the odds-on favorite to win his first MVP award. With the Packers losing against the Kansas City Chiefs and the Saints' Drew Brees making a run at Dan Marino's all-time passing record, it may not be as clear cut of a race as we thought. However, if we go back just a few years ago, you can...
There's no reason to think Packers quarterback Aaron Rodgers, who turned 28 years old on Dec. 2, cannot continue to play at this elite level for years to come. But there is another aspect to appreciate in his game right now: His legs.
The Green Bay Packers stunning loss to the Kansas City Chiefs has sent them into a downward spiral in power rankings lists across the country. Not Really. But they aren't undefeated anymore, and although they remain the clear favorite to take the NFC yet again, they have more weaknesses than you may think. The offensive line crumbled with injuries on Sunday, and Rodgers was...
In a copycat league, expect to see the Packers' playoff opponents take a page from the Chiefs' playbook in their quest to stop Aaron Rodgers and company.
1. Aaron Rodgers- Rodgers has distinguished himself from the pack of elite quarterbacks in 2011 with one of the best seasons any quarterback has ever had. It would be a sham if anyone else took home the NFL MVP. 2. Tom Brady- Brady is in the midst of yet another Brady-like season. As always, he has spread the ball around and helped turn relatively unknown players into stars (Gronkwoski...
The Giants' pass coverage has been abysmal. Drew Brees, Aaron Rodgers and Tony Romo carved the Giants up. Rex Grossman kept converting third downs. There have been plenty of open receivers over the last month against the mostly zone coverage employed by defensive coordinator Perry Fewell.
Drink Up Philly Fans! I dominated my office fantasy football league this season.  I went into the playoffs as the #1 seed riding a 7-game winning streak.  I was already clearing room on my shelf for the champion's trophy and room in my ego for a year's worth of bragging rights.  Unfortunately, things don't always work out the way they should.  With Aaron Rodgers and the...
This past Week 15 was quite a wacky one in the world of the NFL. The 72′ Miami Dolphins uncorked their champagne after the previously undefeated Packers lost to the Kyle Orton led Chiefs and Dan Orlovsky probably downed a couple of adult beverages himself after making sure he wouldn't be part of a second 0-16 team as he led the winless Colts to their first victory of the year...
NFL News

Delivered to your inbox

You'll also receive Yardbarker's daily Top 10, featuring the best sports stories from around the web. Customize your newsletter to get articles on your favorite sports and teams. And the best part? It's free!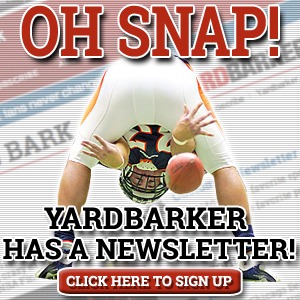 Latest Rumors
The Backyard

Today's Best Stuff

For Bloggers

Join the Yardbarker Network for more promotion, traffic, and money.

Company Info

Help

What is Yardbarker?

Yardbarker is the largest network of sports blogs and pro athlete blogs on the web. This site is the hub of the Yardbarker Network, where our editors and algorithms curate the best sports content from our network and beyond.