Found November 26, 2012 on Fox Sports Wisconsin:
PLAYERS:
Aaron Rodgers
,
Jordy Nelson
,
Randall Cobb
,
Jermichael Finley
,
James Jones
,
James Starks
,
Alex Green
,
Cedric Benson
,
Ahmad Bradshaw
,
Andre Brown
,
Clay Matthews
,
Brad Jones
,
Morgan Burnett
,
Mike Daniels
,
Eli Manning
,
Dezman Moses
,
Erik Walden
,
Hakeem Nicks
,
Davon House
,
Victor Cruz
,
Mason Crosby
TEAMS:
Green Bay Packers
,
New York Giants
,
Chicago Bears
This is not a report card that Packers' players will want to post on their refrigerators as an example of work well done. No, this is the type that gets hidden in backpacks for as long as possible with the hope that, if enough time passes, it can just be forgotten about. Handing out grades following the Packers' 38-10 loss to the New York Giants: Passing Offense: C- Aaron Rodgers had very little time in the pocket to throw the ball. He was sacked five times, hit seven times and had four passes deflected. All of that pressure led to a Rodgers fumble and an interception. It also resulted in the Packers' passing offense gaining only 201 yards, despite playing from behind the entire game and needing to throw the ball to catch up. Rodgers clearly wasn't at his best, but it's difficult for any quarterback to perform well when his offensive line is getting him chased on nearly every down before the plays are allowed to fully develop. Rodgers finished the game completing 14 of 25 attempts for 219 yards with one touchdown pass and an interception. With a 28-point deficit, coach Mike McCarthy took Rodgers out for Green Bay's final drive in the fourth quarter. Jordy Nelson's 61-yard touchdown catch from Rodgers on the Packers' opening drive was really the only positive play all game for the offense. It was also only one of two receptions by Nelson on four targets. Randall Cobb was the most thrown-to receiver with seven targets, catching four of them for 39 yards. Tight end Jermichael Finley had a drop on the first pass thrown his way but recovered for three receptions and 51 yards. Surprisingly, Rodgers did not throw a single pass to James Jones. Rushing Offense: C In the box score, it appears that the Packers had a somewhat decent day running the ball with 116 yards and a 4.5 average. However, the actual production wasn't all that good, because 34 of those 116 yards came on Green Bay's final drive when Harrell was handing the ball off to James Starks and Alex Green, despite the Giants being up by 28 points. Additionally, Rodgers scrambled three times for 22 yards. Take both of those factors into account, and, on actual called rushing plays when the game was still relatively in the balance, the Packers ran for 60 yards. One week after Starks had 25 carries and Green had none, it was Green who had the majority of the rushing attempts (10) for 30 yards. Starks had eight attempts, but five of those came on that final drive with Harrell. With 11 games now completed this season, and six games since Cedric Benson's foot injury, the Packers still don't have a definitive answer for who their featured running back is. That is, at least until Benson returns, which could be on Dec. 9, or perhaps not at all if he's not healed in time. Rushing Defense: C Ahmad Bradshaw and Andre Brown split the carries and totaled 122 yards between them on 23 attempts (5.3 average). That is far too much production for the Packers to allow, and it happened mostly because they didn't win the battles upfront and failed to get enough push into the backfield. Without Clay Matthews sealing one edge at the elite level that he does, defensive coordinator Dom Capers needed all of his role players to step up and have a positive impact. That didn't happen against the Giants. Green Bay finished with just two stops behind the line of scrimmage while trying to stop New York's ground game. One came late in the first quarter on a very nice third-down stop for a 1-yard loss by Brad Jones and Morgan Burnett. The other came on first down early in the fourth quarter by Jones and Mike Daniels to tackle Brown for a 1-yard loss. Passing Defense: D Eli Manning was efficient and effective. It helps that he was barely touched. Manning was sacked just once, which happened on a great pass rush by undrafted rookie outside linebacker Dezman Moses, who was also held on the play. Other than that, only Erik Walden laid a finger on Manning. Two quarterback hurries in the entire game is always going to create problems for any team's passing defense. Manning completed 16 of his 30 throws for 249 yards (8.3 average) with three touchdown passes and no interceptions. His passer rating was 114.4. Giants wide receiver Hakeem Nicks won the battle against Packers cornerback Davon House, hauling in a game-high five catches for 77 yards with a touchdown. Nicks was targeted 13 times, more than twice as often as his next-most-targeted receiver, Victor Cruz (six). Bradshaw had the long pass reception of the game for New York, catching a short throw from Manning and running it 59 yards on a play that saw just a few examples of what was many poor tackling attempts by the Packers. Special Teams: C- Not connecting on a 55-yard field goal outdoors should be not classified as one of Mason Crosby's bad misses this season. Crosby seemed to hit it fairly well, and the ball didn't hook left until just before reaching the goal post. However, the question is why McCarthy attempted that kick in the first place in a tie game (7-7) in the first quarter. Crosby has been in the biggest slump of his career and has now missed 7 of his last 15 field-goal attempts. Following the miss, the Giants capitalized on their terrific field position to score a touchdown and go up 14-7. It was a significant momentum-changing moment in the game. Had Crosby made it, perhaps McCarthy is a genius for helping to get his kicker out of a funk. But Crosby didn't make it, and it altered the game in a negative way for the Packers. Overall: D So much for the Packers' five-game winning streak. Now at 7-4, Green Bay is a full game behind the division-leading 8-3 Chicago Bears. There are very few positives that McCarthy and his players can take from this game. New York eliminated the Packers from the playoffs in a rout last year, and this was a chance to exact some type of revenge. Instead, it's just another easy victory for the Giants over a Green Bay team that is supposedly a favorite to reach the Super Bowl in the NFC. The Packers certainly didn't look like a serious contender in this game. The one way in which this loss could propel the Packers forward in a better direction is if getting a beatdown like this on national television is embarrassing enough that it motivates them to improve quickly and re-focus. If the playoffs started now after 11 games, the fourth-seeded Giants would host the fifth-seed wild card Packers in six weeks in a rematch. After this performance, that doesn't seem like a matchup Green Bay wants, but that's why Sunday's loss could be looked back on as a defining moment in the Packers' season -- for better or worse. Follow Paul Imig on Twitter.
Original Story:
http://www.foxsportswisconsin.com/11/...
THE BACKYARD
BEST OF MAXIM
RELATED ARTICLES
The Green Bay Packers got beat fair and square Sunday night against the New York Giants.  The Giants were just the better team in every aspect and they really brought to light some of the areas the Packers are lacking because of injuries to star players. The first thing is obviously the offensive line.  Aaron Rodgers was sacked five times Sunday night and was constantly getting...
We love that Packers quarterback Aaron Rodgers can get into the spirit of Movember and rock a powerful mustache for the whole world to see when he took on the New York Giants on Sunday Night Football.  What we didn't expect was for Rodgers to give the viewing audience at home a little taste of Zoolander's famous Blue Steel. Of course Movember is when you will see men wear awkward...
The Packers took a beating on Sunday night but their NFC North hopes are firmly within their grasp. "Sometimes it takes a loss" to focus on the areas that need improvement, Aaron Rodgers said.
Last night's Giants game wasn't exactly a must win, but it was pretty close. The Giants limped into the bye week off of two ugly losses and then had to play the Packers, one of the hottest teams in the NFL.  After a sluggish start for Green Bay, Aaron Rodgers and the Pack were fully hitting their stride and entered the game on a five game winning streak. And just when everyone...
Looking to play a quick game of "Where's Waldo?" during an NFL game this Sunday? Hate to spoil your fun, but it's not going to take very long to find him. As the winter season is now upon us, the NFL has released its latest line of cold-weather apparel, which features some interesting hats. The knit sideline hats have been distributed to the players and are now for sale on...
With two-time Pro Bowl wide receiver Greg Jennings finally expected to return from a bummed knee to compete for the Packers against the Minnesota Vikings on Sunday at Lambeau Field in Green Bay, 2011 AP NFL MVP Aaron Rodgers will … Continue reading →
This week in the NFL we were treated to some Thanksgiving drama and some good upsets. Going on my eyeball test, here are my Conference Top 5 power rankings this week. The Baltimore Ravens made the cut…but they still need to find a way to get Ray Rice the ball more. NFC Top 5 5. Green Bay Packers Two weeks ago I had my Seahawks here and how did they repay me? By laying an egg in...
NFL News

Delivered to your inbox

You'll also receive Yardbarker's daily Top 10, featuring the best sports stories from around the web. Customize your newsletter to get articles on your favorite sports and teams. And the best part? It's free!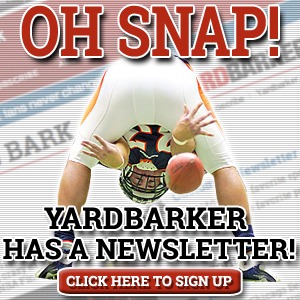 Latest Rumors
The Backyard

Today's Best Stuff

For Bloggers

Join the Yardbarker Network for more promotion, traffic, and money.

Company Info

Help

What is Yardbarker?

Yardbarker is the largest network of sports blogs and pro athlete blogs on the web. This site is the hub of the Yardbarker Network, where our editors and algorithms curate the best sports content from our network and beyond.