Found December 27, 2012 on Fox Sports Wisconsin:
GREEN BAY, Wis. Aaron Rodgers grew up watching Steve Young scramble, stay alive in the pocket and connect on throws downfield several seconds after most NFL quarterbacks would have thrown the ball away. That is how Rodgers believes the position is best played, and it's worked well enough for him to result in a Super Bowl championship and a Most Valuable Player award before the age of 29. Rodgers is elite when it comes to performing under pressure from an opposing defense. Part of that is due to his ability to evade would-be-tacklers behind the line of scrimmage, along with his accurate throws on the run to receivers working to get open. But it's all just part of the philosophy that Rodgers has been working to perfect for many years. "It's just the way I play; I like to extend plays when the opportunity is there," Rodgers told FOXSportsWisconsin.com this week. "I've always been a pass-first guy outside the pocket. I think those guys are the most dangerous when you keep the play alive and you're able to be in a position to throw the football outside the pocket. "Over my career, I've had some extended plays, scrambles, runs, showing a little bit of athletic ability from time to time. It's been a part of our game. There's going to be those plays in every game and I've always tried to keep those alive." According to Packers quarterback coach Ben McAdoo, there is an average of six plays in every game that give Rodgers an opportunity to make something positive happen after a play has broken down. "He's a very competitive guy and is not very willing to give up on plays," McAdoo said of Rodgers. "I think he listens to his feet well as he'll go through his progression. He has a pretty good sense of when to throw the ball away and when not to. The scramble play has been very good for us." It does have its drawbacks, though. Rodgers has been sacked 46 times this season, the second-most in the NFL. Research and data from ProFootballFocus.com suggests that Rodgers is responsible for nine of those sacks himself, the most of any quarterback in the league. The reason for those nine sacks not being attributed to a Packers offensive lineman is because Rodgers, in those instances, held onto the ball too long and didn't throw it away before being taken down. "At times, I've taken some sacks and absorbed some hits that have been tough," Rodgers said. "But I think most of the guys here, the organization, would say they appreciate and they're OK with my style of football, where I'm going to extend plays and not turn the ball over a lot instead of forcing throws and taking some chances." Rodgers' high number of sacks is one reason that his interception numbers are so low. Instead of forcing the ball into coverage or prematurely throwing it away, Rodgers has concluded that there is more to be gained by staying alive longer in the pocket than there is lost by taking a hit. "The true art of it -- and it's a great credit to Aaron -- is the transition from the in-the-pocket training to out-of-pocket training," coach Mike McCarthy said. "He's very unique in his ability to do that. It's a trained skill set, it's something that's part of our passing game, it's something that's coached and he's exceptional at it." Last season, Rodgers had the fewest number of interceptions among quarterbacks with at least 450 passing attempts. This year, Rodgers and New England's Tom Brady are the only two quarterbacks to throw fewer than 10 interceptions with more than 430 passing attempts. Brady, however, has been sacked 20 fewer times this season than Rodgers. "I'm sure there's a lot of times where Aaron could have thrown it away and he got sacked," Packers offensive coordinator and former quarterbacks coach Tom Clements said. "There's a lot of times he could have thrown it away and he made a great play. We don't want him to get too conservative; just have to be smart sometimes and he's done it recently. "He has the ability to make plays by scrambling and a lot of them are big plays, especially down in the red zone. He extends plays and often times it results in touchdowns. So we don't want to lose that." That also factors into Rodgers' consistently high passer rating and the single-season NFL record that he owns from his 122.5 rating in 2011. Though it's not quite as high this season, Rodgers still leads the league this year with a 106.2 rating. "Tom (Clements) always encouraged just trusting my instincts, understanding there's a fine line between holding the ball too long and trying to make a play and trying to walk on the right side of that line," Rodgers said. "I would say 'turn the film on' to anybody who wants to challenge a lot of those scrambles. I think a lot of them were reaction plays where keeping the play alive has given us some pretty positive results, for the most part. We haven't had too many negative-yardage plays or big turnovers because of some of these extended plays." The fine line that Rodgers has been coached about does not have specific rules to it. For the most part, it's completely up to Rodgers' discretion as to when to scramble and when to throw the ball away. "When the bullets are flying, it's challenging to have a concrete rule," McAdoo said. "What you have to be careful of is taking the big plays out of the offense. There are times when you talk about throwing the ball away, more situationally, sometimes that dictates when to get rid of the ball. But we like to be smart about it -- but at the same point in time you don't want to take the big plays out of the offense." Rodgers has taken pride in his athletic ability for many years, especially after not being given much credit for that area of his game in high school and in college. For now, at age 29, with several solid years left in which he can use that athleticism, Rodgers has no plans to change his strategy in the pocket. But as he gets older, he may have to start throwing the ball away more like Peyton Manning does, who's been sacked just 21 times this season despite more passing attempts than Rodgers. "That's why I work so hard in the offseason, is to make sure that I'm in good physical shape and I'm flexible enough to make the plays that I'm used to making," Rodgers said. "I think when my game becomes a one-dimensional game, I hope that'll be when it's time to quit, because I hope I'm able to keep myself in such good physical shape that I can continue to play this way until I'm ready to retire." Follow Paul Imig on Twitter.
Original Story:
http://www.foxsportswisconsin.com/12/...
THE BACKYARD
BEST OF MAXIM
RELATED ARTICLES
GREEN BAY, Wis. -- In this week's meeting with the media, Packers quarterback Aaron Rodgers talked about facing the Minnesota Vikings this weekend, getting Jordy Nelson back, his level of trust in the team's running backs, and more. Five question-and-answer highlights: 1. What is the locker-room mentality right now heading into the final regular-season game? RODGERS: We...
GREEN BAY -- Three Packers have been selected to the 2013 Pro Bowl: quarterback Aaron Rodgers, linebacker Clay Matthews and center Jeff Saturday. Rodgers, being named to the Pro Bowl for the third time in his career, will be the starter for the NFC for the second consecutive year. Matthews and Saturday will both begin the game on the bench. Rodgers, the league's reigning Most...
Aaron Rodgers has proven himself as a passer, but the Vikings are particularly impressed with his ability to move around, both in the pocket and outside, creating a lot of problems for the defenders in coverage.
This season's MVP debate has dwindled down to a two-man race in recent weeks. Peyton Manning's rebirth in Denver and Adrian Peterson's medical miracle with the Vikings have taken center stage and appear to be the only contenders remaining — at least, that's the idea floating around the NFL. The league's reigning MVP might have something to say about that, though. Aaron...
After last season's finish for the Packers, playing well at the end of the season has become a theme for 2012. Can Aaron Rodgers deliver? Signs are at least pointing upward. Matt Tevsh takes a look at his history closing out seasons, including comments this week from his coaches.
How have the Vikings gone from 3-13 to fighting for a playoff spot? Look no further than Antonio Winfield, who coach Mike McCarthy called one of his favorite players on another team and Aaron Rodgers called "probably the toughest pound-for-pound guy in the league."
Position coach Jerry Fontenot has helped Jermichael Finley get back on track after a disappointing first nine games to the season. With Fontenot making things more fun, Finley has become a go-to weapon and regained the trust of Aaron Rodgers.
EDEN PRAIRIE, Minn. Regular-season NFL games don't get any bigger than Sunday's regular-season finale when the Minnesota Vikings host the Green Bay Packers. In the biggest game for Minnesota since the 2010 season-opener, the stakes are high with playoff positioning on the line for both teams. There's also the side story of Adrian Peterson's chase for the single...
NASHVILLE A steady and chilling rain fell straight down Friday afternoon on the Vanderbilt football team. The Commodores were prepping in their own stadium for a bowl game just a short cab uh, bus ride away. As practice closed, a sense of exuberance mixed with confidence seemed to possess these Commodores. Call it history already made and even more possibly to come for a team...
EDEN PRAIRIE, Minn. With the top seed in the NFC clinched last year, the Green Bay Packers entered their final regular-season game sitting several star players like MVP quarterback Aaron Rodgers, cornerback Charles Woodson, linebacker Clay Matthews and receiver Greg Jennings. Two weeks later, Green Bay lost its first playoff game to the eventual Super Bowl champion New York Giants...
Of the many changes and upgrades that the NFL has made to enhance its appeal in catering to the needs of its fans, the move to having all divisional matchups in Week 17 is among the shrewdest. The league, specifically commissioner Roger Goodell, have done just about everything right as it relates to the structure of the schedule, the matchups, and providing the most enticing and...
The Packers had just three players selected to the all-star team, including benched center Jeff Saturday. The others: Aaron Rodgers, who will start at quarterback, and Clay Matthews, who has missed a quarter of the season.
NFL News

Delivered to your inbox

You'll also receive Yardbarker's daily Top 10, featuring the best sports stories from around the web. Customize your newsletter to get articles on your favorite sports and teams. And the best part? It's free!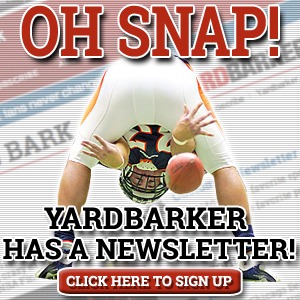 Latest Rumors
The Backyard

Today's Best Stuff

For Bloggers

Join the Yardbarker Network for more promotion, traffic, and money.

Company Info

Help

What is Yardbarker?

Yardbarker is the largest network of sports blogs and pro athlete blogs on the web. This site is the hub of the Yardbarker Network, where our editors and algorithms curate the best sports content from our network and beyond.