Posted December 19, 2012 on AP on Fox
Steelers quarterback Ben Roethlisberger looks at his passing statistics, and they're not all that bad. His passer rating is up from his career average, as well as his average passing yards per game. The completion rate is where it has been over the course of an eight-year career. Only once before has Roethlisberger thrown more touchdown passes per game or fewer interceptions per game. But it's been Roethlisberger's play, by his own admission, that's a key factor in Pittsburgh (7-8) failing to make the playoffs for only the fourth time since 2001. ''A lot of it just has to do with me not playing well enough down the stretch,'' Roethlisberger said. ''Fourth-quarter drives or last-minute throws, I'm just not making it happen, so my best answer would be that I just didn't play well enough.'' The Steelers controlled their playoff fate until their 13-10 loss to Cincinnati on Sunday eliminated them from the postseason. Just as had happened one week earlier against Dallas, Roethlisberger threw an interception during a tie game that led to the opponent kicking a winning field goal. Those losses joined others earlier this season against Denver, Oakland and Tennessee in which Pittsburgh not only blew fourth-quarter leads, but had the ball in the final minutes with a chance to drive for a potential winning score. The Roethlisberger-led offense failed each time. In the season opener at Denver, he threw an interception to Tracy Porter that was returned 43 yards for the clinching touchdown. ''In the past, I prided myself and us in fourth-quarter comebacks,'' Roethlisberger said. ''I've always said that you don't want to have them, because that means you haven't done well early in the game, but we've always been good at it. And this year, we just weren't. I don't think there's any rhyme or reason why, (but) it was just a year when I wasn't.'' Roethlisberger has thrown only eight interceptions this season, but many came at crucial times. Six came in defeats, four in the fourth quarter or overtime. His first interception in the must-win game against the Bengals on Sunday was returned for Cincinnati's only touchdown. This season, Roethlisberger's 84.4 passer rating in the fourth quarter and overtime is by far lower than during any of the other three quarters. That would seem to be in contrast to the clutch reputation Roethlisberger has earned over the course of a career in which he has led 22 fourth-quarter comebacks and 29 game-winning drives during the regular season and also led a memorable comeback in the final minutes of the 2009 Super Bowl. ''I don't think there's any reason to go panic about it, because I've been pretty good for eight years doing it and had one not-so-good year on it,'' Roethlisberger said. ''I think I played pretty good football, though, other than those situations.'' To be fair, Roethlisberger was under center for three fourth-quarter comebacks this season. But even coach Mike Tomlin acknowledges his two-time Pro Bowler just wasn't the same in such situations this season. ''Just not making the critical plays,'' Tomlin said. ''Not a lot has changed in terms of structurally for how we prepare for those moments and how we deal with those moments. They're not coming together for us, and I'm not going to try to make excuses in that regard.'' Roethlisberger and Tomlin both downplayed the notion that the quarterback's right shoulder and rib injuries sustained in November are affecting his play. Roethlisberger missed three games, and since he's come back, he's thrown six interceptions and four touchdown passes in three games - all losses. ''We can talk about that in the offseason, maybe, but I feel good enough to play,'' Roethlisberger said. There have been times over the past three games that Roethlisberger's arm didn't appear as strong as usual and he was badly off on throws he typically makes. But there also are examples he was the same old Big Ben. Against Dallas, for example, he lofted a ball more than 50 yards in the air to Mike Wallace to set up a tying second-half touchdown. Earlier in that game, he scrambled and avoided multiple sack attempts to find an open Heath Miller for a score just before halftime. ''The only reason we're in that game is because of his play,'' safety Ryan Clark said. ''The only reason he had an opportunity to throw an interception at the critical moment is because he played so well to keep us close.'' Still, Roethlisberger has largely built his career not on eye-popping numbers but on clutch play. When asked about why this season has been so much different, Wallace shrugs and maintains that Roethlisberger is the same at practice and in the huddle. ''You can't be perfect every time,'' Roethlisberger said. ''You can't be a superhero every time.'' Maybe, but Roethlisberger was far from it late in this season - and as a result, the Steelers will spend January at home. ''I not worried about Ben,'' Miller said. ''He's one of the best quarterbacks in the league - in my mind, he's still there. And I wouldn't want anybody else to be leading this team.'' Notes: The Steelers placed Miller, CB Ike Taylor and RB Baron Batch on injured reserve Wednesday and signed TE Jamie McCoy, S Damon Cromartie-Smith and LB Marshall McFadden to the active roster. Miller, who tore knee ligaments Sunday, will have surgery Wednesday.
Original Story:
http://msn.foxsports.com/nfl/story/pi...
THE BACKYARD
BEST OF MAXIM
RELATED ARTICLES
Pittsburgh Steelers quarterback Ben Roethlisberger has taken a lot of heat for his performance in the 27-24 loss Sunday in overtime to the Dallas Cowboys. Nobody is arguing that the interception he threw on the second play in overtime was a horrible throw and it most certainly cost the Steelers the game. Several, however, are saying that Roethlisberger played a really poor game...
A lot has been made about the post-game comments made by Pittsburgh Steelers quarterback Ben Roethlisberger following the overtime loss to the Dallas Cowboys. In those comments Roethlisberger seemed to be unhappy with the play calling of offensive coordinator Todd Haley during the game as well as the lack of no-huddle used. Head coach Mike Tomlin was asked on Tuesday during his...
After this past Sunday's loss to the Cowboys, Steelers quarterback Ben Roethlisberger questioned the play calling of offensive coordinator Todd Haley. According to Mark Kaboly of the Pittsburgh Tribune-Review, Roethlisberger apologized to both Haley and the Rooney family today. Ben Roethlisberger said that he came in and apologized to Todd Haley and the Rooney family in Monday...
Peyton Manning once ripped his 'idiot kicker' on national television and I don't recall him apologizing to the Colts' organization over it. He also ripped his offensive line a couple of times following tough losses and while he apologized to them privately, he did not do so publicly to them or his organization. Broncos' legend John Elway used to tear into his receivers...
Pittsburgh Steelers quarterback Ben Roethlisberger has apologized to offensive coordinator Todd Haley for his comments following a 27-24 overtime loss to Dallas last Sunday.
Ben Roethlisberger: BEN PASS NOW! CATCHER GUYS, RUN IN ZIG ZAG LINES! HEY YOU I THROW TO YOU [Pumps] OH WAIT NO YOU [Pumps] NO YOU [Pumps] NO YOU [Pumps] NO YOU AGAIN [Throws] POINTS PLAY! POINTS PLLLLAAAAYYYYYY! POINTS! POINTS! POINTS! POINTS! Todd Haley: Hey! Hey, Tardbreath! Get over here! You think you just did good, huh? You played the hero, did you? Well, that was a beautifully...
Following the Steelers' loss on Sunday to the Dallas Cowboys, Ben Roethlisberger publicly questioned offensive coordinator Todd Haley's play calling, and in doing so, Roethlisberger may have pushed the Steelers towards abandoning Haley and his offensive system. At times, Pittsburgh has looked nothing short of prolific on offense this season. The rest of the time, however...
Pittsburgh Steelers coach Mike Tomlin believes Ben Roethlisberger's post-game comments about offensive coordinator Todd Haley were all out of frustration, and said Roethlisberger is "on board with what we're doing."    "That was a tough, hard-fought football game, an emotional one, and. when you come up short, there are frustrations associated with that...
The Bengals could lock up a wildcard position in this year's playoffs with a win Sunday against the Steelers. Meanwhile, the Steelers could all but lock up a wildcard position by beating the Bengals. In short, the 6th seed in the AFC playoffs will likely be decided this weekend. While the Steelers trail the Bengals in the wildcard race by one game, they aren't in a powerless...
Dallas Cowboys owner Jerry Jones and coach Jason Garrett were unaware that Josh Brent was even on the sidelines at the start of their game against the Pittsburgh Steelers Sunday. Brent, who was reluctant to be there, left in the third quarter as his presence began a debate on national television. A week and a … Continue reading »
Steelers News

Delivered to your inbox

You'll also receive Yardbarker's daily Top 10, featuring the best sports stories from around the web. Customize your newsletter to get articles on your favorite sports and teams. And the best part? It's free!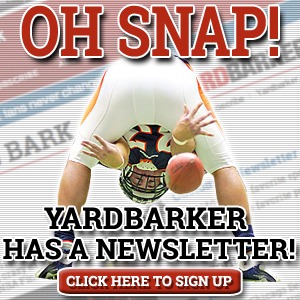 Latest Rumors
The Backyard

Today's Best Stuff

For Bloggers

Join the Yardbarker Network for more promotion, traffic, and money.

Company Info

Help

What is Yardbarker?

Yardbarker is the largest network of sports blogs and pro athlete blogs on the web. This site is the hub of the Yardbarker Network, where our editors and algorithms curate the best sports content from our network and beyond.