Found February 03, 2013 on The Husker:
Meme GeneratorName Your Meme (required)Top Text (required)Bottom Text (required)Text Size0123456789101112131415161718192021222324252627282930313233343536373839404142434445464748495051525354555657585960616263646566676869707172737475767778798081828384858687888990919293949596979899100101102103104105106107108109110111112113114115116117118119120121122123124125126127128129130131132133134135136137138139140141142143144145146147148149150Text StyleHeavy White Capital textHeavy White textWhite Capital textWhite textHeavy Black Capital textHeavy Black textBlack Capital textBlack text Create MemeGood NewsYour meme has just been published on .Bad NewsYou forgot to fill out one or more of the required fields. Roger Goodell Look of Disapproval Meme Generator
Original Story:
http://thehusker.com/roger-goodell-lo...
THE BACKYARD
BEST OF MAXIM
RELATED ARTICLES
Roger Goodell, commissioner of the National Football League, he arrived in a hostile territory, he took the stage and stood his ground. He's not a likable person, at least not in New Orleans. He's not welcomed in a town, where fans have a grudge against the commish. He likes the city and its fans as well — and they don't like him. The people of these festive, active streets...
Every year, NFL Commissioner Roger Goodell gives his state of the NFL press conference on the Friday prior to the Super Bowl. This year, there was no shortage of issues and controversies in professional football, so Goodell had plenty to address. First, with the issue of player safety, the commissioner had this to say: "I'm disappointed, because I think we have tremendous medical...
During today's Super Bowl press conference, NFL commissioner Roger Goodell indicated that Beyonce's Super Bowl half time show didn't cause the power outage at the Superdome. "There's no indication at all that the halftime show had anything to do with this," Goodell said. Goodell said the problem was something that can be fixed and prepared for. The league is still investigating...
NFL Commissioner Roger Goodell says New Orleans was a ''terrific'' Super Bowl host and that the Superdome power outage that delayed the game for 34 minutes will have no effect on the city's future bids to host the league's championship. Goodell says, ''The most important thing is to make sure people understand it was a fantastic week,'' and...
The NFL passed along a transcript from the Roger Goodell press conference on Friday from Super Bowl XLVII down in New Orleans and I know a few of you might be interested in he what he had to say so I am posting the Q & A below. Opening Statement: "Good morning.  This Sunday will be the conclusion of an incredible season of NFL football.  Our teams this season gave fans...
In the world of professional sports the NFL is well behind MLB when it comes to drug testing. NFL commissioner Roger Goodell is hoping to change that. "I believe that HGH testing is going to happen prior to the 2013 NFL season. It's the right thing to do for the players," Goodell told reporters during his annual state of the league news conference. Goodell continued saying...
NFL commissioner Roger Goodell said Friday he hopes to address the dangers of drinking and driving this off-season (Credit: AP Photo) After news came out in December that Dallas Cowboys nose tackle Josh Brent had a 0.189 blood alcohol level at the time of the accident that killed his teammate and friend, Jerry Brown, the NFL has decided to address the high number of drinking and...
The post TELL US WHY ROGER GOODELL MEME appeared first on THEHUSKER.COM.
NFL Commissioner Roger Goodell would ''absolutely'' want his own child to play football.
NFL Commissioner Roger Goodell says next year's Super Bowl at the stadium used by the Giants and Jets will ''have an impact on future decisions for open-air, cold-weather sites.'' Goodell said Friday at his pre-Super Bowl news conference that the league ''will be prepared for the weather factor'' for the Feb. 2, 2014, championship game in East...
NEW ORLEANS — NFL Commissioner Roger Goodell would "absolutely" want his own child to play football. After President Barack Obama recently said he'd "have to think long and hard" about allowing a son to take part in the sport, Goodell was asked the same question hours before Sunday's Super Bowl during an interview on CBS's "Face the Nation." Like the president...
NFL News

Delivered to your inbox

You'll also receive Yardbarker's daily Top 10, featuring the best sports stories from around the web. Customize your newsletter to get articles on your favorite sports and teams. And the best part? It's free!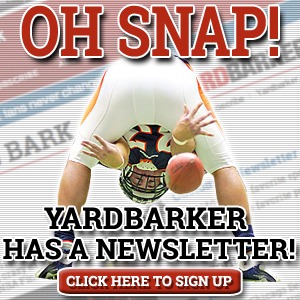 Latest Rumors
Best of Yardbarker

Today's Best Stuff

For Bloggers

Join the Yardbarker Network for more promotion, traffic, and money.

Company Info

Help

What is Yardbarker?

Yardbarker is the largest network of sports blogs and pro athlete blogs on the web. This site is the hub of the Yardbarker Network, where our editors and algorithms curate the best sports content from our network and beyond.