Found April 24, 2012 on Fox Sports Southwest:
IRVING, Texas Tony Romo met with the media for 29 minutes Tuesday at the Cowboys' Valley Ranch headquarters. He addressed topics ranging from being a new father to what areas the Cowboys should focus on in the upcoming draft. A sampling of Romo's responses: On adjusting to fatherhood (Hawkins Crawford Romo was born April 9): We're sleeping through parts of the night. It's been a good couple of weeks. It's definitely a good change. As you continue to grow up, you obviously go through the different life changes. We're lucky enough to have everyone be healthy through the process. It just makes you smile every morning, it really does. On whether the Cowboys have young receivers who can step into the role of Laurent Robinson, who recently departed via free agency: Laurent had a great season last year. He did a lot of good stuff. He had a knack for continuing to move as the play broke down. He understood the timing that I wanted to see and he was able to do that really well. We're going to have a battle for that position, obviously I'm anxious to see. We've got a couple of guys that have a chance to step up and do similar type things. I think the potential is there for a couple of guys to go in and grab that spot. It's just a matter of who's going to work their butt off and put themselves in that position. I see a couple of guys that have a real strong upside. On Miles Austin's statements that he wasn't in shape last season: I think that was probably taken a little bit out of context. I think what he probably meant to stressIt's probably just the football metabolics of it. You can't duplicate it unless you're on the fieldFrom my perspective, he was in shape. He just always has to understand his body a little bit sometimes. The guy works so hard. Anybody who gets on him about working has no idea about Miles Austin. That's not him at all. On whether he sees his window of opportunity closing now that he's 32: I haven't thought about not playing the game.For me, I don't know, 15 more years maybe? I didn't start playing in the league at 22, 23. A lot of that is the hits you take over time. I'll probably have a lot of that stuff later on that probably starts creeping in around 34 or 35. Hopefully I'll be able to make it to a little later than that before you start feeling that stuff. Does he feel like his best playing days are still ahead of him? The moment I feel like I'm degressing, I'll probably stop playing football. It would be very hard to know that I'm not as good as you once were. The exciting part to me is to know that I'm getting better every year. I'm doing things every year that I was not able to doI think I'm starting to play at a level that I feel will give us a great chance to be successful. Is it frustrating to be playing better as a quarterback but not seeing the results in playoff wins? It's frustrating whenever you don't accomplish your goal each season, and obviously that's to win the Super Bowl. The thing I can control is how hard I work, how much better I'm getting every single year, and am I bringing these guys along to make them as good as they can be? Because that's part of my job and that's part of what it takes to win a Super Bowl. When you're young, you really just want to play football and get better and be able to be good enough to get out there. Then it's, how can I be a good quarterback? Then over time it's literally about winning. Does it matter that offensive tackles Tyron Smith and Doug Free are switching sides? No. As long as people don't touch you, I don't think it matters at all. What about Troy Aikman's recent comment that he thinks you're a better quarterback than he was? Whenever Troy Aikman says anything in a positive way as a quarterback it makes you feel good. For me, it just means that Troy thinks you are doing something right. I think that's exciting from a guy who's one of the greatest players ever to play the game. Now, I don't think I belong in that discussion. Troy I think was being nice, but I'm not going to wash it away and say it doesn't matter because it feels good, I'm going to take that. But there's no discussion. Troy Aikman's on his own mountaintop by himself. It's just about winning. There's no discussions to be had for anybody. There's probably one guy who's ever played the position who didn't win a Super Bowl that's in the discussion for the greatest quarterbacks, Dan Marino. It's the same thing as winning majors in golf. We know what matters as a quarterback. Until you do that stuff, it's just hard to say that. With the Redskins about to draft Robert Griffin III, is there a better quarterback division in football than the NFC East? I think every year, it's funny how the NFC East, in some ways, throughout most of the season the talk always is, well, they're not as good anymore and blah, blah, blah. And everybody beats everybody up and everybody goes 10-6, 9-7, and then whoever gets in has a shot at winning the Super Bowl, or gets to the NFC Championship game. What you find is the division is hard. Throwing another good quarterback in is going to make it that much tougher. If you can survive your division and come out on top it gives you a great opportunity to be successful. It shows over and over again that the teams that come out of our division can beat anybody. Is there an area of draft he'd like to see the team address early? My attention is for anybody that's going to make us better. If it makes our defense a dominant defense, I'm all for that. If it makes our offensive line dominant, I'm all for that. I think that's what you're looking for. At this position, it's just about winning. So whatever is going to help us win. What does he think about the schedule, particularly December (home against Eagles, Steelers and Saints; on the road at Bengals and Redskins)? I think we play a bunch of home games toward the end of the year, so that's a positive. On the road, in the division is always tough, especially late in the year. Those will be tough games. We've got some good teams to be playing against. But if we're going to be in some big games, it's nice to have them be at home instead of on the road. Hopefully that will help us, but if you're a good enough football team you overcome all challenges anyway. That's really what it's about. Follow Keith Whitmire on Twitter: @Keith_Whitmire
Original Story:
http://www.foxsportssouthwest.com/04/...
THE BACKYARD
BEST OF MAXIM
RELATED ARTICLES
The Dallas Cowboys addressed some of their pressing needs with a flurry of free-agent signings They added two veteran offensive linemen who are expected to be starters, got a proven backup for quarterback Tony Romo, a starting cornerback, a safety, a linebacker and a fullback. Now they need to get really defensive in the NFL draft, starting with their No. 14 overall pick Thursday...
On Monday Deion Sanders and his wife got in an altercation that Deion made public on twitter by posting a picture of him and his children filling police reports (Photo was later deleted). At first it appeared that only his wife, Pilar Sanders, Would face charges but today the Associated Press reported that Deion has also been charged with misdemeanor simple assault.  Pilar was...
It doesn't look like Cowboys' QB Tony Romo will be sitting down on Thursday to watch the NFL draft. It's too "monotonous" he told ESPN reporter
Back in March, former Dallas Cowboys quarterback Troy Aikman claimed that Tony Romo is a better quarterback then he was when he played in the 90′s and won three Super Bowls. Romo told Ian Rapoport of NFL.com that he doesn't belong in the same conversation as a guy like Aikman. "I think first, whenever Troy Aikman says anything in a positive way about you as a quarterback, it...
Dallas Cowboys outside linebacker Anthony Spencer has signed the contract tender that goes with the franchise tag. Spencer is guaranteed to make about $8.8 million next season under the one-year deal announced Monday. A first-round pick out of Purdue in 2007, Spencer has 21.5 sacks in 76 career games, including 53 starts. He has started all but one game the past three seasons....
A group of former Dallas Cowboys including Hall of Famers Randy White, Bob Lilly and Rayfield Wright joined with other retired NFL players to file the latest concussion-related lawsuit against the NFL. The suit, which accuses the league of ignoring a link between concussions and permanent brain injuries, was filed Tuesday in Houston's federal court and includes 28 former players...
According to Calvin Watkins of ESPNDallas.com, linebacker Anthony Spencer has signed his franchise tender, which will pay him $8.8 million for the 2012 season. Spencer's agent met with the Cowboys last week trying to get a long-term deal done, but nothing got finalized.  Both sides will have until July 15th to get something done.  Once they pass that date, Spencer will be forced...
IRVING, Texas (AP) -- Jerry Jones says the Dallas Cowboys have been able to do everything they wanted to do this offseason despite the NFL reducing their salary cap. The NFL took away 10 million in cap space from the Cowboys and 36 million from the Washington Redskins. The two NFC East teams were penalized for overloading contracts in the 2010 uncapped season despite league warnings...
DeMarcus Ware in The Playa's Lounge
Deion wasn't arrested, but his claims that he didn't do anything wrong do not appear to be 100% true. There is at least some doubt in the police mind that Deion was innocent in the incident. Former Dallas Cowboys star Deion Sanders has been charged with misdemeanor simple assault in the wake of an altercation with his estranged wife that got her arrested at their mansion...
Cowboys News

Delivered to your inbox

You'll also receive Yardbarker's daily Top 10, featuring the best sports stories from around the web. Customize your newsletter to get articles on your favorite sports and teams. And the best part? It's free!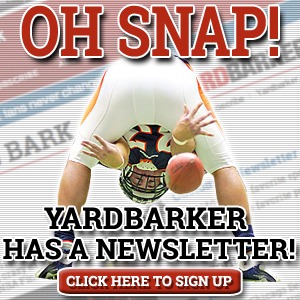 Latest Rumors
The Backyard

Today's Best Stuff

For Bloggers

Join the Yardbarker Network for more promotion, traffic, and money.

Company Info

Help

What is Yardbarker?

Yardbarker is the largest network of sports blogs and pro athlete blogs on the web. This site is the hub of the Yardbarker Network, where our editors and algorithms curate the best sports content from our network and beyond.