Posted November 12, 2012 on AP on Fox
PLAYERS:
Tony Romo
,
Michael Vick
,
Andy Reid
,
Dwayne Harris
,
Brandon Carr
,
Nick Foles
,
Dez Bryant
,
Ernie Sims
,
Jeremy Maclin
,
Alex Henery
,
Jason Garrett
,
Stanley Havili
,
Mike Jenkins
,
Riley Cooper
,
Felix Jones
,
Dan Bailey
,
A.J. Feeley
,
Brian Westbrook
,
Jason Avant
TEAMS:
Dallas Cowboys
,
Philadelphia Eagles
,
St. Louis Rams
,
San Francisco 49ers
,
New York Giants
,
Oklahoma State Cowboys
Tony Romo and a potent Dallas defense have injected some life in the NFC East race. Michael Vick is hurt, the Eagles are reeling, and coach Andy Reid's future in Philadelphia is tenuous. Romo threw two touchdown passes, Dwayne Harris had a 78-yard punt return TD, and Brandon Carr returned an interception 47 yards for a score to lead the Cowboys to a 38-23 win over the Philadelphia Eagles on Sunday. The Cowboys (4-5) are second in the NFC East, 1 1/2 games behind the New York Giants, who lost to Cincinnati earlier Sunday. The win, and a break in the schedule, could propel the Cowboys back in the thick of the division race. They will play five of their next six games at home, starting Sunday against Cleveland. ''It was the best game everybody played,'' Romo said. ''If we keep creating turnovers and special teams play, well, we could be a good ballclub, we really could.'' The latest game between these fierce rivals was more about salvaging a season than playing with something big on the line. Vick was lost to a concussion after consecutive bruising hits in the second quarter and the Eagles have lost five straight games under coach Reid for the first time in his 14 seasons. Rookie Nick Foles filled in for Vick and briefly rallied the Eagles until the Cowboys started showing some touchdown versatility. Romo hit Dez Bryant on a 30-yard pass on the final play of the third quarter, and Harris and Carr scored their TDs in the fourth quarter. As badly as Dallas needed the win, Owner Jerry Jones refused to call it a season saver. ''I don't want to do that,'' he said. ''You can, but I don't want to do it. I know how important the game is to us.'' With a 3-6 record, it's likely too late for the Eagles, no matter who the quarterback is, to save their season. ''There are tough times in life and this is one of those tough times,'' Foles said. Foles hit the field in the second quarter and was greeted by a loud ovation from a crowd that had become fed up with Vick's erratic play. Vick was knocked on his back by linebacker Ernie Sims on an incomplete pass and was slow to get up. He headed for the locker room and Foles started warming up. Vick, however, may have been injured on the previous play when he was driven from behind headfirst into the ground by Jay Ratliff. Vick did not talk to reporters but appeared groggy in the locker room. Reid said he'd determine the starter for Sunday's game at Washington based on Vick's health. ''I was hoping he'd make it through without having a concussion, but that's where we sit right now with him,'' Reid said. Foles, a fan favorite without throwing a regular-season pass, looked like an instant hit and woke up a sleepy crowd in the third quarter when he hit Jeremy Maclin for a 44-yard TD and a 14-10 lead. Alex Henery's 40-yard field goal made it 17-10. Foles was rolling, the Eagles were scoring, and the good times were back at Lincoln Financial Field. But in a season unraveling with each bumbling defeat, the Eagles were knocked down to reality. Romo, who finished 19 of 26 for 209 yards, tied it with that TD pass to Bryant. Dallas coach Jason Garrett had insisted the Cowboys weren't desperate after losing four of five. And they were dominant in the fourth period. The Cowboys need to keep playing like they did late on Sunday for a shot at catching the Giants. Early in the final quarter, Foles had an interception return for a touchdown wiped out on a holding penalty. No worries, Dallas. Harris returned a punt 78 yards for a 24-17 lead. On the next drive, Foles had an interception returned for a score that made it 31-17. Stanley Havili had a 1-yard TD run with 1:55 left, but Henery missed the extra point. Then Foles fumbled after he was sacked and Mike Jenkins recovered for a touchdown. ''Critical win for us,'' Garrett said. ''I thought the effort was there. I thought we were focused the whole game. When you have success, you have to play through it, you have adversity, you have to play through it, and today was a good example of that.'' In the final minutes, fans behind Dallas' bench unrolled a banner that read, ''Andy, Quit, Your Team Has!'' Foles was 22 of 32 for 219 yards and one touchdown. ''Not good enough to win,'' Foles said. ''I made some mistakes and I can't turn the ball over. That's the most important thing to win games.'' Vick, the four-time Pro Bowl quarterback, has struggled this season and entered with 10 touchdowns and nine interceptions. He looked like his old self on the first drive, finishing it by connecting with Riley Cooper for a 2-yard TD. Cooper's sensational one-handed grab on a fade route gave the Eagles their first points on their opening drive all season. The fun was short-lived when Romo hit Felix Jones on an 11-yard TD pass. Dan Bailey kicked a 30-yard field goal to send the Cowboys into halftime with a 10-7 lead. NOTES: Foles was the first Eagles rookie QB to throw a TD pass since AJ Feeley in 2001. Brian Westbrook, a running back, threw one in 2002. ... The Eagles had won six straight division games, including a sweep of the Cowboys. ... Eagles WR Jason Avant left with a hamstring injury. ... Sims started 15 games for the Eagles in 2010 and had two sacks. --- Online: http://pro32.ap.org/poll and http://twitter.com/AP-NFL
Original Story:
http://msn.foxsports.com/nfl/story/Ro...
THE BACKYARD
BEST OF MAXIM
RELATED ARTICLES
The Dallas Cowboys have saved their season for another week. On Sunday afternoon, they finally played some inspired football en route to a 38-23 whipping of lousy division foe, the Philadelphia Eagles. Dwayne Harris and the Cowboys ran away from the Eagles on Sunday, saving their season. In this game, the Cowboys got 3 TDs from other places besides their offense, as Dwayne Harris...
Dallas Cowboys quarterback Tony Romo claims that wide receiver Dez Bryant is maturing and has gotten much better since he was a rookie a few years ago. "Dez has come full circle from where he was a couple of years ago," Romo said, per the Dallas Morning News. "We go by catches whether or not someone has a good game as fans or as media, sometimes. But when we watch the tape...
IRVING, Texas Jason Garrett spent a few minutes discussing one of Tony Romo's best plays of the season after Sunday's 38-23 victory in Philadelphia. Following his Monday press conference, the Cowboys coach went into greater detail for about 10 minutes, talking about Romo's ability to extend plays. With the Cowboys down 17-10 in the third quarter, Romo bounced around...
We're seeing something this season very similar to what we have over the last five years in the quality of play from Tony Romo and Eli Manning during the month of November. For some odd reason, the performances over the last five years or so of these two elite quarterbacks have been closely compared but in November they seem to end up on opposite ends of the field. It turns out...
Felix Jones found the end zone for the third time in 2012. Tony Romo has been the starting quarterback in Dallas during six of the last seven months of November (he was injured in 2010). Heading into Sunday's game at Philadelphia, Romo had a record of 19-4 during those November games. Romo played a good part of his 24th November game on his back, thanks to an offensive line that...
PHILADELPHIA -- Tony Romo threw two touchdown passes that kept Dallas even through three quarters.
Jason Garrett talked Monday about taking the good with the bad when you have Tony Romo at quarterback. "You're going to have some plays that you don't like, and you have to live with those, and we've had a few of those," Garrett said. "But at the same time, you have to allow for the other ones. You have to be balanced in how you evaluate it." On...
The fantasy season is nearing its postseason. The weeks are winding down; the injuries are piling up. You need to stay ahead of everything in order...
Magdalena Frackowiak's hotness will melt your eyeballs! (pics) [Brosome]Nicky Romero feat. NERVO – Like Home (Dillon Francis Remix) (music) [EDM Sauce]2 faces of November: Tony Romo vs Eli Manning (sports) [The Penalty Flag]NASCAR announces clinching scenarios for Homestead (sports) [FanViewPoint]The one good thing about Mondays… (pics) [theChive]She's Uncoachable: Nicole...
PHILADELPHIA (AP) -- Dallas scored big on all sides of the ball and pumped some life back into the NFC East race. Tony Romo threw a pair of touchdowns, Dwayne Harris had a 78-yard punt return TD, and Brandon Carr returned an interception 47 yards for a score to lead the Dallas Cowboys to a 38-23 win over the Philadelphia Eagles on Sunday. The Cowboys improved to 4-5, and are second...
While I cannot imagine that game will ever be given the coveted "instant classic" designation, the result for the Dallas Cowboys was exactly what they needed. A road win against a team that is even more hopeless than they are. A team with perhaps more drama. And more veterans who may or may not have inspired efforts ready. And a coach that is certainly not enjoying his...
Before the 2012 NFL season started, I picked the Cowboys to qualify for the playoffs as one of the NFC's two wildcard teams. Naturally, I heard about it. "Your obsession with the Cowboys and blatant man-crush on Tony Romo is not only disturbing, but it's clouding your judgment. You happen to be one of my favorite NFL writers, but the odd love affair you have with Romo...
NFL News

Delivered to your inbox

You'll also receive Yardbarker's daily Top 10, featuring the best sports stories from around the web. Customize your newsletter to get articles on your favorite sports and teams. And the best part? It's free!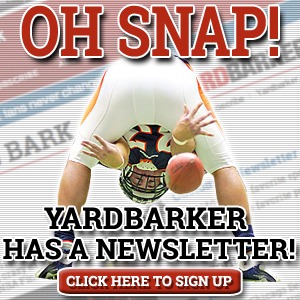 Latest Rumors
The Backyard

Today's Best Stuff

For Bloggers

Join the Yardbarker Network for more promotion, traffic, and money.

Company Info

Help

What is Yardbarker?

Yardbarker is the largest network of sports blogs and pro athlete blogs on the web. This site is the hub of the Yardbarker Network, where our editors and algorithms curate the best sports content from our network and beyond.