Found November 29, 2012 on Fox Sports Ohio:
BEREA -- The second part of Ronnie Camerons work day starts as he leaves the Cleveland Browns facility. After practice, after meetings, after lifting, after more meetings the Browns backup defensive tackle goes home to his other jobs. It seems incongruous that todays highly paid athlete would have a job after football, but Cameron is not the prototype. His Twitter account (@RonSCameron) is filled with political analysis -- hes one of few NFL players tweeting about Benghazi -- and he writes a political blog for The Huffington Post, with recent posts about the ambition of immigrants and why politicians cant tell the truth. He loves football, but he said he hopes the work he does when the football day ends will, literally, change the world. Hes developing and running a web site called Bonfire Impact, and it could have major reach. Im starting a news blog network for social awareness, nonprofits, human rights, Cameron said during a recent interview. Its pretty much like a Huffington Post for a lot of the stories that dont always get noticed. Cameron said hes always been interested in social issues, a byproduct of being raised by a Mother from Haiti and a Father from Trinidad. Neither had a high school degree, and both worked multiple jobs to raise their three children. It makes me sad that attention is paid to issues when its convenient, he said. It becomes a trend story, but when the trend passes, people are still suffering. His example: The earthquake in Haiti, his mothers home. There was a lot of immediate attention paid to the people in the short term after the earthquake, but in the long run it got lost. Id like attention paid to things like that on a daily basis, he said. His goal is to bring organizations, causes and issues together so the people who care or are interested can find information in one place. Its almost a free media conduit for these not-for-profits, he said. Especially with the economy not being so great right now. They dont have as much money to spend on advertising, because people arent giving as much to charity. So its almost like a way to meet an end, and also to reach out to a younger population. My website is really pointed toward the younger population that really doesnt know a lot about human rights or have the social awareness for what is going on because theres really no place for that right now. He envisions the site as a hub that attracts readers with information, then links out to sites to enhance what he provides. Say you want to know about heart awareness or things like that, he said. You have to go to 10 different web sites. How about you just go to one place that has all the information and that can lead you to where you need to go? The site should roll out in mid-December, but a prototype online (www.bonfireimpact.com), includes articles about restoring the waterfront along the Buffalo River, a Lafayette, La., couple who took in seven children who needed a home, and a story on domestic violence, headlined a direct attack to womens dignity, violation of human rights. Bonfire Impacts logo calls the site a Newsblog network for celebrating good works, exposing injustices and a beacon for social awareness. The name comes from the meaning of the word bonfire, which Cameron said is a beacon, an eradicator of waste or is part of a celebration. Which the website stands for, Cameron said. Impact is the effect I want to have on the world. Cameron was a standout defensive tackle and student at Old Dominion in Norfolk, Va. Besides earning All-America honors (including second team on AP), he also earned his undergraduate degree and an MBA in Information Technology in four-and-a-half years. He signed with the Bears as an undrafted free agent in April, then joined the Browns when the Bears waived him late in camp. Hes used his MBA to organize the site electronically, with meetings held via Skype or video conference. His office? Wherever he happens to be. Everybody that we have working for us are volunteers, said Editor-in-Chief Ashley Dale, and they are super-excited and are really passionate about the issues we cover. Hopefully this reaches the younger generation and sparks an interest in them actually getting up and doing something. Cameron is mining Journalism schools for writers, and hopes to pay them when the site becomes successful. Its the model many sites have followed. One other focus of the site will be on professional athletes. Guys that are doing good things, Cameron said. Because those stories dont get highlighted. Were going to have a section that concentrates completely on what athletes are doing right in this world, whether its missions in other countries, their philanthropic endeavors, their charities, their foundations. He mentioned hes already talked with Scott Fujita about helping Team Gleason, the foundation in honor of Steve Gleason, the former Saints player who has ALS. Ronnie is a perfect example of someone who wants to make an impact, a positive one, and the fact that he's developing a platform to showcase some of the good that others are doing is really admirable, Fujita said via e-mail. Cameron summed up his approach in his blog: This what I've learned from my parents -- never be complacent, always want more. Not in greed but in progression. They've always taught me to strive to be a leader and strive to be the best. If you aren't progressing you are failing yourself.
Original Story:
http://www.foxsportsohio.com/11/29/12...
THE BACKYARD
BEST OF MAXIM
RELATED ARTICLES
The offensive line played together now for a long time. Offensive linemen have to work together and the longer they play together the smoother it goes. I think kind of adding John Greco to the mix there midway through the season has been good. John's done a pretty good job for us and I think the challenge for them is just to continue. Although statistically there were some things...
Whether he's kicked in wind, rain or on a chewed-up field, Phil Dawson has been perfect for the Browns. In his 14th season with Cleveland, Dawson has made all 21 field-goal attempts, including five from 50 yards or longer. He's made 27 in a row dating to last season and the 37-year-old has been sublime despite kicking through tricky conditions at Browns Stadium, where the...
Cleveland Browns wide receiver Joshua Cribbs won't be able to attend his alma mater's biggest football game in 40 years on Friday night. Cribbs went out of his way -- again -- to make sure he's helping a group of Kent State fans get there. Through his Team Cribbs intitiative, the former Kent State quarterback is helping to sponsor a bus trip that will take fans to Detroit...
Welcome to the latest edition of X's and O's with the Bros by X's and O's editor @rodofdisaster. This feature represents a basic attempt to look deeper into the game of football, learn something about the X's and O's that make it go, and better appreciate the games within the game. It's called "X's and O's with the Bros" because you don't have to be a player...
According to News Channel 3 in Memphis, the University of Tennessee has made an offer to former NFL head coach Jon Gruden. Part of the offer is Gruden getting a piece of the NFL's Cleveland Browns, who were recently bought by Jimmy Haslam III, one of UT's biggest boosters. Haslam's father is Jim Haslam, multi-millionaire and founder of Pilot. Jim played on Tennessee's national...
Browns head coach Pat Shurmur mentioned that he expects to have QB Brandon Weeden under center, despite the fact that he recently suffered a concussion, per Scott Petrak. Weeden has been cleared to practice, which is really a great sign, considering that a number of players require more time to be cleared following a concussion. Shurmur added that Colt McCoy will not receive extra...
Jon Gruden is a very good football coach. But as good as he is, even Chucky can't coach two teams at once. Yet how is it that he accept one job and still get paid by another team at the same time? Ask the University of Tennessee Volunteers and Cleveland Browns. This one is still just a rumor, but take a look at how this could work. Reportedly, Gruden has received an offer from...
A report out of WREG in Tennessee is circulating which states that former NFL head coach Jon Gruden would receive partial ownership in the Cleveland Browns if he were to take over the vacant coaching job with the Tennessee Volunteers. Glenn Carver of WREG, the CBS affiliate of Memphis, Tennessee, writes that Jimmy Haslam III's connection to UT would provide added perks to a contract...
Jon Gruden's name has been tossed around as a coaching candidate since he was fired by the Buccaneers following the 2008 season. But ownership? Well, chalk it up as a juicy rumor. WREG-TV in Memphis, Tenn., reported Tuesday night that Gruden has an offer on the table to become the next head coach of the University of Tennessee, and that if he took the job, he would also get an...
Below is the week 11 offensive line breakdown for the Pittsburgh Steelers loss to the Cleveland Browns Sunday night. The Steelers ran 22 times in the game with two plays being flagged for holding. One was on Heath Miller, the other on Mike Adams. One hold negated a short run for a first down while the other negated an 8 yard run. Keep in mind that those two plays are included...
(Eds: Updates. With AP Photos.) By TOM WITHERS AP Sports Writer For the past two weeks, Cleveland's defense has been a swarming mass that will stop at nothing to inflict pain and punishment on its opponent. The Browns have been ruthless, relentless. ''They're like a bunch of fire ants,'' offensive coordinator Brad Childress said. With consecutive dominant...
Browns News

Delivered to your inbox

You'll also receive Yardbarker's daily Top 10, featuring the best sports stories from around the web. Customize your newsletter to get articles on your favorite sports and teams. And the best part? It's free!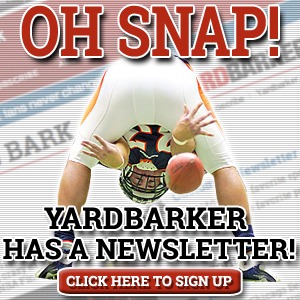 Latest Rumors
The Backyard

Today's Best Stuff

For Bloggers

Join the Yardbarker Network for more promotion, traffic, and money.

Company Info

Help

What is Yardbarker?

Yardbarker is the largest network of sports blogs and pro athlete blogs on the web. This site is the hub of the Yardbarker Network, where our editors and algorithms curate the best sports content from our network and beyond.