Found June 08, 2012 on Fox Sports Midwest:
As the Rams held their eighth OTA Wednesday, it was good to see No. 24 on the field. No. 24 is running back Isaiah Pead, one of the team's three second-round picks who had been barred from participating since the rookie minicamp because his school (Cincinnati) didn't conclude final exams until Tuesday. The reasoning behind the rule in the relationship between the NFL and the colleges makes sense, but often affects rookies and also seem misguided when some of the players aren't in school anyway. As Pead said, "It was frustrating because I had to wait for classes to be out in school and I wasn't even taking classes. So I was just sitting at home (in Columbus, Ohio) and working out." Of course, he wasn't only doing that. Pead was sent a playbook and was in frequent contact with running backs coach Ben Sirmans via computer (FaceTime on Apple). Said Pead, "We'd go over plays and install, but it's not the same as being on the field and in meeting rooms. I was a tad behind but I did a lot of watching today, learning visually. "Most of it was things we had talked about and then finally being able to see it live, it was like 'Oh, that's that run play.' There were a couple of plays which I think were new today that we went over for the first time as a group so we all learned up on that. I just really am asking most of the rookies who are kind of doing the same thing I am doing here and then of course, I am asking Steven (Jackson) and a couple of other vets what to do. They have helped me come along." With coach Jeff Fisher canceling a Thursday OTA, Pead let it be known he won't be taking the day off. He said, "When I leave here I am going to go get extra work with coach (Sirmans) and then coach (Fisher) called practice off tomorrow so I am going to be here all day tomorrow just catching up, so by the time we get back to practice the next day I should be all caught up." Fisher said the team will be careful with Pead. "It's his first day," Fisher said. "It looks like he's been in the (play)book but we'll have to watch him. He appears to be in good shape but there's no substitute for working here so we'll watch him over the next couple of days and then get him really into our minicamp next week. We know he's been working. But you want to be smart about it. You don't want to put him in position to pull something." One thing Pead was in position to do was send a tweet revealing he had signed his contract, calling it his "first job." That four-year contract is worth a shade more than 4 million that includes a signing bonus of 1.377 million with guaranteed salaries in 2012 (390,000) and 2013 (573,550). NOTES, QUOTES -- The Rams and the CVC (Convention and Visitors Commission) could be headed to arbitration after the latter rejected the team's plans to upgrade the Edward Jones Dome. The CVC presented a 124 million plan on February 1 that also called for the team to pay for 52 percent of the cost of the project. The team rejected that proposal and submitted their own ambitious renovation that has triggered estimates of the cost from 500 to 700 million. The plans are the result of the team's lease with the CVC that calls for the dome to be a first-tier stadium (top 25 percent) in 15 areas by 2015. If there is no agreement, the Rams can lease the dome on a year-to-year basis after 2014. The issue is scheduled to go to arbitration June 15 unless there is an agreement by then. While rejecting the team's plan, a statement from the CVC said, "The St. Louis CVC expressed to the St. Louis Rams that it believes that it is in the best interest of the community and the Rams to engage in meaningful dialogue over the next two weeks, and (the CVC) looks forward to the opportunity to do so at the earliest convenience of Rams management." A statement from Rams executive Kevin Demoff said, "We are in receipt of the CVC's letter today and share their belief that the two sides should engage in further discussions. We believe this would be a productive next step in the first-tier process." -- There is some mystery surrounding the absence of center Scott Wells from the team's OTAs. At the team's third OTA practice, Wells watched practice with a wrap on one of his upper legs. Since then, he has not been at practice during any of the three sessions open to the media. Coach Jeff Fisher hasn't revealed why Wells isn't practicing and when asked Wednesday said: "just got a day off." -- Coach Jeff Fisher is becoming "a star" in a music video for a Nashville band, Goodbye June. Asked about it this week, Fisher said, "My daughter Tara has been friends with this band for a couple of years so I followed the band really from day one and got close to the band members. They're great kids and they asked me if I would get involved. Obviously it's a startup band. Costs are an issue, so I allowed them to do it on a piece of property that I own in Nashville. It was a day deal. It was done back in January. I hope you enjoyed it. You can buy their music on iTunes." In the video, Fisher is a policeman who catches the band littering at a gas station and chases them in as car while also smoking a cigar. Yeah Yeah Creative filmed the video, and David Lavender of the company told the website Turf Show Times, "Jeff was as personable and fun to work with as anyone we've run across. He was extremely generous to let us film (and wreck a car) on his farm. He didn't mind firing up the cigar for the video just after our 7:30 a.m. call time. If you didn't know any better, you'd just think he was someone's buddy that decided to act for us." -- The Rams will end up with only nine OTA practices after coach Jeff Fisher canceled Thursday's practice (June 7). The team's final OTA will be Friday prior to next week's minicamp (June 12-14). Said Fisher, "We just thought in the offseason four consecutive practice days is too many, so they'll just get a lift in and that's all." QUOTE TO NOTE: "We put seven, eight, nine concepts in a day. We're putting a lot in and it's going well. It's (similar to the) West Coast, but it's more explosive than the West Coast. It's the most intricate offense I've ever had." - Rams WR Danny Amendola on the installation of the team's new offense during offseason work.
Original Story:
http://www.foxsportsmidwest.com/06/08...
THE BACKYARD
BEST OF MAXIM
RELATED ARTICLES
ST. LOUIS Danario Alexander sits in a small office at Rams Park, each day in this building an opportunity that he never takes for granted. Each practice is a chance. Each afternoon he spends on the field with coach Jeff Fisher and quarterback Sam Bradford is further proof that perseverance can extend a dream. The hard-luck St. Louis Rams wide receiver starts talking about adversity...
ST. LOUIS Danny Amendola is a burst of potential. It's one of the first things you hear when you approach coach Jeff Fisher and other St. Louis Rams wide receivers about him. They tell you he's a scrapper. They tell you he's a flash of lightning a 5-foot-11, 188-pound firecracker who gives life to everyone who breaks a huddle with him. "He's very instinctive...
The St. Louis Rams have privately received an offer of $48 million in publicly funded money to renovate the Edward Jones Dome. The St. Louis Convention and Visitors Commission, which operates the building, is hoping to incite to the Rams to waive its relocation clause in future years by offering an improvements package that would require no private financing, the St. Louis Post...
While in New York for the NFL Draft in April, LSU defensive lineman Michael Brockers said he would always be a Dallas Cowboys fan. Despite being selected by the St. Louis Rams, Brockers showed on Thursday that he is still supporting the Cowboys even when he signs a contract with another NFL team. In a photo posted on the Rams' official Twitter feed, Brockers can be seen signing...
Linebacker Ben Leber is retiring after 10 seasons in the NFL with the San Diego Chargers, Minnesota Vikings and St. Louis Rams. Leber announced his retirement Friday on Minneapolis radio station KFAN. In a text message to The Associated Press, Leber said ''It's been a great run, lots of fun.'' Leber grew up in Vermillion, S.D., and starred in college at Kansas...
By: X On Twitter Jeff Curry-US PRESSWIRE After a couple of articles circulated, casting a cloud of mystery on the Rams' receiving corps and how it'll all shake out, Nick
Getty Images On Thursday, the St. Louis Rams signed first round pick, defensive tackle Micheal Brockers to a four-year deal that's worth $9.52 million with a $5.36 million signing bonus. Brockers should be able to come in right away and make an immediate impact on the Rams' defensive line.
Linebacker Ben Leber is retiring after 10 seasons in the NFL with the San Diego Chargers, Minnesota Vikings and St. Louis Rams. Leber announced his retirement Friday on Minneapolis radio station KFAN. In a text message to The Associated Press, Leber said ''It's been a great run, lots of fun.'' Leber grew up in Vermillion, S.D., and starred in college at Kansas...
The St. Louis Rams have signed first round draft pick Michael Brockers to a four year contract worth $9.52 million.  The defensive tackle out of LSU figures to play a prominent role in new head coach Jeff Fisher's defense this season. - Photo courtesy of Getty Images The St. Louis Rams and new head coach Jeff Fisher have quite a project on their hands.  The Rams have been...
Earlier today there was a report that both the Cleveland Browns and St. Louis Ram are for sale. We already have confirmation that both teams are not up for sale. Browns Spokesman Neal Gulkis told Mary Kay-Cabot of the Cleveland Plain-Dealer that "the Cleveland Browns are not for sale." People within the Rams organization laughed off the idea that their team is for sale, according...
Rams News

Delivered to your inbox

You'll also receive Yardbarker's daily Top 10, featuring the best sports stories from around the web. Customize your newsletter to get articles on your favorite sports and teams. And the best part? It's free!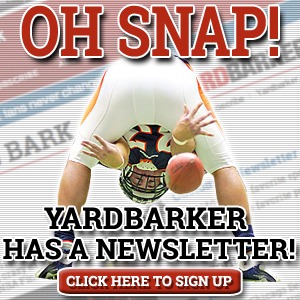 Latest Rumors
The Backyard

Today's Best Stuff

For Bloggers

Join the Yardbarker Network for more promotion, traffic, and money.

Company Info

Help

What is Yardbarker?

Yardbarker is the largest network of sports blogs and pro athlete blogs on the web. This site is the hub of the Yardbarker Network, where our editors and algorithms curate the best sports content from our network and beyond.