Found July 31, 2012 on Midway Illustrated:
If there's a sense that Shea McClellin is getting piled on by me writing this blog, then throw another log on the fire.
I don't want to sound overly dramatic because there is plenty of that going around as well.
There's no reason to panic because we're only four practices into camp and there's a long long ways to go.
The best way to evaluate this is to say a lot of what we've seen from Shea McClellin is maybe how you'd evaluate him at the NFL combine or at his Pro Day, seeing him in person.
What I see right now is of major concern to me for the upcoming season.  Simply put McClellin's impact in 2012 will likely be minimal at best.  I don't envision him as the primary guy in the rotation and certainly don't see him starting ahead of Israel Idonije.
Right now McClellin is WAY OVER HIS HEAD as a base 4-3 end in the Bears defense.  His talent right now is limited to his speed and his effort, something that's not going to get you very far in the NFL.
He has one move and it's straight up the field and even that move isn't very explosive.
When you watch McClellin competing and compare him to the other DEs on the field he's essentially running as the sixth best DE on the field.
In a small semblance of what the depth chart looks like right now it would be Corey Wootton as the third DE, Chauncey Davis as the fourth DE, Thadeus Gibson as the fifth DE, and McClellin bringing up the rear.
Gibson has the speed and explosion off the edge that McClellin does not, Wootton has a size, speed and strength combination that McClellin does not and Davis can set the edge against the run like McClellin cannot yet do.
While camp is important for McClellin, the ultimate judge to  his season will be how well he plays during the preseason games.  McClellin is likely going to play a lot in all four games and he'll have many opportunities to prove himself.
What his role for the 2012 season will likely be determined by how well he plays in these four games.
For McClellin training camp will be all about learning and he's going to have to learn a lot in order to be successful this season.
The Bears need a defensive end to step up and be that pass rusher to compliment Julius Peppers.  My guess is that like most rookies, McClellin won't be contributing at the level expected of him this season.
The contribution needed will come from Corey Wootton, especially since he's showing no ill effects from his past injuries.
McClellin's value likely comes in the future once he's coached up and learns the nuances of playing defensive end in the NFL.  He'll need to develop solid technique and add some strength to go with the speed he does have.
If McClellin develops his strength and power then he'll be able to get more out of his speed, but developing strengthing and refining technique is going to take time.   Time that the Bears may not have during the 2012 season with this team wanting to challenge for a Super Bowl title. 
Original Story:
http://www.midwayillustrated.com/2012...
THE BACKYARD
BEST OF MAXIM
RELATED ARTICLES
Shea McClellin should send a thank you card to Brian Price because Price's workout on Tuesday was bad enough that it knocked the rookie off the front page of Bears camp reports. Brian Price struggled mightily in his first full practice in pads with the Bears, raising early alarms about the young players skills.  The naysayers should relax a little, it was one practice and...
Kahlil Bell played well for the Chicago Bears last year, and Armando Allen played in two games for the Bears.  Where Bell comes up short is holding on to the football and it puts him squarely on the hot seat. Allen on the other hand is a dynamic player who is definitely pushing Bell for the third string RB spot.  Allen was mentioned by Mike Tice during the OTAs and mini-camp...
After the first few days of practice, the Chicago Bears receiving corps has looked dominant. This is what the team's coaches and management was hoping for when they went out and brought in multiple weapons in the offseason. Brandon Marshall dominated every defensive back that lined up against him during drills on Sunday. However, corner Kelvin Hayden had him on lockdown,...
Newly appointed Chicago Bears offensive coordinator Mike Tice has been in constant contact with quarterback Jay Cutler throughout training camp thus far.   Tice, who was the team's offensive line coach for the past two seasons, has said he wants Cutler to indicate his 'likes' and 'dislikes' about the plays they run. He wants his quarterback to be comfortable...
The Bears wrapped up their second day in pads and fourth practice overall in Bourbannais on Sunday afternoon in front of another enthusiastic crowd. Julius Peppers participated in individual drills but received a veteran's day off during seven on seven and 11 on 11 action. On the day the offense did not execute very well in the passing game but there seemed to be a strong...
JAY CUTLER 2011 Statistics: Games Played: 10 Completions-Attempts: 182-314 Completion Percentage: 58% Passing Yards: 2,319 Touchdowns: 13 Interceptions: 7 QB Rating: 85.7 Analysis Last season, Cutler had to deal with a below-average offensive line and an offensive coordinator who called pass plays that had him running for his life, but still had a pretty impressive year. Cutler...
In this three part series, we will be breaking down the Chicago Bears schedule and predicting how the Monsters of the Midway will fare in 2012.  The Chicago Bears finished last season in the most average and disappoint way that a team could finish a season. After starting the season 7-3, Chicago lost Jay Cutler in what would end up being their fifth straight win and they lost...
  Veteran cornerbacks Charles Tillman and Tim Jennings turned in strong efforts at Chicago Bears training camp in Bourbonnais Tuesday, solidifying their status as key performers at a crucial position.  Head coach Lovie Smith applauded  their work in his post-practice briefing with assembled reporters. "Each day we see a few guys who step up and make a few more plays," [...]
Bears offensive coordinator Mike Tice expresses his frustration with the offensive line, Matt Forte talks about the addition of fellow running back Michael Bush and much more.
Just a couple of weeks ago I brought you a dreadful performance of "Take Me Out to the Ballgame" by Bears QB Jay Cutler. Now it is University of Illinois football coach Tim Beckman's turn at the famous song. It wasn't a great performance, but it added more enthusiasm to it than Cutler did. Hopefully, Beckman and the Illini play with this enthusiasm during the...
In our first Chicago Bears training camp video, we offer film work and commentary on today's live-action goal line drills from Bourbonnais.
Bears News

Delivered to your inbox

You'll also receive Yardbarker's daily Top 10, featuring the best sports stories from around the web. Customize your newsletter to get articles on your favorite sports and teams. And the best part? It's free!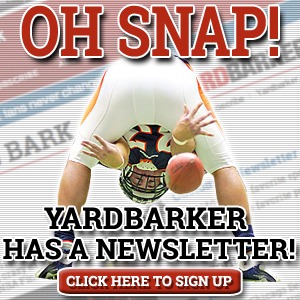 Latest Rumors
Best of Yardbarker

Today's Best Stuff

For Bloggers

Join the Yardbarker Network for more promotion, traffic, and money.

Company Info

Help

What is Yardbarker?

Yardbarker is the largest network of sports blogs and pro athlete blogs on the web. This site is the hub of the Yardbarker Network, where our editors and algorithms curate the best sports content from our network and beyond.