Found May 27, 2012 on Buddy Nixon:
If you don't already make a habit of reading Chris Brown's Fan Friday post over on the mothership, you really should. Chris answers questions in a mailbag format, and almost always leaves you with a little bit better understanding of how the Buffalo Bills roster is going to shake out. Let's see what we have this week.
-First up, in a response to a question about where front 7 players will be lining up…
From what I have heard Dwan Edwards is now a defensive tackle and to me that makes sense in a 4-3 scheme. Troup obviously is still a defensive tackle. Carrington and Spencer Johnson are both ends, with the ability to kick inside to defensive tackle on obvious passing downs should a rotation be needed. Moats and Batten are both outside linebackers. Kelsay would presumably be a run defending end with Merriman and Anderson pass rushing options on obvious passing downs.

Do all of them make the team? I'm not so sure they do.
The most surprising thing about what Chris says here is that Carrington and Johnson are both primarily going to be DEs. In the 3-4 it made sense to have 300ish pound linemen to play outside, but I don't really understand the rationale of keeping Carrington and Johnson outside, both seem to be well suited for the 3 technique on the interior 4-3 line.
However, Chris's last line pretty much is a confirmation that not all of these players will make the team; there's simply too many of them. So who should be nervous? My guess would be at least one of Spencer Johnson or Dwan Edwards, as both have sizable contracts for back ups. The other would be the defensive players from the 2010 draft (Troup, Carrington, Moats, and Batten). This is the point where they need to prove their value, and like Chris, I'm not sure all of them will.
-Regarding center Eric Wood's rehab…
Wood is progressing well, but won't be doing any real on the field football-related stuff until training camp. That's the timetable.
So while he should be good to go, Eric Wood, like Terrence McGee, still isn't 100%. Keep that in the back of your mind.
-On last summer's Lee Evans trade…
 First, the Bills were trying to publicly show some respect for the years that Lee Evans gave them. They didn't publicly say they felt he was a player in decline, but that was their opinion and ultimately why he was traded. That was the main impetus, not because of who they had. They did feel by moving Evans off the roster it would allow more of their young talent to blossom, chiefly Marcus Easley, who is a deep threat and a huge target. That was compromised however, when his medical condition ended his season before it began just days before Week 1.
This is pretty much how we saw it last year, so it's nice to see some confirmation.
-Finally, buried in a comment regarding OTAs…
 And third, there's a very good chance that a second-year CB and rookie CB will be starting on the boundaries in Aaron Williams and Gilmore, so getting them ready will be huge.
This isn't completely shocking following the news that Terrence McGee might not be ready for camp, but it does provide some insight into who we might start at corner. And to me, it makes a lot of sense. Buffalo has now used 2 top 35 picks on cornerbacks, they want to get them on the field. There just might be some growing pains, hopefully not too many….
Original Story:
http://www.buddynixon.com/roster/rost...
THE BACKYARD
BEST OF MAXIM
RELATED ARTICLES
In the sixth installment of my "Predicting the Bills' breakout players of 2012″ series, I'll take a look at cornerback Aaron Williams. The Buffalo Bills selected Aaron Williams out of Texas with the No. 34 overall pick in the 2011 NFL Draft, despite concerns regarding whether he was better fit as a safety or at cornerback. Buddy Nix & Co. didn't mind the nitpicking...
Start the ticker-tape parade and drop confetti from the rooftops people!  It's May 25th and I'm ready to make a declaration: The Bills won the off-season.  Talking heads in the NFL have given the Bills a lot of love this off-season and the only other team getting more praise seems to be the Broncos.  That being said, I think the Bills topped everyone when you look at everything...
Welcome back to those who are still with me as we document how Buffalo can get to 10-6 and, perhaps, find themselves a Wild Card spot for the 2012 playoffs after a 12-year break. I know we already may have lost some readers with the first part, where the Bills won three of their first four, including a big game at home against New England. b But this is just a "what if&quot...
The Buffalo Bills made a lot of moves this offseasons, most notably upgrading their defense with the additions of Mario Williams and Mark Anderson. They signed quarterback Vince Young as well to back up Ryan Fitzpatrick as well. However, despite being deep at almost every position across the board, there are still some additions that could be made to improve the roster, especially...
Several current and former Buffalo BIlls will take part in the Triple-A All-Star Game Celebrity Home Run Derby. Bills running back Fred Jackson and CEO Russ Brandon will take part in the derby, the Buffalo Bisons announced.
NFL News

Delivered to your inbox

You'll also receive Yardbarker's daily Top 10, featuring the best sports stories from around the web. Customize your newsletter to get articles on your favorite sports and teams. And the best part? It's free!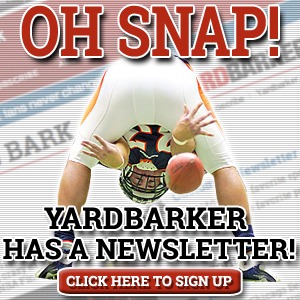 Latest Rumors
The Backyard

Today's Best Stuff

For Bloggers

Join the Yardbarker Network for more promotion, traffic, and money.

Company Info

Help

What is Yardbarker?

Yardbarker is the largest network of sports blogs and pro athlete blogs on the web. This site is the hub of the Yardbarker Network, where our editors and algorithms curate the best sports content from our network and beyond.