Found December 09, 2012 on Fox Sports Arizona:
PLAYERS:
Ken Whisenhunt
,
John Skelton
,
Ryan Lindley
,
Darnell Dockett
,
Levi Brown
,
Ryan Williams
,
Beanie Wells
,
Lyle Sendlein
,
O'Brien Schofield
,
Calais Campbell
,
Kevin Kolb
,
Aaron Rodgers
,
Kurt Warner
,
Charles Barkley
TEAMS:
Arizona Cardinals
,
Seattle Seahawks
,
Green Bay Packers
,
Arizona State Sun Devils
Theres no sense belaboring this. Michael Bidwill should fire coach Ken Whisenhunt, and he should do it now. It will be an empty gesture. Nobodys going to win with the offense the Cardinals trot on the field each week. Nobodys going to win with John Skelton and Ryan Lindley at quarterback. Nobodys going to win with eight turnovers. Firing Whisenhunt will be a reactionary gesture, too. But you have to send a message to your fans you know, the ones who have sold out every game since University of Phoenix Stadium opened? You have to tell your team and your city that this is unacceptable. Nobody expected the Cardinals to win Sunday in Seattle. In many ways, this was the perfect storm. The Seahawks were experiencing a turbo boost in confidence after finally breaking through on the road with a big win last week in Chicago. This club is surging behind a remarkable rookie quarterback and will give the NFC West two legitimate threats when the playoffs begin in January. On the flip side, the Cards were riding an eight-game losing streak, the benching of defensive tackle Darnell Dockett (the erstwhile team captain who exhibited no such leadership last week) and an utter collapse in confidence. But losing is one thing. Getting annihilated in Biblical fashion, 58-0, is quite another. Let me start by saying I apologize to our fans and everybody associated with our organization, Whisenhunt told reporters after the game. That was embarrassing today." There is no hope associated with this franchise now. And that is a dangerous thing for a business that relies on its customer base. We have no idea whether the Cards final two home games will be official sellouts, but if were told that, we wont believe it. Well see empty seats everywhere and wonder how anyone would dare maintain that ruse. And if Whisenhunt is still on the sidelines when the Lions come to town, the fans who do show up could get ugly. If you took a poll right now asking whether Whisenhunt should remain, the results would be so one-sided youd wonder how this state could be so politically divided otherwise. We all know this business, Whisenhunt said. Ive been in it a long time as a player and a coach. Im not worried about that. Its important to note all the mitigating circumstances that have undermined Whisenhunt this season. He lost starting left tackle Levi Brown to a season-ending triceps tear in the preseason. He lost running back Ryan Williams for most of the season and Beanie Wells for about half of it. He lost starting center Lyle Sendlein two weeks ago, starting linebacker OBrien Schofield shortly before that and was without starting defensive end Calais Campbell for a stretch. Most importantly, he lost quarterback Kevin Kolb again to a rib injury that all but shelved any hope this mediocre offense had of holding its own. Its no secret this is a quarterback-driven league. If you have one, you can mask so many deficiencies like the Packers do every week with Aaron Rodgers like Kurt Warner did while he was here. The Cardinals dont have one, and its not as easy as some might believe to find one, either. When a reporter asked who would start at QB next week against Detroit, Whisenhunt quipped: Do you play? It was a telling admission of his frustration with the position. But whether or not you blame Whisenhunt for that mess is irrelevant now. The Cardinals have lost nine straight games for the first time since 1944. The Seahawks 38 first-half points were the most ever by an opponent. The Seahawks 58 points overall were also the most by an opponent; the Jets scored 56 in 2008 and the Eagles did the same in 1953. Oh, and the Cardinals have posted losing streaks of six games or more in each of the last three seasons. Its a stunning turn of events considering the Cards 4-0 start this season gave them 11 wins in their previous 13 outings. But thats how quickly things can go south in this business. And it cant be tolerated. We have a habit in the Valley of hanging on to past accomplishments far too long. Suns fans still talk about the Charles Barkley years. Arizona State fans still talk about Jake Plummers Rose Bowl team. And Cardinals fans still talk about the Warner years. Whisenhunt had a wondrous start to his head coaching career with a franchise that had accomplished nothing before he arrived. He took the Cards to within seconds of a Super Bowl title. But pro sports are about the here and now. You cant go three straight seasons without a playoff berth and assume you can rest on your fading laurels. You cant go into a division opponents building, not even compete, then assume you are free from consequences after a record-breaking loss. The specter of losing is weighing heavily on everyone. Ive never died before, running back Beanie Wells told azcardinals.com, but its like a painful death. Whisenhunts 4-year-old past is irrelevant. He deserves another chance somewhere else, and he will likely get it. He has many of the qualities you look for in a coach. But its time for a change here. Its time to give defensive coordinator Ray Horton a crack at a head coaching gig before someone else does, and theres no sense waiting until the end of this tragic season to do it. Its time to admit that this relationship just isnt working any more. A 58-0 loss is all the proof you need. Follow Craig Morgan on Twitter
Original Story:
http://www.foxsportsarizona.com/12/09...
THE BACKYARD
BEST OF MAXIM
RELATED ARTICLES
Arizona Cardinals president Michael Bidwill said the team would not fire head coach Ken Whisenhunt before the end of the season, the Arizona Republic reported Monday. Bidwill told the Republic the Cardinals don't want to make an emotional response to the team's 58-0 loss to the Seattle Seahawks, which gave the Cardinals a nine-game losing streak. Bidwill called the loss...
Arizona coach Ken Whisenhunt is soldiering on. A day after the Cardinals endured the most one-sided loss in franchise history, the team's ninth defeat in a row, Whisenhunt said he will stick with what he knows has worked in the past. In the locker room before the Monday team meeting, defensive tackle Darnell Dockett said he would keep playing hard for defensive coordinator...
Arizona Cardinals President Michael Bidwill said a decision on whether Ken Whisenhunt remains as coach will be made after the season. Bidwill called the team's 58-0 loss at Seattle on Sunday ''unacceptable'' and said he has been evaluating the situation on a week-to-week basis as the losing streak has grown to nine games. ''Not making a rush decision...
TEMPE, Ariz. The only significant news coming from the Cardinals complex on Monday was that there was no news, unless you count Darnell Docketts running feud with head coach Ken Whisenhunt, which is actually old news. Nobody was talking about imminent change. Whisenhunt is still the coach. Ray Horton is not. Rod Graves is still the general manager. Mike Miller is still the offensive...
TEMPE, Ariz. -- Cardinals president Michael Bidwill says Ken Whisenhunt will remain the coach for the rest of the season. I dont intend to make any decisions based on emotion, Bidwill told a small group of reporters at the Cardinals practice complex late Monday afternoon in his first public comments on the topic. Yesterdays loss was extremely disappointing -- unacceptable. Its extremely...
Coach Ken Whisenhunt's seat has been getting hotter by the week, and Sunday's 58-0 loss against the Seattle Seahawks could be the nail in the coffin that seals his fate.
Theres no sense belaboring this. Michael Bidwill should fire coach Ken Whisenhunt, and he should do it now. It will be an empty gesture. Nobodys going to win with the offense the Cardinals trot on the field each week. Nobodys going to win with John Skelton and Ryan Lindley at quarterback. Nobodys going to win with eight turnovers. It will be a reactionary gesture, too. But you...
The Arizona Cardinals started the season with four straight wins, including a road win over the New England Patriots. After an overtime win against the Miami Dolphins, things turned south and the Cardinals have now lost nine straight games. Things cannot get much lower currently for Arizona after being humiliated against the Seattle Seahawks on Sunday 58-0. Will the Cardinals fire...
With just a few games to play in the 2012 regular season, it's starting to become apparent which coaches will survive and which coaches will be hitting the road. This weekend's round of games pushed a few coaches one step closer to being dismissed. Here's the short list of coaches hitting the road following the conclusion of the season. 5) Rex Ryan, NYJ: Another close...
SEATTLE (AP) -- Ken Whisenhunt started with an apology and later asked a reporter if he could play quarterback. Arizona's season that was already spiraling finally hit bottom on Sunday. The Cardinals committed eight turnovers, saw Seattle's Marshawn Lynch run for three touchdowns and were handed the worst shutout loss in franchise history in a 58-0 rout by the Seahawks...
ESPN's Adam Schefter reports that Arizona Cardinals claimed QB Brian Hoyer off waivers from the Pittsburgh Steelers. There's no question that adding anyone at this point would almost certainly be an upgrade for the Cardinals, but it would be pretty hard to get Hoyer acclimated to their offensive system in time to play against the Lions this weekend. Team president Michael...
NFL News

Delivered to your inbox

You'll also receive Yardbarker's daily Top 10, featuring the best sports stories from around the web. Customize your newsletter to get articles on your favorite sports and teams. And the best part? It's free!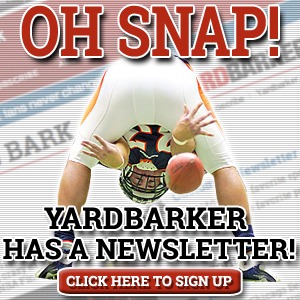 Latest Rumors
The Backyard

Today's Best Stuff

For Bloggers

Join the Yardbarker Network for more promotion, traffic, and money.

Company Info

Help

What is Yardbarker?

Yardbarker is the largest network of sports blogs and pro athlete blogs on the web. This site is the hub of the Yardbarker Network, where our editors and algorithms curate the best sports content from our network and beyond.