Found January 22, 2013 on Larry Brown Sports:
From Larry Brown Sports:
Russell Wilson is vehemently denying a report that said he asked the Seattle Seahawks for a new contract.
On Sunday, ESPN's Chris Mortsenesen reported that a representative of Wilson told the Seahawks something had to be done about the rookie quarterback's contract.
Wilson's agent, Bus Cook, reportedly was "irate" over the report. He told NFL Network reporter Ian Rapoport that the report was B.S.
Cook called the report B.S. because under the league's current Collective Bargaining Agreement, players cannot address/alter their contracts until they have completed their first three seasons.
Wilson understands the CBA rules, and he told Sports Illustrated's Peter King that he has not and will not ask the Seahawks for a new deal.
"I speak for myself, and I never demanded or asked for a restructured contract … I have complete understanding and respect for the new CBA rules … Anyone who knows me knows I play for the love of the game. I play for the challenge of being the best one day and know I have a long way to go.
"I respect the NFL, respect the new CBA, respect my teammates, respect all of the other players across the league, and respect the Seattle Seahawks," Wilson told King.
Wilson was drafted in the third round by Seattle. Per Rotoworld, he signed a four-year, $2.198 million contract in May. The deal included a $619,472 signing bonus. He is scheduled to earn $526,217 in 2013, $662,434 in 2014, and $798,651 in 2015.
Wilson tied an NFL rookie record with 26 touchdown passes and set a rookie mark with a 100.0 passer rating. He completed 64.1 percent of his passes and threw for 3,118 yards with 10 interceptions while also rushing for 489 yards and four touchdowns in leading Seattle to an 11-5 record and playoff berth. In the postseason he threw for 572 yards and three touchdowns and ran for another 127 yards and a score in two games, including the Seahawks' first road playoff win since 1983, beating Washington in the wild-card round. He likely will be one of the biggest bargains in the league the next two seasons.
Photo credit: Otto Greule Jr./Getty Images Sport
Original Story:
http://larrybrownsports.com/football/...
THE BACKYARD
BEST OF MAXIM
RELATED ARTICLES
With the drafting of Russell Wilson in the 3rd round of the 2012 NFL Draft, Seahawks fans are excited about the future. This young team has Seahawks fans looking ahead.  But I love the history of the team. Founded in 1976, along with the Tampa Bay Buccaneers, the Seahawks are the same age as me and I have been a fan the entire time.  Win or lose, I have supported the Seahawks every...
An unnamed representative of Seattle Seahawks quarterback Russell Wilson called the team to insist that the rookie's contract be adjusted following his 2012 campaign, according to Chris Mortensen of ESPN. This report was later denied by Wilson's agent, Bus Cook. Mortensen was unwilling to back off of the statement, but added that the comments could have been made without Wilson's...
When the Seahawks' took Russell Wilson in the 3rd round, it wasn't really criticized. That seemed to be a fitting range for him. However, then it was reported that GM John Schneider compared him to Drew Brees and "had to have him" because he felt he was one of the top-3 players he scouted in 2011, which sounded like hyperbole and maybe a little bit crazy. The Seahawks then...
Seattle Seahawks star rookie QB Russell Wilson is considered one of the top three candidates for offensive rookie of the year, along with Indianapolis Colts QB Andrew Luck and Washington Redskins QB Robert Griffin III. While Griffin was chosen as the rookie QB to represent the NFC Pro Bowl team this Sunday, Wilson will be the one playing. RGIII is rehabbing from the major knee injury...
This past weekend, ESPN's Chris Mortensen reported that a representative of Russell Wilson's asked the Settle Seahawks to restructure his contract. Wilson's agent Bus Cook already came out and firmly denied the report.  Wilson also told SI's Peter King that he never asked for a raise. "I speak for myself. I never demanded or asked for a restructured contract," Wilson...
Peter King of Sports Illustrated believes a team will need to give up at least a first round pick in order for the Jets to trade away cornerback Darrelle Revis.Fantasy Spin:Revis sat out most of last season after tearing his ACL in Week 3. When he's healthy, Revis is still one of the best defensive backs in football. We're guessing it would take a pretty substantial offer...
Excuse me Mr. Banner, step away from the hater-tots.In a statement made to Peter King in his Monday Morning Quarterback column on SI.com, Banner says quote:We removed ourselves from the process. We really liked Chip. He's intriguing, a very different thinker, and very smart. But you could see he was uncertain what he wanted to do. He may be in Philadelphia 10 years or longer and...
Now that the Pro Bowl is played before the Super Bowl some of the players can't make the Pro Bowl since they will be playing in the Super Bowl. Still others bow out of the Pro Bowl because of an injury or they came up just short in the playoffs that they are done with football for the season. Sometimes one man's loss is another man's gain. For two rookie quarterbacks they are...
In a season where the Seahawks exceeded most every expectation by winning their last five regular season games in a row, going 11-5 and winning a first round playoff game on the road, you might think there aren't many items on the Seahawks' "to-do" list before the 2013 season starts.  After all, the Seahawks had the top scoring defense in 2012, one of the league's best...
According to Peter King of SI.com, the Jets will want at least a first round pick for Darrelle Revis and with the circumstances surrounding him, it's going to be very hard to pull a trade off. Jets would want a 1, at least, for Revis. He'd want franchise-QB money in this flat-cap era, coming off ACL surgery. Good luck with that. — Peter King (@SI_PeterKing) January 24, 2013...
None of the subsequent text you're about to read matters; just as none of the endless hours of conversation breaking down the Patriots 28-13 defeat at the hands of the Ravens matters. You want storylines? There are plenty. You want culprits? There are plenty. But remember – and I can't stress this enough – none of these narrative arcs really matter. In the aftermath of...
NFL News

Delivered to your inbox

You'll also receive Yardbarker's daily Top 10, featuring the best sports stories from around the web. Customize your newsletter to get articles on your favorite sports and teams. And the best part? It's free!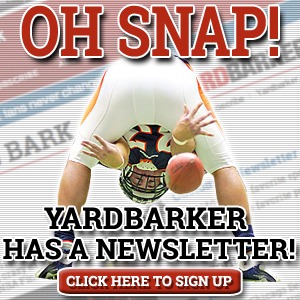 Latest Rumors
Best of Yardbarker

Today's Best Stuff

For Bloggers

Join the Yardbarker Network for more promotion, traffic, and money.

Company Info

Help

What is Yardbarker?

Yardbarker is the largest network of sports blogs and pro athlete blogs on the web. This site is the hub of the Yardbarker Network, where our editors and algorithms curate the best sports content from our network and beyond.