Found October 04, 2012 on NorthWest Sports Beat:
PLAYERS:
Russell Wilson
,
Charlie Whitehurst
,
Matt Flynn
,
Pete Carroll
,
John Schneider
,
Peyton Manning
,
Marshawn Lynch
,
Sidney Rice
,
Golden Tate
,
Doug Baldwin
,
Braylon Edwards
TEAMS:
Seattle Seahawks
,
San Diego Chargers
,
Green Bay Packers
Don't give up now
The Seattle Seahawks have found themselves embroiled in quarterback controversy since last season ended. With the loss of Charlie Whitehurst and the signing of Matt Flynn, things got really interesting in Seattle.
Then draft day rolled around and the Seahawks grabbed another QB – Russell Wilson from Wisconsin.
So began the 3 headed race that never was to be the new Seattle Seahawks starting quarterback.
After week 3 of the preseason, Wilson was named starter and given a full vote of confidence from Pete Carroll and John Schneider. After 4 games, though, people are starting to question whether or not Flynn should be given a shot to start over the rookie.
Russell Wilson is STILL the man for the job
I realize the Seahawks are in a situation where they have a legitimate chance to make the playoffs, but changing quarterbacks during the season can be harmful to a team. In my humble opinion, at least. Russell Wilson is a legitimate quarterback and will help this team get to the playoffs. Replacing him now would be detrimental to this team.
With all that being said, here are my reasons why Russell Wilson should STILL be the man in Seattle.
He's being handcuffed
If you have noticed, Russell Wilson is still playing slightly different from the pre-season. He was airing out passes, taking shots downfield and was pretty successful in doing so. This season, though, the Seahawks have not taken many shots downfield. Many blame Wilson for not making the effort to find the deep ball guy, but it really comes down to the plays that are coming in from Darrell Bevell.
Bevell is on a hot seat of his own for the way he has been calling plays and it shows with the public uncertainty over Wilson's performances. What people don't realize is that Wilson doesn't have the freedom of a Peyton Manning…he isn't calling his own plays.
Pete has come out and said that he was basically handcuffing Wilson for the time being and wants him to be a game manager. And he has done that pretty well. His stats aren't gigantic like people hope, because his job is to compliment Marshawn Lynch by opening the run game up with a few completions here and there.
His job for the time being is to eat clock, move the ball, and get into manageable situations. That's all they're asking from him right now. And he's doing it perfectly.
Who the hell calls a QB option with 3rd and 2 anyway?
Wide receivers
The Seattle Seahawks wide receiver corps has been as uncertain as anything this season. With lingering injury issues all over the place, the team hasn't seen the same set of receivers consistently. Not only has their playing time be inconsistent, but their performance has been just as inconsistent.
I was a big fan of the Braylon Edwards signing when I saw that he still had gas left in the tank. It seems he may have expended that gas already, because he has been terrible in the regular season. If you watch him closely during the game, you will find that his route running is lazy, he doesn't complete his routes, and he doesn't make the extra effort to find a way to get open when he sees Wilson is in trouble.
Sidney Rice is healthy, but has almost been a non-factor. In the pre-season, Wilson went straight to Rice, successfully I might add. During the regular season, though, Rice has failed to be that explosive #1 receiver the Seahawks were looking for.
These 2 are the subject of lots debate. Flynn vs Wilson rages on
It's hard to throw passes to receivers who don't get separation, and that's the big problem with the Seahawks receivers.
Golden Tate has been the only consistent in the receivers and for that has become the go to guy. Rightfully so.
Unless this stuff cleans up, Wilson is going to have a hell of a time succeeding at the position. Hell, anyone is.
Protection
The season started off shaky on the offensive line. Not only were they giving up stupid penalties, but they were allowing guys to blow through them like nothing. The last couple weeks things have shaped up for the most part, but when a quarterback gets knocked around a lot in a short period of time, he's going to be a little extra cautious, especially when he sees the line collapsing before his eyes.
If the protection continues to get better and keeps Wilson sacked as little as possible, he can get comfortable and find his rhythm instead of worrying about someone coming through or around the line to kill him.
He's still a rookie
Russell Wilson has the intelligence, demeanor and command of a veteran quarterback, but we all have to remember he's still a rookie. Rookies make mistakes at times and it has shown a couple times this season. That's not to say that Matt Flynn wouldn't make the same mistakes, but Wilson is an easy target being fresh out of college and not having the benefit of sitting in wait behind a veteran quarterback.
Rookies will play like rookies and there's no getting around that. Have patience, though, folks. This kid's already good. He's about to become really good in no time at all.
My argument against Matt Flynn
Matt Flynn seems to be a talented quarterback.
Have patience 12th man! (photo komonews.com)
You can't tell for sure, though, because he hasn't had many chances. Even in college, he only started 1 season there. He's started 2 NFL games in his career. Those 2 games were for the Green Bay Packers.
Flynn's talent is unquestionable. What people fail to realize is that quarterbacks in Green Bay are a product of a system and beneficiaries of great receivers. This doesn't question the quarterback's talent level, but it gives us reasons as to why someone like Flynn would come into a game and throw for 500+ yards and a ton of touchdowns.
Flynn was not impressive in preseason. Not when he got to start the first 2 weeks and not even really when he got to play against second and third teams. Some can make the argument that he didn't have Doug Baldwin or Sidney Rice.
Well, he did have Sidney Rice, because they threw him out there in the 3rd and 4th games of the preseason. It still wasn't pretty.
To the naysayers: the defense will still be here the next couple seasons. The season is young and lots of things can happen.
I realize people want to move on to the next thing when the current situation is not working out like they want. That's society today.
People need to relax and let this thing happen, though.
Being a fan of the Seattle Seahawks takes lots of patience and dedication. Stay patient, keep your cool, and enjoy watching this kid play.
CLICK HERE TO CHECK OUT THE SEAHAWKS BLOG PAGE IN OUR CLUBHOUSE SECTION AT NWSB!
© Brandon Choate for North West Sports Beat, 2012. | Permalink | No comment |
Follow NWSB on Twitter or join US on Facebook for real-time updates OR... | Share This on Twitter | Share NWSportsBeat.com on Facebook
Post tags:
Braylon Edwards
,
Darrell Bevell
,
Golden Tate
,
Matt Flynn
,
Russell Wilson
,
Seahawks
,
Seahawks Blog
,
seattle
,
Seattle Seahawks
,
Seattle Seahawks Blog
,
Sidney Rice
Original Story:
http://www.nwsportsbeat.com/seahawks/...
THE BACKYARD
BEST OF MAXIM
RELATED ARTICLES
Settle down people, there is no reason to sit Russell Wilson. He's a rookie quarterback. He will have bad games. It is going to happen and there is nothing that can be done about it. He needs time to adjust to the league, and it could take all year before we see what he can really be. Besides, if you sit him down, whom are you turning to? Matt Flynn? Russell has twice as many NFL...
Former Seattle Seahawks great Warren Moon believes that head coach Pete Carroll needs to stop having rookie quarterback Russell Wilson play like a robot to limit turnovers. "He feels that he can do more and handle more than they're giving him," Moon told Doug Farrar of Shutdown Corner. "You've got to remember — Pete's a defensive coach, and he preaches, 'Turnovers...
The first quarter of the 2012 season is over, surprised as fans and analysts may be the Arizona Cardinals are holding the top spot in the NFC West. Before the start of season the prevailing opinion was the 49′ers were not only the best team in their division but in the entire NFL. While San Francisco has played well, a loss to the Minnesota Vikings has relegated them to second...
Last week: 17 (+0) As they always do, the Seahawks fell flat on the road last week. Now there are calls for Russell Wilson's job after his 3 pick performance (none of which were ruled touchdowns strangely) just a few weeks after he was the media darling who "beat the odds." They've got a great defense and they're great at home, but their offense isn't very good and they...
Superman's kryptonite It's week 5 for the Seattle Seahawks as they head into Carolina this weekend to take on the Panthers. The Seahawks will be looking to recover from a devastating loss against the Rams last week and will have their work cut out for them against Cam Newton and company. The offense sputtered last week for Seattle, who blew multiple chances to win the game against...
I will try to ignore the controversy that took place 2 weeks ago, but I admit it will be hard to avoid. At 2-2 the Seattle Seahawks have been on quite a roller coaster. A big win vs. the Dallas Cowboys showed how strong this team can be at times, while losses against the Cardinals and Rams also frustrated Seahawks fans. When you throw in some luck, and some great defense it has...
Playing to their level The Seattle Seahawks went into St Louis on Sunday looking to make a name for themselves in the NFC West. After starting off the year with a heartbreaking loss at division rival Arizona, the Seahawks couldn't afford to lose their second division game of the year. Leave it to the Seahawks, though, and they'll surprise you in many ways. After looking stellar...
Silence of the lambs With everything going right in the Seahawks world going into Sunday's divisional matchup with St. Louis, the Hawks sure picked a bad time to let their true colors show. Now the world can really see that the win the previous week was a fluke, and we are the the laughing stock of the NFL community. Sure, there are worse teams that us, but to ride high with...
According to Dan Arkush of ProFootballWeekly.com, the Seatlte Seahawks are still concerned about the Matt Flynn's elbow. One of the reasons it wouldn't make sense to bench Russell Wilson in favor of Flynn if the Seahawks don't improve, is that no one knows how his elbow will hold up. "The thing is, they're giving Wilson the great majority of reps in practice, because they...
Replacement Refs, QB Controversy, Inconsistencies In part one of our four part series, NWSB examined the first four games of the Seattle Seahawks' 2012 schedule.  Fearlessly, I predicted that the Seahawks would find themselves sitting with a record of 3-1 at this point in the season and, needless to say, I was wrong. It's been a frustrating campaign so far — to say the least...
Goodbye Super-Cam, Hello Clark Kent. This season has been quite the roller coaster ride for Cam Newton and the Carolina Panthers. Over the first four weeks of the season, Newton's QBR has been 34.5, 88.3, 15.6, and 68.7. With 50 being the average in the QBR rating system, you can see how Cam's numbers fluctuated week by week. The Panthers are far from the electrifying offense...
Seattle Seahawks @ Carolina PanthersSeattle:  The Seahawks come off a tough divisional road loss, and now go back on the road all the way across the country for a morning game against a scrappy Panthers team.  This is a team that has defense good enough that the offense only has to score a couple of touchdowns a game in order to win.  Unfortunately, scoring two touchdowns in a...
NFL News

Delivered to your inbox

You'll also receive Yardbarker's daily Top 10, featuring the best sports stories from around the web. Customize your newsletter to get articles on your favorite sports and teams. And the best part? It's free!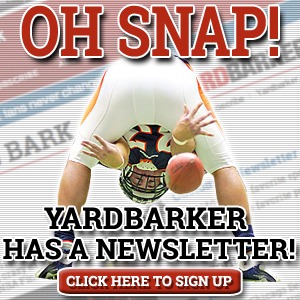 Latest Rumors
Best of Yardbarker

Today's Best Stuff

For Bloggers

Join the Yardbarker Network for more promotion, traffic, and money.

Company Info

Help

What is Yardbarker?

Yardbarker is the largest network of sports blogs and pro athlete blogs on the web. This site is the hub of the Yardbarker Network, where our editors and algorithms curate the best sports content from our network and beyond.