Found December 10, 2012 on The Saints Nation:
PLAYERS:
David Wilson
,
Will Smith
,
Eli Manning
,
Martez Wilson
,
Martellus Bennett
,
Junior Galette
,
Sedrick Ellis
,
Tom Johnson
,
David Hawthorne
,
Curtis Lofton
,
Jonathan Vilma
,
Jonathan Casillas
,
Jabari Greer
,
Patrick Robinson
,
Hakeem Nicks
,
Elbert Mack
,
Victor Cruz
,
Johnny Patrick
,
Roman Harper
,
Rafael Bush
,
Isa Abdul-Quddus
,
Malcolm Jenkins
,
Garrett Hartley
,
Thomas Morstead
,
Travaris Cadet
,
Will Herring
,
Courtney Roby
,
Ramon Humber
TEAMS:
New York Giants
,
New Orleans Saints
Special teams is much tougher to grade than defense because a lot of times mistakes are hard to pin point. But in theory, the entire unit deserves an F for how they covered kickoffs. That was a joke and David Wilson pretty much won this game on his own. It was also an up and down performance by the defense, which looked ok at times and seemed to revert back to early season form at others. Make the jump for the grades. Will Smith: C (2.38) He had two tackles, including one for a loss against the run. He also had one pressure where he hit Eli Manning and knocked him down as he was throwing. Other than that, he was neutralized in passing situations. The Giants mostly ran away from him, but this was another mediocre performance. Cam Jordan: B- (2.62) While he did the best job on the line generating pressure off the edge, no one really did it well. He had 5 tackles and tipped a pass. He continues to be active and stout against the run. It's becoming increasingly clear he's the best defensive end on the team. Martez Wilson: D (2.26) If he can't rush the passer well, he can't do anything. He was pancaked and blown completely out of the play a few times, including once by Martellus Bennett who is lighter in the pads than most blockers he'll face. He had one tackle and a hit on Manning that he was fortunate wasn't flagged as it came a little late. He was also part of the dumpster fire kickoff coverage unit. Junior Galette: D (2.30) A very quiet game that saw him completely neutralized in all pass rushing sequences. The lone play he was visible was on a wheel route to David Wilson where he did a decent job staying with him but got victimized. His run defense was poor. Broderick Bunkley: C- (2.25) At times he did a good job collapsing the interior, but the Giants ran for 135 yards on 27 carries and he's the Saints top run stopper. The Giants attacked the edges more and less in the interior, so this was more on the edge (ends and linebackers) but he had no tackles and minimal impact. Sedrick Ellis: C+ (2.10) He seems to be playing better as of late. He was active, notching four tackles, valuable against the run, and got some interior pressure. He hurt the Saints with an illegal hands to the face penalty, though. Tom Johnson: C- (2.18) He had one tackle, was poor against the run, and generated no pass rush. David Hawthorne: B (2.21) A pretty good showing from the Saints' linebacker who seems to be getting his legs back. He looked better running sideline to sideline and he was physical against the run. He had 5 tackles, including one for a loss. Like Ellis he seems to improve as the season wears on. Curtis Lofton: C+ (2.74) Tough to grade Lofton because as good as he is against the run, he's a severe liability in coverage. He was beaten badly by Bennett on a touchdown pass and in general the Saints were fortunate Eli didn't look his tight end's way more often because he was wide open on numerous plays. He did lead the team with 9 tackles, though, and once again is a beast running sideline to sideline, absorbing blockers, finding the ball and tackling well. Jonathan Vilma: C (2.00) Not great in coverage and just decent against the run, he finished with 4 tackles. This game wasn't as bad as some this year. Jonathan Casillas: C- (2.14) He had one tipped pass and covered fine. He didn't make much of an impact defensive and he too was part of the special teams debacle. Jabari Greer: C- (2.34) Disappointing day for Greer who dropped the easiest interception he'll ever have on the opening drive. He had 5 tackles and was consistently beat by Nicks and Cruz when he lined up against him. Patrick Robinson: C- (2.00) The deep fade to Hakeem Nicks play where he had no awareness of the ball was an F- play. Just awful. In general he struggled to stay with his man and was beaten a few times. He finished with 7 tackles and a defended pass and did a decent job against the run. It's been a brutal year for him. Elbert Mack: B- (2.89) He had one tackle and the massive 73 yard pick six to give the Saints a 7-0 lead. While that play was huge and almost deserves an A grade all by itself, Mack was blown up several times on special teams opening up huge lanes and he was faked out of his jersey and made looked stupid by Victor Cruz. He was either benched or shaken up late in the game and seemed to have a disagreement with the Saints' coaching staff. Johnny Patrick: D- (1.67) Bad on special teams and even worse when he filled in defensively, whiffing badly in press coverage on Victor Cruz to give up a cakewalk touchdown. Based on what I've seen this year I question if he makes the roster next season. Roman Harper: B (2.44) He was good against the run, covered ok, and while he was late on a couple throws he definitely laid the wood with some remember me blows to the pass catchers. He had 7 tackles. Rafael Bush: C- (2.88) He got extended playing time with IAQ due to Jenkins' injury. He is also guilty on the kickoff coverage crew, and he didn't offer much on defense other than a couple decent hits. He had 2 tackles. Isa Abdul-Quddus: B (2.33) The interception was sick where he came out of nowhere from center field and read the play well. I've almost never seen Malcolm Jenkins do that. He had 5 tackles and came close to picking another one. The only negative is he badly blew an open field tackle on David Wilson's last 52 yard run, and took bad angles on a couple others. I'm pretty impressed with both him and Bush, though, and I wouldn't mind rolling with them as starters next year (no joke). At the very least I'd like to see them both playing more these next few weeks on defense.   Garrett Hartley: A- (2.92) He's been pretty great lately. Perfect on 2 shorter field goals and an extra point. One of his PATs was a near miss just inside the goal post, though. Thomas Morstead: C- (3.10) His kickoffs weren't deep at all due to the weather and that definitely affected his coverage unit. He did average a whopping 45.8 NET on 4 punts, so he boomed the ball well punting, and he did have two nice tackles to save touchdowns. Still, this was a bad day for all parties involved on special teams. Travaris Cadet: D (2.06) His kick returning sucks. Can we get Sproles back there already? He takes it out every time and always fails to get to the 20. Just kneel is Travaris, PLEASE. Will Herring: D- (1.79) He was constantly running after the returner, slowly, with his back to the play. I've decided to punish everyone on special teams with bad grades for this performance - which was criminal. Courtney Roby: C- (2.89) I boost his grade ever so slightly for at least hustling and making a tackle, and in general screaming at his guys for sucking so badly, but by no means does he deserve a good grade either. Ramon Humber: D- (2.50) He had one tackle, but needed to make about 5 more.   My Defensive Player of the Game: Isa Abdul-Quddus My Special Teams Player of the Game: Garrett Hartley  
Original Story:
http://www.thesaintsnation.com/2012-a...
THE BACKYARD
BEST OF MAXIM
RELATED ARTICLES
New York Giants rookie running back David Wilson celebrated a 97-yard kickoff return for a touchdown in the first quarter of Sunday's NFL game against the New Orleans Saints with a flawless backflip. Wilson was just getting started, as he had 227 total return yards for the game, including the kickoff returned for a touchdown, plus 100 yards rushing and two rushing touchdowns...
When the New York Giants made their run to the Super Bowl a year ago, a 99-yard touchdown catch and run by Victor Cruz against the Jets seemed to be the ignition point. It was a play that woke up an inconsistent team and turned it into a power. If the 52-27 win over the New Orleans Saints on Sunday turns out to be the victory that gets the Giants (8-5) going again, everyone is...
The New York Giants enjoyed a good old fashioned butt-kicking on Sunday at MetLife Stadium in East Rutherford, New Jersey. Any time a team scores 52 points, like the Giants did against the New Orleans Saints, many players were most likely involved in the good times for the winning squad.For the Giants, there were plenty of heroes to be had, but the most notable was a guy who may...
If there is any definition of a career day in the NFL, David Wilson had one Sunday.  The New York Giants running back broke free on kickoff returns of 97, 58 and 52 yards, piled up 100 yards on the ground and crossed the goal line three times during the Giants' 52-27 rout of the New Orleans Saints. Each score was punctuated with and end zone back flip. Wilson's 327 all...
Week 14 in most leagues either started fantasy playoffs or was the final game to determine the seedings for playoffs starting in Week 15. Some fantasy performers - Kyle Rudolph, Larry Fitzgerald, A.J. Green, Chris Johnson - let down their owners with disappointing performances. It was hard to register a win if you went up against the Seattle defense who in some formats scored up...
Rookie David Wilson's brilliant game might be the spark that gets the New York Giants back to the playoffs. Wilson returned a kickoff 97 yards for one touchdown, ran for two more scores and piled up a team-record 327 all-purpose yards. Eli Manning threw four touchdown passes in the Giants' 52-27 win over the New Orleans Saints on Sunday. The Giants (8-5) maintained their...
Football Nation presents the 25th episode of Monday Morning Huddle with host Dave Holcomb. In this week's episode, Holcomb discusses Detroit's struggles this season as they drop their fifth in a row to Green Bay on Sunday Night Football and running back David Wilson's huge day in the Giants win essentially eliminating the Saints. In the second segment, the show goes over the...
Welcome to the Week 15 edition of our weekly look at fantasy running back committees. If you're reading this, congratulations on still being alive in your fantasy playoffs. In this space, we'll look at recent performances and attempt to read the backfield tea leaves to help you with lineup decisions. We'll post this article each Tuesday, and offer updates in our fantasy...
EAST RUTHERFORD, N.J. -- The New York Giants, who last year were shredded by the New Orleans Saints, returned the favor by handing the Saints a 52-27 beat-down Sunday at MetLife Stadium. The Giants' defense forced four turnovers, and New York rookie David Wilson scored three touchdowns. The Giants, who snapped a three-game winning streak by the Saints in the teams' series...
New York Giants rookie RB David Wilson ran a kickoff back 97 yards for a TD, and banged in two more for 327 Total yards. "To come up and have a breakout game like this is an excellent feeling," Wilson said. "You want to have a good game every game. I went out there and my teammates went out there and we played great and put up 50 points." The final score of...
I love football and I will watch almost any game no matter who is playing, regardless of the lack of meaning that a particular contest could have.But when a game appears on the schedule that is make or break for teams, you really have my attention. The 7-5 Giants desperately needed a win to stay ahead of the Cowboys and the surging Redskins, while the Saints last hope for the playoffs...
NFL News

Delivered to your inbox

You'll also receive Yardbarker's daily Top 10, featuring the best sports stories from around the web. Customize your newsletter to get articles on your favorite sports and teams. And the best part? It's free!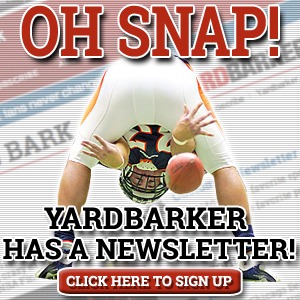 Latest Rumors
Best of Yardbarker

Today's Best Stuff

For Bloggers

Join the Yardbarker Network for more promotion, traffic, and money.

Company Info

Help

What is Yardbarker?

Yardbarker is the largest network of sports blogs and pro athlete blogs on the web. This site is the hub of the Yardbarker Network, where our editors and algorithms curate the best sports content from our network and beyond.