Found December 13, 2011 on The Saints Nation:
PLAYERS:
Chris Johnson
,
Will Smith
,
Cameron Jordan
,
Junior Galette
,
Jake Locker
,
Jeff Charleston
,
Aubrayo Franklin
,
Shaun Rogers
,
Sedrick Ellis
,
Tom Johnson
,
Scott Shanle
,
Ramon Humber
,
Jonathan Casillas
,
Jo-Lonn Dunbar
,
Nate Washington
,
Jonathan Vilma
,
Will Herring
,
Tracy Porter
,
Jabari Greer
,
Patrick Robinson
,
Roman Harper
,
Malcolm Jenkins
,
Isa Abdul-Quddus
,
John Kasay
,
Thomas Morstead
,
Marc Mariani
,
Courtney Roby
,
Martez Wilson
,
Darren Sproles
TEAMS:
Tennessee Titans
,
New Orleans Saints
The defense for the second week in a row gave up 17 points, which was good enough for a win, but made us somewhat uncomfortable in the process. This week of particular note was a very clear gameplan to contain Chris Johnson. Mission accomplished in that department as he finished with just 11 carries for 23 yards. The Saints' secondary continues to get gashed, though, and this time they yielded 314 yards (most at the hands of a rookie quarterback) on just 18 completions. Something needs to be done about these big explosive plays the defense gives up. It would be more tolerable if they were getting turnovers, but once again the Saints went a full game without getting one. Luckily the Saints aren't turning the ball over either. I thought this was the best interior defensive line play we've seen from the Saints all season, but the coverage continues to under perform. 10-3 sure feels nice, though, and the playoff berth allows us all to start rooting specifically for seeding. Regardless of how bad the Saints play defensively, the reality is I'll take it every time if I'm offered a 17 point output. Every single game. On to the grades. Saints vs Titans coverage Saints vs Titans recap Saints vs Titans boxscore Will Smith: B+ (2.73) He was stout against the run, had his customary non flagged plays where he was clearly held, and was relentless in pass rushing. He finished with 3 tackles, a sack, two quarterback knockdowns, and he tackled Johnson once for a once. Unspectacular, maybe, but a solid game from Smith. Cameron Jordan: C- (2.18) He has ok in run support but did bring much, and he had no contributions to the pass rush. He had no tackles and was flagged once for encroachment. He does deserve credit for tipping a pass at the line of scrimmage forcing an incompletion. Junior Galette: B- (2.30) He only had one tackle and a quarterback knockdown but he once again looked good against the run which is declared weakness. He also put decent pressure on Jake Locker and was responsible for flushing him out of the pocket on the game's final play. Jeff Charleston: C (2.05) He had one tackle and provided a breather for some of the guys ahead of him. Turk McBride's must be real chewed up and he hasn't event come close to practicing in four weeks. It would be nice if he came back though. Aubrayo Franklin: B+ (2.36)  He was credited with just one tackle but he was in large part responsible for the initial surge on the 4th and inches stop the Saints made. While he never got much by way of stats in this one, he was very effective in the middle at controlling the pile and line of scrimmage. He set up his tacklers to stop Johnson dead in his tracks, and numerous times he clogged up the middle to force Johnson back outside. A solid day against the run. Shaun Rogers: A- (2.21) Looked who showed up to play! Rogers was rewarded with a start as Sedrick Ellis couldn't go and he made the most of it. He had 3 tackles, one of which he was credited for on the 4th down stop, he was excellent all day against the run, he tipped a pass, and he got two penalties on the left guard, one of which was a blatant hold. We saw a little bit of everything from Rogers and he was one of the players responsible for Johnson's struggles. If only he played like this semi regularly... Tom Johnson: C (2.30) He had no tackles but played a good amount in the middle and did a good job absorbing contact and eating space. Scott Shanle: C (2.33) Did he even play? He was incredibly quiet. He didn't have a single tackle and as the Titansbecame heavily involved in passing he didn't see the field much. Perhaps he wasn't a big part of this gameplan? Ramon Humber: C- (2.60)  He also had no tackles despite being on the field a good amount. He blitzed a fair deal in Jonathan Casillas' stead, but he clearly doesn't have his knack for getting to the quarterback. Jo-Lonn Dunbar: C+ (2.67) He was in coverage all too often and somehow found himself covering Nate Washington at one point. That should NEVER happen. He had 5 tackles but he seemed to be more of a defensive back than anything else. He didn't play particularly well at all but I gave his grade a huge boost for the game ending sack. That play was huge. Jonathan Vilma: D+ (2.52) He had one tackle and for the large majority of the game he was chasing the play. He was a complete non factor despite good playing time and his coverage was a liability. Will Herring: D (2.17) He was beaten down the seam twice for huge gains by the Titans. That was basically his contribution. Plus a tackle. Tracy Porter: B (2.43) His tackling ability was nothing short of atrocious. He finished with 3 tackles and I'm honestly not sure how. He did have a nice tackle on Chris Johnson right at the line of scrimmage on the final drive. Speaking of that final drive, he timed a slant route perfectly and broke up a huge pass in the end zone which would have won the game for the Titans with 5 seconds left. Anything else he did poorly up to that point was meaningless. Give him credit, he came up with one of the most massive plays of the game when it mattered most. That made him hard to grade, but ultimately I like rewarding difference makers at the end of a game in a win. He also had a huge hit on Jake Locker that knocked him out of the game momentarily on a blitz. That was originally ruled a fumble, too, though replay did show clearly that Locker's arm was moving forward for an incomplete pass. Jabari Greer: B- (2.72) He saved a touchdown earlier in the game with a beautiful breakup in the end zone. He also had 3 tackles and he was beaten a few times, but overall his coverage was decent and he had nice tackle on CJ near the line of scrimmage in the open field. He is neck and neck with Will Smith for defensive player of the year for me and it'll come down to the final three games. Patrick Robinson: B- (2.53) His coverage overall was incredibly solid but he missed one open field tackle that led to a huge gain at an important stage of the game. Like Porter, he needs to do a better job of tackling. He finished with 1 tackle and 2 pass breakups. Roman Harper: C (2.21) He was very helpful in the box against Johnson but he once again was caught guilty of a personal foul penalty. In fact, he had two of them in this one. A blatant facemask in the open field (which, granted, saved a touchdown and a completely unnecessary roughing the passer that extended a drive. He had 6 tackles including one for a loss and was good against the run, but this reputation that is starting to follow him around as a "dirty player" I find to be pretty accurate. I do like his physical aggression and the mean streak he plays with in the box but he's got to do a better job of restraining himself from mistakes that hurt his team. That can be labelled as dirty, but a lot of times it can also be labelled as stupid. Malcolm Jenkins: B (2.33) As the last line of defense he was a very sure tackler and he did a good job of limiting the damage. A few times he ran up and made beautiful open field tackles. The one hit he had on Johnson short of the 1st down was huge because that would set up what would later be a 4th and 1 where the Saints would get a stop. If Jenkins doesn't make that tackle, it's a touchdown. He led the team with 10 tackles but most of them were downfield and you never want your free safety leading the team in tackles. His coverage could have been better but he wasn't responsible for most of the big plays... in fact it was largely the linebackers that got beat badly in coverage. Isa Abdul-Quddus: C- (2.47) He played a fair amount as the "center fielder" in Williams' complex pass defense, and he did it very poorly. I don't understand the scheme where he sees playing time, but it's becoming repeatedly clear he isn't good enough to make plays on the back end. Not yet, at least. He had one tackle but was late to numerous deep throws.   John Kasay: B+ (3.18) He was 3 for 3 on field goals and 1 for 1 on extra points, so he did his job, but all field goals were inside 30 yards and he came very close to missing one which just barely hooked inside the upright. Thomas Morstead: B+ (3.41) He averaged a booming 49.8 yards on 5 punts and a 43 yard net average, which is good. He did outkick his coverage at times but he was fortunate that Roby did such a good job downfield covering his kicks. His kickoffs weren't as deep as usual but overall he did a fine job neutralizing dangerous return man Marc Mariani. Morstead has dropped to second on the team behind Brees in GPA after this week. Courtney Roby: A+ (2.94) He had 5 special teams tackles. 5!!! That is unheard of. He always found the ball and he put to rest any chance at big returns with a couple clutch open field tackles. Incredibly game from Roby as a gunner. Martez Wilson: C- (2.34) He did well on special teams and defense for the most part and he finished with 3 tackles, but he negated Darren Sproles' punt return for a touchdown with a hold so that hurt his grade big time.   My Defensive Player of the Game: Shaun Rogers My Special Teams Player of the Game: Courtney Roby
Original Story:
http://www.thesaintsnation.com/2011-a...
THE BACKYARD
BEST OF MAXIM
RELATED ARTICLES
Move over, Grover! One of the NFL's top passers is heading to ''Sesame Street.'' New Orleans Saints quarterback Drew Brees is making a special appearance on Thursday's episode of the educational children's TV show. He visited the set a few months ago to record the segment, which co-stars the street's furry red resident, Elmo. The segment will air...
New Orleans Saints SS Roman Harper(Courtesy of al.com) Although the New Orleans Saints and Tennessee Titans aren't division rivals, they sure played like it.  After the game, one Titan had his thoughts on the matter. … [visit site to read more] New Orleans Saints Defense: Dirty or Aggressive? - Who Dat Dish - Who Dat Dish - A New Orleans Saints Fan Site - News, Blogs, Opinion and more.
DE Alex Brown (Source zimbio.com) Alex Brown was released by the Saints prior to the start of the season, and he has since been working out on his own while waiting for a call from a potential team. But suitors for a 32-year old defensive end who has likely already played his best football have been slim. … [visit site to read more] Former New Orleans Saints DE Alex Brown visits...
I for one fully agree that it's a total cop out to blame the refs for what your team does or doesn't do in a close game. With that said the officiating crew for Sunday's Titans/Saints game on Sunday can suck it and all of you know exactly why. The dramatic, final moments of that game don't tell the full tale of the pain we Saints fans endured and neither does the score....
Wide receiver Nate Washington is dealing with back spasms and is still recovering from his sprained ankle, according to the Titans' official team website. Fantasy Spin: He hauled in six grabs for 130 yards and a score in Week 14 vs. New Orleans - and could be in store for another strong stat-line this weekend if able to to play through his injuries against a shoddy Indianapolis...
The Tennessee Titans have signed linebacker Kevin Malast off the Jaguars' practice squad and placed veteran linebacker Barrett Ruud on injured reserve.
(source feed provided no summary content for this entry)
Dec 18, 1:00 PM | Turf of Lucas Oil Stadium Tennessee Titans vs Indianapolis Colts Odds 7-6TEAM RECORD0-13 The Titans were 8-3 ATS in 11 games against the Colts with Peyton Manning and they plan on extending that streak without him under center for Indy. The UNDER has been the best bet when these AFC South foes clash, going 11-2 past 13 meetings. In fact, there have only...
NFL News

Delivered to your inbox

You'll also receive Yardbarker's daily Top 10, featuring the best sports stories from around the web. Customize your newsletter to get articles on your favorite sports and teams. And the best part? It's free!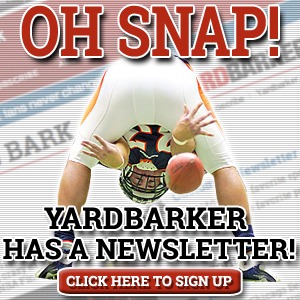 Latest Rumors
Best of Yardbarker

Today's Best Stuff

For Bloggers

Join the Yardbarker Network for more promotion, traffic, and money.

Company Info

Help

What is Yardbarker?

Yardbarker is the largest network of sports blogs and pro athlete blogs on the web. This site is the hub of the Yardbarker Network, where our editors and algorithms curate the best sports content from our network and beyond.