Found June 14, 2012 on The Saints Nation:
When the Saints drafted Greg Romeus in the 7th round a year ago, he was damaged goods. They took a flyer on him anyway, because when healthy he was that good. After suffering a "redshirt" rookie season that saw him spend it on IR,
I was excited about what the 2012 version of Greg Romeus could do
to help the team. It's kind of embarrassing that I wrote that blog exactly one month ago today because Romeus, just yesterday,
tore his MCL and ACL
in his other knee and he's now officially out for the season... AGAIN. In case it wasn't clear, Romeus didn't play in 2011 because he was recovering from blowing out his other knee.
You can't blame the Saints, they took a low risk on a player that would have make an impact if he could have turned around his injury fortunes. It happens. It was still a good draft pick in the 7th round and one that would have been lauded for years if it had worked out. Instead, it's now hard to imagine Greg Romeus will ever get to see the field in a regular season game with a Saints uniform on. I'm not ready to count the guy out completely, because there have been players that have bounced back from being injured in their first two years. If there's good news here, it's that Romeus is young enough that he can possibly bounce back and still make the team next year. Kellen Winslow, Jr. is an example of a guy that's still in the league and performing well, 8 years after being drafted, even though he missed his first two NFL seasons almost entirely. In 2004 he broke his leg and in 2005 he tore his ACL. Still, Winslow is in the overwhelming minority. Chances are, Romeus is done.
Even with a return to health on a reconstructed knee, Romeus will be slower, he'll have to deal with constant swelling and problems, and he's know earned the tag as a major injury risk. One injury is bad enough to tarnish a player's reputation, but a second injury (this time non contact) is enough to give them a label. Most teams don't invest a 53 man roster spot in guys like that. Some guys, though big and extremely athletic, just don't have the bodies that can take the pounding of an NFL career. Maybe Romeus has just been unlucky, but that's a lot of bad luck in just 3 short years. Romeus also has no track record with the team, so he's behind the 8 ball in that he's still trying to impress the team and staff as a player that can actually make a difference if healthy. Next year he'll try to do that on two bum knees.
It's a long road ahead for Romeus, and it's just something as fans we never like to see. We all wish him the best of luck in his recovery, and his attempt to bounce back from this and come back stronger.
[follow]
Original Story:
http://www.thesaintsnation.com/2012-a...
THE BACKYARD
BEST OF MAXIM
RELATED ARTICLES
The New Orleans Saints and QB Drew Brees have been locked in contract talks this offseason, but the team needs him more than ever after Wednesday. New Orleans had been conducting team OTAs and mini-camps without the services of Drew Brees with QB Chase Daniel taking the majority of the snaps with the first team. Daniel fractured his thumb on Monday and will not be able to throw the...
Now starting at quarterback for the New Orleans Saints ... Sean Canfield? It was only minicamp, but that was the reality for the Saints Wednesday. With Drew Brees away until his contract situation is resolved and backup Chase Daniel watching with his right hand bandaged because of a hairline fracture of his throwing-hand thumb, the Saints' offense looked nothing like the precision...
Even with the broken right thumb sustained this week by backup Chase Daniel, an injury that left New Orleans with only two functional quarterbacks -- Luke McCown and Sean Canfield -- for the final day of the club's minicamp, Saints' officials weren't exactly burning up the phone lines checking out potential training camp arms. And it was only partly because the Saints...
The rumors continue to circle around Drew Brees and his new contract extension. Originally, ESPN reported the two sides were not anywhere close to agreeing to a deal, but then NBC Sports said the deal was closer than expected. Now, the negotiations are expected to go down to the wire according to NBC Sports. Honestly, that probably does not mean a whole lot to most fans out there...
Saints veteran tight end David Thomas struggled in the past year with activities as natural as playing outside with his young boys. A pair of concussions during the 2011 NFL season left him so sensitive to light that even sunglasses weren't much help. And when his infant daughter cried, his wife, Kassidy, would whisk her away so the noise would not worsen her husband's...
Getty Images According to Mike Florio of ProFootballTalk.com, the contract talks between the New Orleans Saints and quarterback Drew Brees will likely go down to the July 16th wire.  If a deal doesn't get done by then, Brees will have to play out the 2012 season under the franchise tag. I strongly believe that if a deal isn't finalized before the July 16th deadline, Brees will...
According to Pro Football Talk, extension discussions between the Saints and Drew Brees could go down to the wire, with the wire being the July 16th deadline for franchise players to sign long term deals. If Brees does not sign his tender by that date, he'll have to play out this season under the 1 year franchise tag and or not play at all, though I can't see Brees choosing the...
The NFLPA continues its crusade to discredit any and all claims that the NFL have brought against the New Orleans Saints. And with the four suspended players awaiting the outcome of their appeals, the NFLPA took its crusade to another level. Back on June 11, the NFLPA sent a letter to Roger Goodell requesting that Saints coach Sean Payton, general manager Mickey Loomis, assistant...
The lawyer for New Orleans Saints linebacker Jonathan Vilma said the evidence the NFL provided on Friday does not link the player to any "bounty" program. Vilma's lawyer, Peter Ginsberg, told NFL.com that most of the evidence includes a PowerPoint slide show of former Saints defensive coordinator Gregg Williams' directives and speeches to players. Ginsberg said...
One of the biggest stories in the wider media is the current demolition job happening to the New Orleans Times-Picayune.  This fall, the newspaper that has served New Orleans since 1837 will be cut from being published daily to just three days a week - Wednesday, Friday, and Sunday to focus more on online journalism.  While the move is not unprecedented, it was met with disappointment...
NFL News

Delivered to your inbox

You'll also receive Yardbarker's daily Top 10, featuring the best sports stories from around the web. Customize your newsletter to get articles on your favorite sports and teams. And the best part? It's free!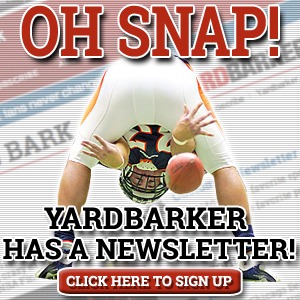 Latest Rumors
The Backyard

Today's Best Stuff

For Bloggers

Join the Yardbarker Network for more promotion, traffic, and money.

Company Info

Help

What is Yardbarker?

Yardbarker is the largest network of sports blogs and pro athlete blogs on the web. This site is the hub of the Yardbarker Network, where our editors and algorithms curate the best sports content from our network and beyond.